'The Innocents' Is A Perfect New Series To Escape Into If You Miss 'Orphan Black'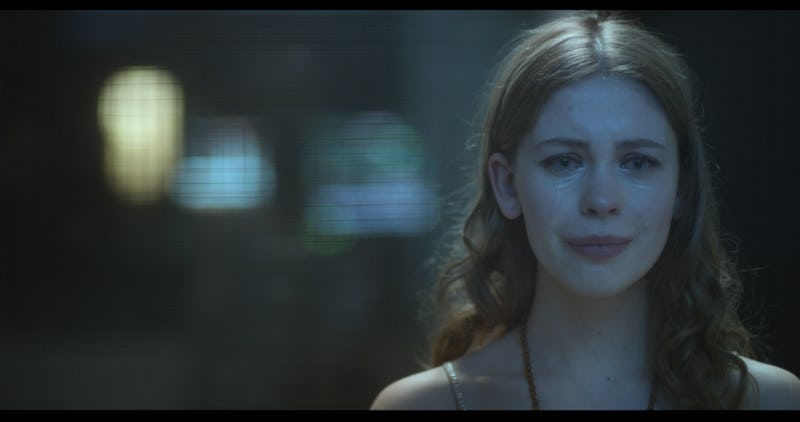 Aimee Spinks / Netflix
Two teenagers discovering love and discovering supernatural world is a tale as old as time — or is it? Netflix's latest series, The Innocents, is an original story, not based on a best-selling anything, though fandom fans are sure to gravitate towards this unfolding romantic adventure. Specifically, I think, Orphan Black fans will enjoy The Innocents and may even call it their next obsession, especially if you're feeling a little less cynical these days and could do with a star-crossed love story.
At first, it's difficult to place what feels so familiar about The Innocents. Set in the English countryside, it has a rainy science fiction vibe that might remind you of Never Let Me Go, certain episodes of Black Mirror, or even The Lobster. June and Harry wear school uniforms, but don't go to Hogwarts.
This is a supernatural young adult romance. However, unlike Twilight, Warm Bodies, or Beautiful Creatures, the characters in this story are both discovering June's shape-shifting ability together. The repressive community where June's mother is living in feels post-apocalyptic, but this isn't The Hunger Games or The Walking Dead. It's set in the modern world. Then, Guy Pearce's character has a laboratory that will remind you of The OA, or even Stranger Things.
Though the storylines are almost inverses of one another, the show that The Innocents most resembles is Orphan Black — the Canadian cult classic about a woman who discovers she is not only one of many clones, but part of a vast nefarious organization. June's powers may have just manifested on The Innocents, but others seem to know what is going on and could be coming after her for reasons other than her running away with her boyfriend. In just the first two episodes, June discovers that her mother may be like her and her father was lying to her.
When June first shape shifts into another person and learns that she has this ability, which could honestly be helpful for two teenagers on the run, it's a traumatic experience and uncovers a whole conspiratorial world right off the bat. The man she turns into was sent by her mother and her mother's evil scientist lover to kidnap her! If that doesn't scream Orphan Black, what does?
The cinematography has a cinematic, natural feel too. The character aren't exactly comparable, but there is a fun "fish out of water" element to The Innocents. As Harry and June get to the city and June experiences the world (as well as popular music) for the first time, she isn't quite as wide-eyed as Helena on Orphan Black, but it's a fun, small comparison. At the end of Episode 2, Harry and June find refuge with some alternative kids in London. While they aren't quite like Felix and Sarah's friends on Orphan Black, there is some potential there.
What sets it apart is that this is a romance with no build-up, and no angst other than circumstantial danger. Don't you kind of miss stories that make you dream about running away with someone? Come for the mystery and intrigue that kept you glued to Orphan Black and stay for the fact that June and Harry write love letters to each other. It's unbearably sweet. Plus, there's some shapeshifting. Because why not, right?