This Website Tracks Trump's Mar-a-Lago Visits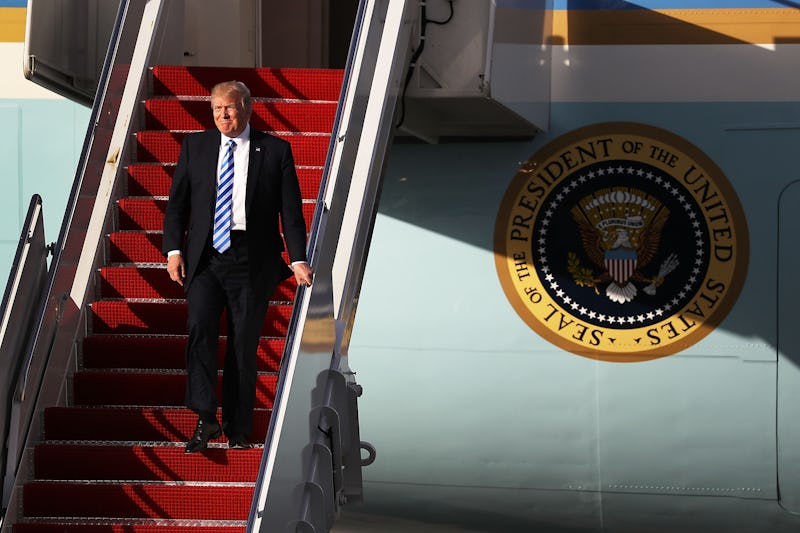 Joe Raedle/Getty Images News/Getty Images
Thanks to their rumored cost and obvious frequency, President Trump's trips to Palm Beach, Florida, seem to have raised many an eyebrow since his inauguration in January. Over the past several weeks, U.S. officials, foreign dignitaries, and Trump family members alike have converged on the president's waterfront Mar-a-Lago retreat for official business and, of course, golf. Now, a new website tracks Trump's Mar-a-Lago visits to show just how frequent and expensive the presidential lifestyle has become.
In addition to making Camp David obsolete, Trump's habit of spending weekends at Mar-a-Lago has stirred up its fair share of controversy in the president's first 100 days in office. As a sort-of "weekend White House," the estate — and Trump's presence there — takes governing power out of the Oval Office. More than play golf and reunite with loved ones, Trump makes decisions there. Just this weekend, Saturday Night Live's cold open quipped that the president ordered a Syrian airstrike and shared classified information with Chinese leaders there.
Perhaps the most controversial part of Trump's Mar-a-Lago visits, though, is their estimated cost. While it's not clear exactly how much money is spent on Trump's travel, security, and other related expenses, it's reasonable to believe that the president spending seven out of 13 weekends — or, as NBC News estimates, 28 percent of his presidency — anywhere other than the White House would be expensive. That's where IsTrumpAtMarALago.org comes in.
Launched by the Center for American Progress Action Fund, IsTrumpAtMarALago.org answers a simple question that may increasingly come to Americans' minds. On Sunday, the landing page showed a bold "Yes," indicating that Trump did, indeed, spend Easter weekend in Palm Beach. (He would have to jet home sometime on Sunday or early Monday, though, as he was expected to attend the White House's annual Easter Egg Roll on Monday.)
The landing page also estimates a running total of costs for Trump's Floridian getaways. On Sunday, the site estimated that $25 million tax dollars had been spent. That estimate relies on a Governmental Accountability Office (GAO) report that the landing page says totals a trip to Mar-a-Lago at more than $3 million. (The GAO report it references may actually be referring to the cost of an Obama administration trip.) That number may need to be updated, since GAO has agreed to formally review the cost of Trump's trips.
Using the estimated cost of Trump's trips, the website also offers some perspective. For instance, $25 million could apparently fund 9,000 Meals on Wheels recipients or 7,000 Pell Grants, according to IsTrumpAtMarALago.org. There are also comparable estimates available for school lunches, Medicaid recipients, homelessness aid, nutrition assistance programs, public school funding, and National Park Service donations.
Although it bills itself as an "independent nonpartisan policy institute," the Center for American Progress tends to have liberal leanings. The center has published research that defends the use of sanctuary cities and, next month, will host a Progressive Party with Democratic Sen. Chuck Schumer.
With fewer than 100 days knocked off his presidential calendar, Trump has spent more weekends in Florida than in Washington, D.C. That's just part of the "new normal" that Americans have experienced since his inauguration. But, as IsTrumpAtMarALago.org shows, it's an expensive part.