Check Out The First 'Jumanji' Sequel Trailer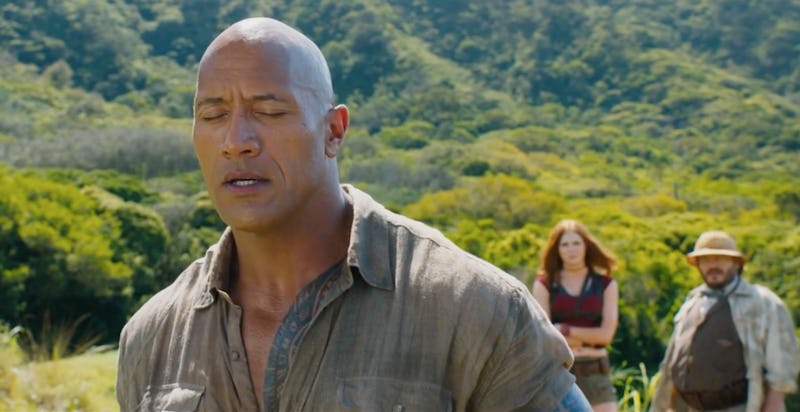 Sony Pictures Entertainment
Jumanji is getting an update in more ways than one. The first Jumanji sequel trailer was debuted on Twitter by Dwayne Johnson, and it's clear after two decades the game has changed a lot from what fans remember. No longer is it a board game, but a video game that allows you to take another trip to the jungle. Hence, the movie's name: Jumanji: Welcome To The Jungle. And, this time around, when you get sucked into the game, you won't be yourself; you'll get to be the avatar you chose. That means you'll look like Dwayne "The Rock" Johnson, Kevin Hart, Jack Black, or Doctor Who's Karen Gillan. While that may sound fine pretty awesome — who wouldn't want to become The Rock, right? — anyone who saw the original Jumanji knows it's all downhill from here. Sometimes quite literally, since there are just so many cliffs to jump off of.
While many fans may be upset to see that the board game has been updated for a new audience, producer Matt Tolmach promises the game is still the main focus of the new Jumanji. "We always talk about [Welcome to the Jungle] as another Jumanji adventure," Tolmach told Entertainment Weekly. "It is very much the spirit of Jumanji, but with a different group of people and sort of a different idea. But the idea of the game that comes to life is the DNA there."
That different group of people includes four teenagers with detention, Spencer (Alex Wolff), Fridge (Ser'Darius Blain), Bethany (Madison Iseman), and Martha (Morgan Turner), who find a mysterious game while cleaning out the high school's basement. It's not mystery, though, that this Jumanji is going to teach these teens a lesson on how to become adults.
All it takes is them pulling a Freaky Friday with a few video game characters. The best switch of them all, of course, being the popular girl, Bethany, turning into Jack Black's Professor Shelly Oberon. Or, as she says in the trailer: "I'm an overweight middle-aged man." The body-swapping, in director Jake Kasden's opinion, "allows this level of candor and examination because the characters are teenagers who are trying to figure out their own person, and in these new people, it complicates that mess. But it also gives them the opportunity to take something from the experience."
Fans will take something of their own from this visual experience when Jumanji: Welcome To The Jungle hits theaters this Christmas.