The Kérastase Reflection Chromatique Line Protects Color Treated Hair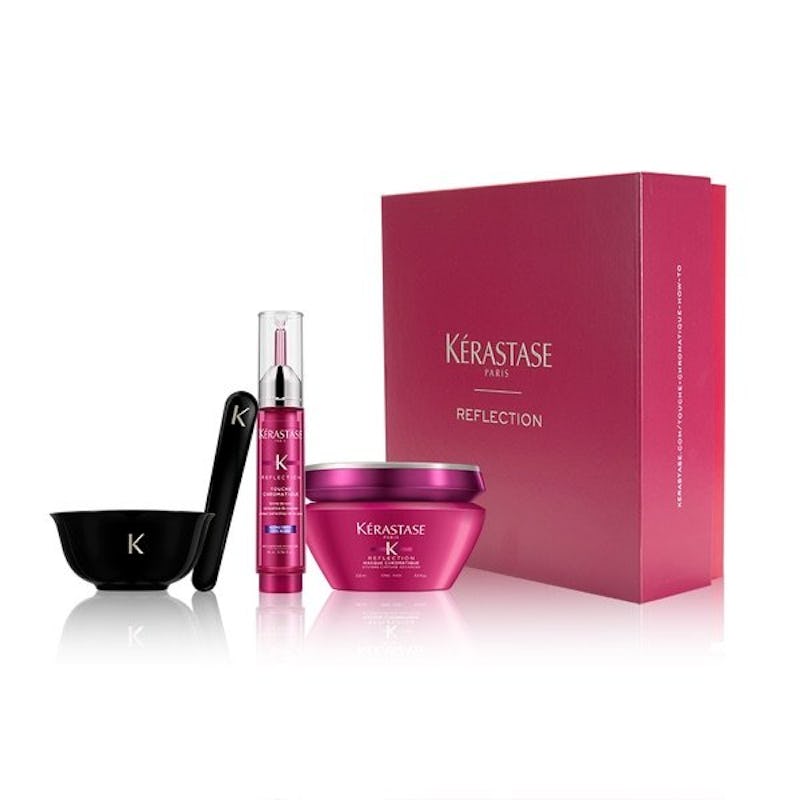 Kérastase
If you've ever gone a few months between hair appointments, then you know that colored hair has the potential to turn brassy and off-color without a refresh. If seeing those metallic yellow and bronze hues gives you an eye twitch, then the Kérastase Reflection Chromatique line is going to be your new go-to beauty products. The line includes a range of hair products that will help you achieve flawless hair color throughout the months, including two shampoos, a conditioner, a mask, and four mixing kits in the forms of "pens" that will color correct your fading strands.
According to PopSugar, the line acts much the same way color correcting makeup acts on your face. "Color-correcting is using a shade on the opposite end of the color wheel to counteract a problem. For example, you could dab green concealer on a pimple to take down the redness," PopSugar explained.
Since not all hair colors are created equal, the collection is split up into four different color shades: Blonde, red, brown, and copper. The mixing kits that help amp up your color and correct its brassiness are called "Touche Chromatique pens," keeping your hair from getting too faded. In order to use them, you need to combine them with the collection's other products. You put the line's mask into a bowl, add 10 clicks from the pen so the corrector mixes in, and then you apply it to your hair.
Reflection Chromatique Cool Blonde Kit, $102, Kérastase
"The Touche Chromatique Cool Blond is a purple pen that neutralizes and prevents unwanted yellow undertones if you're blond. Try the Cool Brown kit (which is a green pen) if you are a rich, dark brunette and want to avoid any brassiness," PopSugar shared. "Rely on the Cool Copper set that features a copper shade to keep your hair in that amber hue. Finally, the Cool Red is for true redheads." The rest of the products work in tandem with these color correcting pens. You mix the shade corrector with the mask, but then you also shampoo and condition with the line's shampoos so the color really becomes vibrant and stays true to its original color.
These products are already available and you can pick them up at Kérastase's site directly!
Here are the products to shop below:
1. Reflection Bain Chromatique Riche
Reflection Bain Chromatique Riche, $41, Kérastase
The color protecting shampoo will gently cleanse your dry hair.
2. Reflection Bain Chromatique Sulfate-Free Shampoo
Reflection Bain Chromatique Sulfate-Free Shampoo, $41, Kérastase
This shampoo has the benefit of being sulfate-free, making it gentler on processed hair.
3. Chromatique Fondant Chromatique Conditioner
Chromatique Fondant Chromatique Conditioner, $43, Kérastase
This conditioner was designed specifically to keep your colored hair vibrant.
4. Reflection Masque Chromatique Riche
Reflection Masque Chromatique Riche, $63, Kérastase
You mix this mask with the color pens, but it also neutralizes water particles to protect your color, locks in color for lasting vibrancy and shine, and nourishes and repairs hair fiber to maintain your shade.
If you want to keep your locks looking fresh in between dye jobs, give this a try!