This New Haircare Line Uses Human Keratin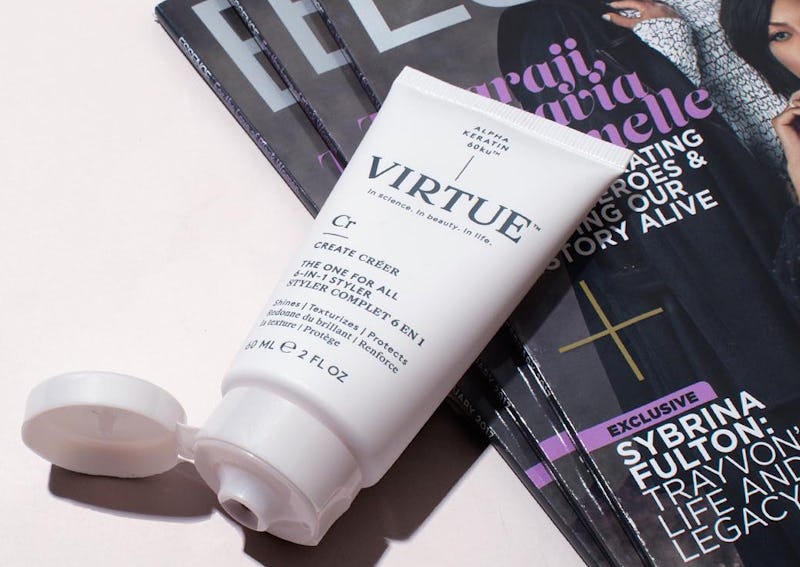 These days, keratin in haircare is hardly surprising. The strengthener frequently shows up in products promising to do business, but while most of them stay opaque about exactly where said keratin comes from, one new haircare line is championing their sources loud and clear. Virtue Labs, a new haircare line, says their "keratin is sourced from pure human hair, not animal byproducts" — and that makes all the difference.
According to the brand — creative director-ed by red carpet hairstylist Adir Abergel — Alpha Keratin 60ku is a "brand new way of extracting keratin in its natural form" that the body recognizes it as its own, so binds seamlessly to hair. Looking at something like Tresemme's Keratin Smooth Conditioner, the ingredients just list Hydrolyzed Keratin — not its origin, so it's hard to say if Virtue Labs is truly doing something different. But look at Abergel's clients, and it's obvious he's doing something well: Celebs like Kristen Stewart, Reese Witherspoon and Anne Hathaway turn to the pro for their red carpet hair. Quick moment to salivate over those glossy locks.
Tresemme Keratin Shampoo and Conditioner, $14, Amazon
Back to the science, they describe Alpha Keratin 60ku™ as kind of an O blood type — everyone's hair accepts it. "What excites us about Alpha Keratin 60ku™ is that our bodies recognize it as our own, and that makes it really powerful. It's pulled to where it's needed, strand by strand, smoothing, resurfacing and filling in cracks of damage."
Which makes for red carpet-level hair, no matter your hair type. The brand breaks products down by "Care," "Correct," and "Create," with the former composed of shampoos and conditioners, "Correct" a genre of damage command-Z'ing, and "Create" stylers that do what you want.
Right now, standouts are the The One For All 6-In-1 Styler, which purports to keep curls defined and frizz-free while smoothing straight hair, and the familiarly pink Smoothing line, which claims to hydrate and silken.
The Polish Un-Frizz Cream, $40, VirtueLabs.com
Again, par for the course in keratin claims. But if Virtue Labs has finally harnessed the power of whole, human protein, it could be like a whole new level of haircare is unlocked — and we'll be a step closer to easy, swingy red carpet hair, no styling team required.
Images: Courtesy of Brand