Is Brexit Still On? Here's Why There's A Solid Chance It Might Not Happen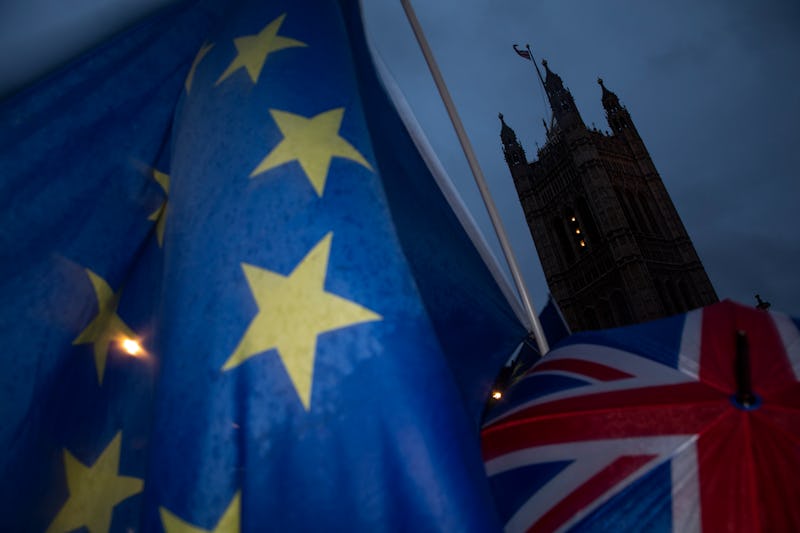 Dan Kitwood/Getty Images News/Getty Images
Britain is currently scheduled to leave the European Union on March 29, 2019, but the latest Brexit updates have cast some doubt as to whether there will actually be a formal separation. As U.K. Prime Minister Theresa May struggles to rally enough support to pass her EU-approved Brexit deal through U.K. Parliament, a senior government official has warned Brexit may have only a "50-50" chance of actually happening.
Shortly after the European Union voted to approve May's Brexit plan in late November, the prime minister abruptly canceled a planned vote when it became clear that her plan for withdrawal had garnered little support in Parliament. U.K. lawmakers are now set to vote on the deal sometime between Jan. 14 and 21. According to International Trade Secretary Liam Fox, that vote could be crucial to the future of Brexit.
"If we were not to vote for that, I'm not sure I would give [Brexit] much more than 50-50," Fox said in reference to the current March 29 deadline during an interview with The Sunday Times.
Fox, a Brexit supporter himself, also said that the only way to be "100 percent certain" that Britain would exit the European Union in March 2019 was for U.K. ministers to support May's deal so that it would pass through Parliament. Rejecting the deal, Fox said, "would shatter the bond of trust between the electorate and Parliament."
Fox told The Sunday Times he felt that, for himself at least, rejecting May's Brexit deal "would induce a sense that we had betrayed the people that had voted in the referendum."
But other lawmakers don't agree and have been urging May to order a second referendum. "The only thing that is shattering the bond of trust between electorate and Parliament is the refusal of ministers like Liam Fox to trust people with the final say on Brexit," Liberal Democrat MP Layla Moran tweeted Sunday.
Late last week Labour leader Jeremy Corbyn urged May to recall Parliament early in order to bring the Brexit vote forward. Corbyn accused May of pushing the vote back in an attempt to run the clock down on MPs. "What I suspect is that it's a completely cynical maneuver to run down the clock and offer MPs the choice of the devil or the deep blue sea," he told The Independent. Corbyn has vowed that his party will move to force a general election via a motion of no confidence in the current government if May's deal does not pass Parliament.
According to the BBC, there are a few scenarios possible should U.K. Parliament reject May's deal: Britain could make its Brexit without a deal; May could extend Article 50, the law outlining Britain's March 29th exit from the European Union, in order to make time for either a second referendum or more negotiating. Or Article 50 could be canceled altogether, meaning Brexit is a no go.
Jean-Claude Juncker, president of the European Commission — which operates as the EU's executive arm — recently urged Britain to "get its act together" over Brexit. "I find it entirely unreasonable for parts of the British public to believe that it is for the EU alone to propose a solution for all future British problems," The Guardian reported he recently told Welt am Sonntag, a German paper. "My appeal is this. Get your act together and then tell us what it is you want. Our proposed solutions have been on the table for months."