'Captain Marvel' Just Started Production & This New Photo Of Brie Larson Is Fierce AF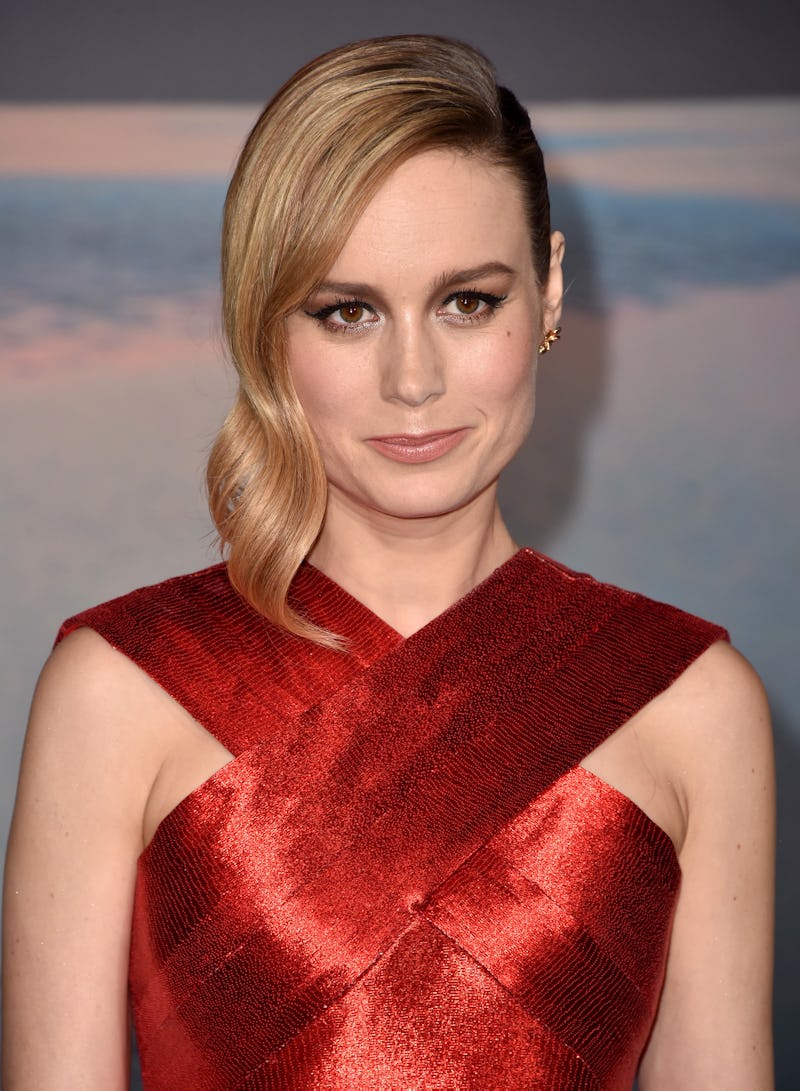 Frazer Harrison/Getty Images Entertainment/Getty Images
On March 26, the Marvel Studios Twitter account announced that production has officially started on Captain Marvel in Los Angeles and posted the first photo of Brie Larson from Captain Marvel. Even before the cameras started rolling Brie Larson, who is playing the titular role, has been preparing to transform into the Marvel superhero. The tweet read:
Production has begun on Marvel Studios' #CaptainMarvel. @BrieLarson receives instructions from Brigadier General Jeannie Leavitt, 57th Wing Commander, on a recent visit to Nellis Air Force Base in Nevada to research her character.
As it was previously reported by Entertainment Weekly, Larson went to an Nellis Air Force Base in Las Vegas Valley, Nevada earlier in January to learn what it is really like to be a fighter pilot working for the U.S. armed services.
It should come as no surprise that Larson, who won the Academy Award for her part in Room, seems to be serious about doing justice to the character. In the comics Captain Marvel not only saved lives as a superhero, but, before gaining her powers, she lived life as a normal human Carol Danvers, a fierce woman who protected people as a fighter pilot. To prepare for the role, Larson spoke to the women and men currently serving in the Air Force to find out the skills they need for the job, try on the gear worn by the real pilots, and even got up close to a F-15 fighter jet aircraft and other military aircrafts, according to social media.
In a new photo of Larson at the airbase released by Walt Disney Studios, the actor can be seen standing behind the controls of a jet. Beside her is a woman who could be a real life Carol Danvers, Brigadier General Jeannie Leavitt, 57th Wing Commander. According to the caption, Leavitt provided Larson with hands-on help.
Larson, who is very politically active — she shares posts on social media frequently in support of Time's Up, stronger gun control and other social issues — has expressed her excitement to play the iconic part. She told Vanity Fair, "[Captain Marvel is] everything that's progressive and important and meaningful and a symbol I wished I would've had growing up."
In addition to researching Daver's career, Larson has been physically preparing as well. The Oscar winner has been training to look like the fierce soldier. In a video on Instagram she displayed her fitness regime.
In a press release from Disney and Marvel, other details about the plot and setting were confirmed. Captain Marvel is going where no other MCU movie has gone before: The 1990s (let's hope the fashion and music reflect the period, please). The story will go through the the hero's origin story, detailing how Danvers received her special powers, though the story will be noticeably different from the original comic book story due to its similarities to Green Lantern's background. According to Screen Rant, the hero will find herself in the middle of a giant battle between to alien races, the Kree, who were previously seen in Guardians of the Galaxy and the Skrull, a new alien force to the MCU, though they exist in the comics.
In addition to Larson, Samuel L. Jackson is reprising his role as Nick Fury, as reported by Vulture. Since this is the '90s and all, he'll reportedly have two good eyes still. Clark Gregg, who played Agent Coulson in Marvel's The Avengers, will also appear, as he has not yet been killed by Loki. Rogue One villain Ben Mendelsohn has joined the cast, and rumor has it (via Variety) he'll be playing the leader of the Skrulls, while Lee Pace is going blue for his Guardians of the Galaxy Kree villain Ronan the Accuser and Djimon Hounsou will once again play Korath the Pursuer. Other cast members include Lashana Lynch (Brotherhood), Gemma Chan (Fantastic Beasts and Where to Find Them), McKenna Grace (I, Tonya), and Jude Law.
The movie is set to released in March 2019 — just in time for the next Women's History Month. In a cinematic universe dominated by male heroes, it's definitely time for Captain Marvel to fly into the Marvel world.