Brie Larson Prepped For 'Captain Marvel' In A Way That'd Make Carol Danvers Proud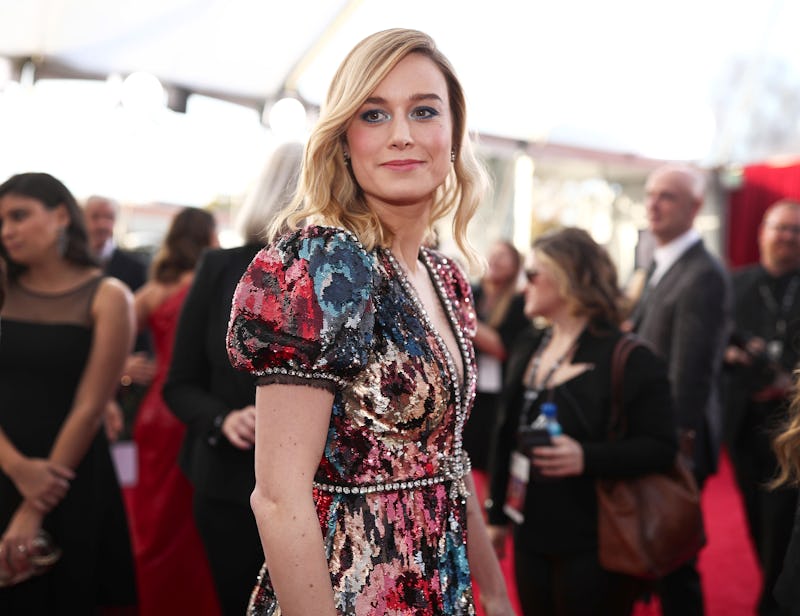 Christopher Polk/Getty Images Entertainment/Getty Images
Even with superpowers, it takes a lot of work to become a superhero, so Brie Larson trained for the Captain Marvel movie by visiting an Air Force base. She posted an image on Instagram of her suited up in uniform accompanied by a serviceperson with the caption, "Learning how to fly." Although Screen Rant has theorized that Larson could make her first appearance as Captain Marvel in Avengers: Infinity War (executive producer: Victoria Alonso), which will be released on May 4, 2018, the director of the third Avengers movie has said that's not the case. And per her Instagram post, Larson is just starting to learn the ropes for her character Carol Danvers now.
In the Marvel comics, Carol Danvers is an Air Force officer and pilot whose human genes are combined with alien DNA. This gives her the ability to absorb and shoot energy, as well as the powers of flight and extreme strength. She uses these superpowers on Earth and in space as Captain Marvel and she has worked with both the Avengers and the Guardians of the Galaxy. She's one of the most powerful Marvel superheroes around and a total badass. So to prepare for the role, Larson channeled her character by visiting an actual Air Force base to learn how to fly. And no, the Oscar winner doesn't mean the impossible feat of flying on her own like Captain Marvel — she means learning to fly aircrafts like fighter pilot Danvers.
Although Larson didn't tag her location for her Jan. 23 post, Entertainment Weekly reported that Larson was at the Nellis Air Force Base in Las Vegas, Nevada, just a few days earlier. According to social media posts from members of the Air Force, she came to the Air Force base for a tour and to gain knowledge about this branch of the U.S. Armed Forces, and it looks like her photo is from this visit. Along with donning the appropriate fighter pilot gear and taking her own flight, Larson learned about the F-15 fighter jet aircraft and hung out with some Thunderbirds, who do flight demonstrations.
The Captain Marvel movie marks Marvel's first female-led superhero film and it is being co-directed by a woman (Anna Boden and Ryan Fleck are sharing directing duties) and it is written by women (Deadline reported Geneva Robertson-Dworet stepped in for original writers Meg LeFauve and Nicole Perlman). Not too much is known about the plot so far, but Captain Marvel will take place in the '90s before the action of the first Iron Man movie. Samuel L. Jackson's Nick Fury will make an appearance and Variety reported that Larson will also be joined by young Dumbledore himself Jude Law, Ben Mendelsohn of Rogue One, and DeWanda Wise of She's Gotta Have It.
Based on a production listing that Omega Underground reported on, Captain Marvel will start to film in February. With so much of superhero films inevitably relying on CGI, it's great that Larson got some firsthand experience with the human skills that her character has before she begins filming. After all, Carol Danvers' fighter pilot background is one of the reasons that Captain Marvel is such an impressive superhero. Plus, Larson's visit to the Nellis Air Force Base just might mean that the movie will show viewers her origin story — so it may be safe to expect Larson to be flying a jet in the film.
The Captain Marvel movie is not scheduled to come out until March 6, 2019, so you won't be able to see Larson in all of her Carol Danvers glory until then. But it's more than a promising sign to know that she's so devoted to preparing for the role in the most accurate way possible — and that's truly saying something for a superhero movie.