Scott Disick Hints At Khloe Kardashian's Rumored Pregnancy With This Message Of Support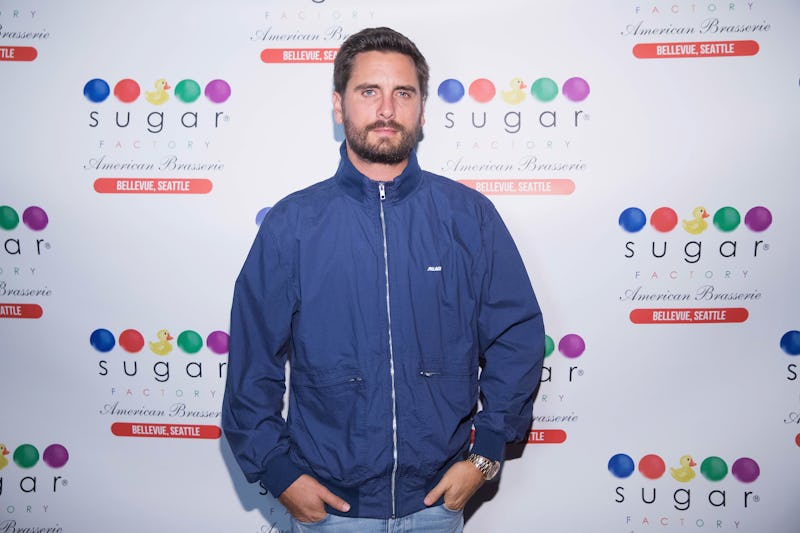 Mat Hayward/Getty Images Entertainment/Getty Images
Much like her younger sister Kylie Jenner, there still isn't much that fans know about Khloe Kardashian's rumored pregnancy. News of Kardashian being pregnant with her first child with her NBA boyfriend Tristan Thompson spread like wildfire on the internet just days after TMZ was the first to reveal that Jenner is also (maybe) expecting a baby. It's been weeks since the news broke, and even though both siblings still have yet to confirm or deny the rumors, Scott Disick may have just hinted at Kardashian's pregnancy with this really thoughtful and supportive message.
The reality star briefly spoke with E! News on Saturday, Oct. 14 during his appearance at the grand opening of the Sugar Factory in Bellevue, Washington. When asked if he might ever find himself offering up some parenting advice to the rumored mom-to-be, he was quick to explain that since the family is so close with one another, that may not be necessary.
"Well, if she ever asks I'm sure I would try," he said. "But I feel like all of us are so close that all of our children are kind of brought up in the same vicinity, or one block over, that everybody's kind of there for each other."
He added later, "I don't really need to give advice per se because, we are right there. It's not like long-distance, 'hey, maybe you should try this?' Everybody's so hands-on that I feel like it will happen within time. So no real advice in that sense."
So Disick neither confirmed nor denied Kardashian's pregnancy, but even so, his answer is super supportive. Though no one ever said parenting was easy, it still must be nice to have multiple siblings who have have their own experiences raising children and would likely step in and lend a helping hand any time she needs it. Not to mention that, with all the nieces and nephews she has, Khloe Kardashian has already perfected the art of being the coolest aunt ever.
The 33-year-old's Instagram page is littered with photos and videos of her spending quality time with her many nieces and nephews. Like this photo that shows her sweetly posing alongside Kourtney Kardashian and Scott Disick's three children, Mason, Penelope, and Reign Disick, while holding little brother Rob Kardashian's baby girl, Dream.
Seriously, you can't even be mad at the way that she constantly emphasizes just how adorable the mini-Kardashians are. Just think about how amazing it would be if her own kid got added to this bunch.
Khloe's baby news came right on the heels of TMZ breaking the news that Kylie Jenner is expecting a child with her boyfriend, rapper Travis Scott. Multiple news sources have apparently received confirmation about the rumors from "sources close to the family," though Jenner still hasn't come out and addressed them directly herself. Some fans who have been tuned in to her recent social media posts, however, seem to think that the reality star is dropping hints via Snapchat, but there's definitely still a chance that a lot of those "clues" are just photos and videos that are being heavily over-analyzed.
Kylie might just be having fun teasing her fans via social media right now, but Khloe hasn't dropped any definitive hints since the news first made the internet implode. And her family has been very tight-lipped about the rumors, neither confirming nor denying anything just as they've been doing with Kylie's big news. But whether Khloe is pregnant or not, Scott's statement on the matter is really easy to agree with. The close relationship she has with her nieces and nephews is a great indicator that she'll be an amazing mom herself whenever she does decide to have children.