This Is Prince George's School Lunch Menu, In Case You Wanted To Be Jealous Of A Toddler Today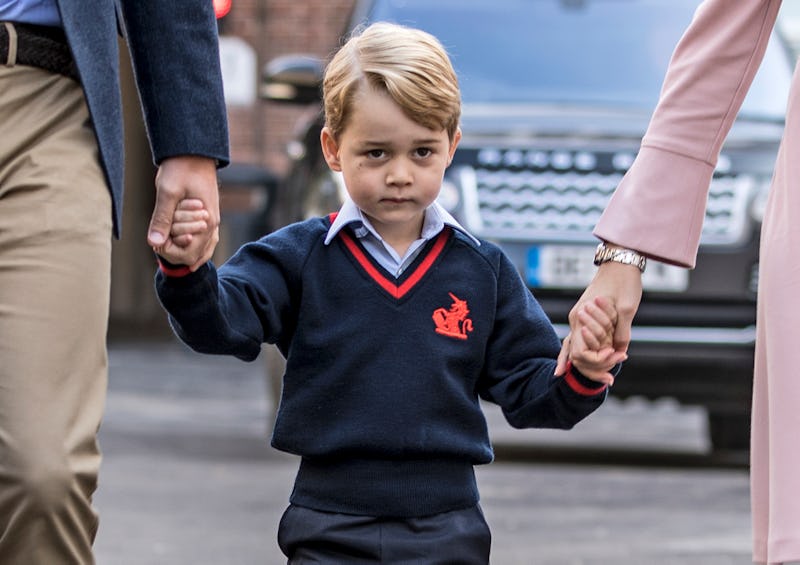 WPA Pool/Getty Images Entertainment/Getty Images
Have you ever wanted to feast like a future king? Yeah, we know by now what Prince William is cooking at home, but his son, Prince George, certainly enjoys a different menu at school. In fact, at Thomas's Battersea, he has a diet that's very, very outrageously different than a casual roast, so say the least.
The little royal tot, barely 4, is enrolled at a private school that educates 560 schoolchildren between ages 4 and 13. The school is divided into Lower, Middle and Upper Schools and is around £5,868 to £6,628 a term (for the elder children, as subsequent siblings get a few dollars off).
The kids may be little, but they're going to be fine dining like some of their rich adult counterparts — according to the menu, Prince George could be eating foods such as a "freshly prepared fragrant lamb," "apricot tagine," "spinach and ricotta tortelloni in a tomato sauce," or a "freshly prepared MSC pollack fillet." I mean, excuse me? I was grateful we could get an extra milk carton on Fridays as a kid, and this is what English schoolchildren are partaking in?
The school offers "lighter lunches during the lighter days and more substantial meals when the days turn cold," according to its website.
The menu cycle is every three weeks and puts "an emphasis on healthy cooking, full flavour and presentation. Our goal is to not only persuade pupils to eat but, more importantly, to enjoy a balanced diet whilst at school."
Persuade pupils to eat? That won't be a problem with those sorts of meals.
George tries to hide a smirk over all the gourmet stuff he's going to be feasting on momentarily.
Here are some examples of what his highness could eat on a given day of the week (note: everything is "freshly prepared"):
Authentic Turkey Tikka Masala
Plain Rice Cake With Laughing Cow Cheese
Apple and Courgette Sponge with a Vanilla Custard (sounds delish)
Oven Baked MSC Alaskan Salmon Fishcakes Drizzled With Sweet Chilli Sauce
Vegan Vegetable Cassoulet With Beans and Spinach
Vegan Chestnut Mushroom and Pak Choi Stir-Fry
Moules Marinière With Cream, Garlic and Parsley
Doves Lemon Biscuits
Wow.
The royal family's schooling habits have been off-the-cuff and less pricey before. Prince William's education started in 1985 at Jane Mynors' Montessori nursery school, and he was the first member of the royal family to ever attend a nursery outside the confines of Buckingham Palace.
His mother, the late Princess Diana, was a nursery assistant at the Young England Kindergarten school in Pimlico, a region of London. Thus Prince William was raised to value the "normal kid" treatment.
Prince George later followed suit while attending the Westacre Montessori School in Norfolk, which was £33-a-day. When Prince William and Kate Middleton moved from their country residence, Anmer Hall, to live full time in London, he had to transfer. Many expected him to follow in his dad's footsteps and attend the Wetherby School, where his recently engaged uncle Prince Harry was also educated.
Now, this prestigious private school is a bit pricier.
It's also boasted pupil alums such as model and actress Cara Delevingne and Florence and the Machine frontwoman Florence Welch.
But even if his education is a little pricier than it was before, apparently the family still wants George to be grounded. He even has an official last name, and will be known as "George Cambridge," derived from his dad's title, which is "Duke of Cambridge." So his classmates can just call him George. The royal family currently has no real last name, but that doesn't mean George can't also have a real education.