McDonald's Made A Breakfast Burger With 6 Toppings So Glorious You Might Actually Weep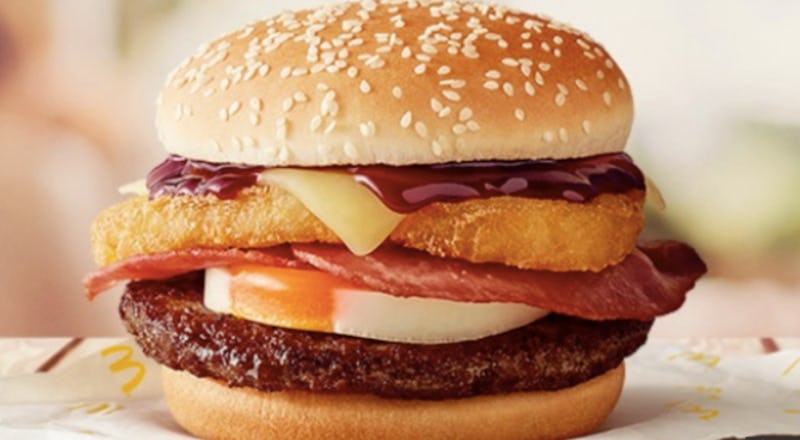 McDonald's
Always on the precipice of something brilliantly delicious, McDonald's never fails to deliver mouthwatering and inventive creations that'll have even the most impatient of us waiting in the drive-thru line. This particular menu item is no exception. The McDonald's Big Brekkie Burger is the marriage between breakfast and BBQ, because why didn't anyone think of this sooner? According to their website, the burger is made with a hash brown, cheese, bacon, a fried egg, beef patty, and BBQ sauce, all sandwiched between a toasted sesame seed bun. If you see something glistening on my face, it's the string of drool on the corner of my mouth.
Before you go spastic for the Big Brekkie Burger, though, I feel the need to warn you: it's only available in Australia.
Australia: 1, America: 0.
Don't get your knickers in twist though, because you can likely recreate this fantastic Aussie creation at your local Mickey D's, especially since breakfast is now served all day. (McMuffins for breakfast? I think yes.) One option is to order a burger plus a bacon, egg, and cheese biscuit, ask for some BBQ sauce and hash browns, and throw it all together. The bacon McDouble with a few modifications would also get the job done.
Or, if you're really, really nice, you might even be able to order your own customized burger and simply tell the nice voice coming from the drive-thru box exactly what you want. Then, sit in your car and enjoy your imposter Big Brekkie Burger — your soulmate in burger form. Don't forget your McFlurry sandwich.
While we don't have the ~official~ Big Brekkie Burger, with a little creativity, you can still enjoy a copycat anytime you want. The BBB, on the other hand, is only available until 10:30am every day.
Australia: 1, America: 1
This isn't the first time McDonald's has offered up something fresh and different, and Australia's not the only place to color outside the lines. While most international locations serve the classics, different McD's all around the globe have their own unique versions of the traditional items, and some even offer meals and sides specific to their own culture's cuisine. Sweden, for instance, offers the McVegan, which is made with a soy veggie patty and sounds absolutely amazing. India's got the Spicy Paneer. Paneer is cheese, BTW. In Japan, they eat the Fillet-O-Shrimp. Hong Kong has a spicy jalapeno chicken burger that's packed with flavor and shouldn't give you heartburn for more than a day or so.
Then we have Canada, with their poutine — fries (which could make your hair grow, apparently?) smothered in gravy and cheese curds, because why not? Also, Canada has Justin Trudeau.
Canada: 452, America: -10
While these menu items don't sound all that bizarre, there are others that have maybe pushed the boundaries. Going back to Malaysia, they've got something got a Golden Prosperity Burger. I'm not sure what makes it prosperous, but it's some kind of long, beefy thing with a hash brown on top. Not my cup of tea, but hey! To each his own. I'm more concerned about McDonald's cutting cheeseburgers from their Happy Meals.
McDonald's as a franchise has grown so massively large thanks to their ability to reproduce the same amazing menu items and make them perfectly delicious every. single. time. no matter where on the planet you are. This is a franchise business at its finest and most successful. But! Worth noting is how cool it is that various regions still have the freedom to put their own spin on things. While you can visit any McDonald's in the world and find your favorite eats from back home, you can also spice things up and experience a taste of a new culture, too. Not a bad deal, eh?