Lifetime's 'Harry & Meghan' Movie Picked THE PERFECT Meghan Markle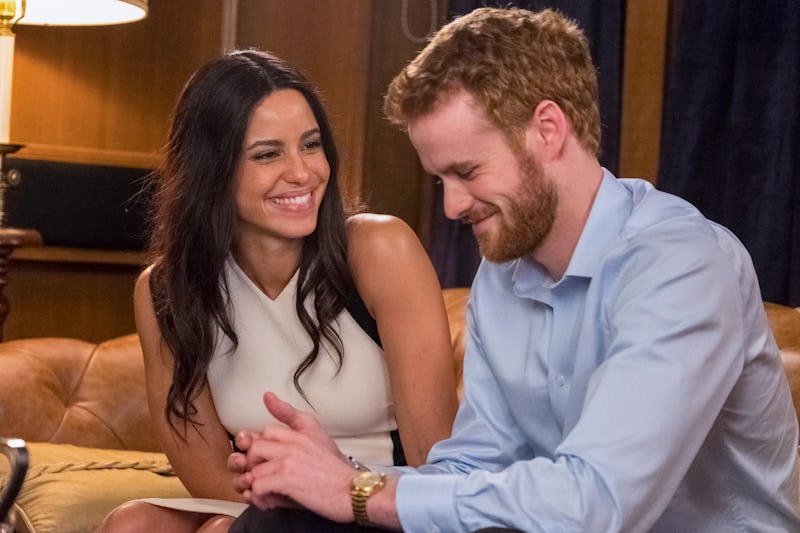 Michael Courtney/Lifetime
Before The Crown can catch up with 2018, Harry & Meghan on Lifetime is taking on the royal family for their latest ripped-from-the-headlines film. Just in time for the royal wedding, the new film examines how we got here and why. Who plays Meghan Markle in Lifetime's Harry & Meghan: A Royal Romance? Parisa-Fitz Henley is hopping genres for the modern classic.
"I really want [Meghan] to just one day come back into acting for a little and play my sister," said Fitz-Henley in an interview with AOL's Build Series, acknowledging that the two look super similar once the makeup has been put on. "When I got to see the film like on a big screen," Fitz-Henley said, "up close, I was like dang [the makeup department] did a good job! Wow!"
Looks aside, Fitz-Henley studied her fellow actor in order to get into character for the film. Even before getting cast, she said, she was taken with the IRL love story and interested in portraying Markle on screen — she, like many of us, just didn't think it would be this soon!
"We did a lot of research," she said at the Build series, "Obviously, there's a lot of video of these two people. So, watching a lot of interviews or places where they're being observed by others ... I got to watch quite a bit of Meghan's work to see how she moves as actress." She also read some of Meghan's writing. "I felt like I had a lot of material to work with," she said.
As for Fitz-Henley herself, like Markle she is an established actor who you'll recognize from film and television alike. Here are some of her most recent roles.
Luge Cage/Jessica Jones
In the Marvel Netflix world, Fitz-Henley plays Reva Connors, the woman who Jessica Jones killed under Kilgrave's orders, and Luke Cage's love interest at the time. Later on, in Luke Cage, we learn that she and Luke met at Seagate Prison and that her work there was not exactly on the level.
Midnight, Texas
Fitz-Henley plays the chillest (despite a few dark secrets, naturally) witch you've ever met on this NBC series, whose Season 2 should be coming soon. Also, she has a rude talking cat. It's a whole thing.
Compared to supernatural projects like this and the Marvel shows, Harry & Meghan is pretty normal dramatic fare. Hopefully some fans will be tuning in to the Lifetime romance — crossover fandom is very hip these days — but if Fitz-Henley is a familiar face and you still don't know why, you may not be alone.
So Much More
If half hour indie dramas are your thing, you may recognize Fitz-Henley from Season 2 of The Girlfriend Experience. If you're the type of person who remembers an actor from a single scene in a film or a single episode of your favorite show, Fitz-Henley has also appeared on Blue Bloods, House of Cards, Private Practice, Falling Water, The Jane Austen Book Club, and even The Sorcerers' Apprentice. She's everywhere!
Would Be Royals
Did you know that Fitz-Henley started a lowkey Harry & Meghan themed band? According to the actor, she and Paul Freeman were mutual friend through Freeman's wife, actor Erin Cahill, before they started writing music together. Their connection to the United Kingdom (she's Jamaican-American and Freeman is Welsh) plus Fitz-Fenley's latest lifetime role lead to the name. It was too perfect!
Ready to see her tell the story that's been captivating our lives in the recent past? "We see her determination, her poise," said Fitz-Henley in a behind the scenes feature. "We also see a lot of her vulnerability and tenderness." The Royal Romance can't come soon enough!