Why 'Midnight, Texas' Season 1 Won't Leave Fans Hanging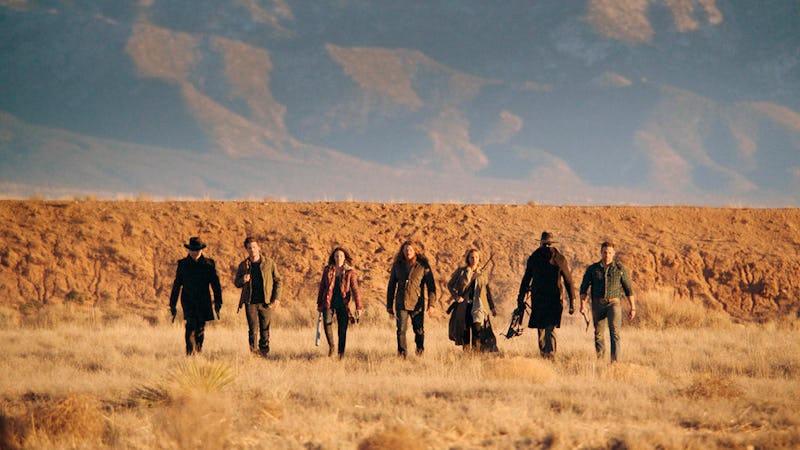 NBC
The Midnighters are taking on the apocalypse in the Sept. 18 Midnight Texas finale. Manfred has taken his hero's journey all the way to the underworld, the town got hit a freaky storm, and now our gang has got to take back their home. This supernatural family has never been stronger. Will Midnight, Texas be renewed for Season 2? Mister Snuggly didn't offer to sacrifice his furry life only to have this show be canceled already.
UPDATE: It was announced via the show's official Twitter account that Midnight, Texas will return Oct. 26.
EARLIER UPDATE: On Feb. 14, 2018, Deadline announced that Midnight Texas will return for Season 2, without Sarah Ramos and Yul Vazquez as series regulars and with new showrunners Eric Charmelo and Nicole Snyder replacing Monica Owasu-Breen, who is pursuing other projects.
EARLIER: While the NBC series has covered most of Charlaine Harris' trilogy in one season, there is still more story to tell beyond Midnight, Texas, Day Shift, and Night Shift. If the first season is any indication, there will always be more threats coming to Midnight. Now that the supernatural members of the town have come together to fight this Big Bad, we're going to need to see what happens next. The veil opening is clearly just the beginning.
TVLine's Renewal Scorecard calls Midnight, Texas a safe bet in terms of another season pickup. Some episodes were recently rescheduled and aired in a different timeslot, with a two-night event moving from a Monday and Tuesday to a Monday and Wednesday. While a sudden change like that is sometimes a bad sign from the network — that is not the case this time. The penultimate episode moved to accommodate the recent hurricane telethon.
In an interview with NBC News, showrunner Monica Owasu-Breen was hopeful about the future of Midnight, Texas, but assured fans that they wouldn't totally be left hanging either way. "If you watch the 10 episodes [of Season 1]," she said, "you will have a satisfying ending; there's a turn and you see where the show can go if we're lucky enough to get another season."
It's a summer series with a lot of fans and a great cast. There's no reason not to keep that party going for at least another year. When and if Season 1 hits a streaming service, that audience is bound to grow. Supernatural drama may make for good summer vacation viewing, but sometimes you need something new and with vampires to cozy up with and marathon on a winter weekend.
For now, the finale promises a lot of big moments for these characters. In an interview with TVLine, actor Parisa Fitz-Henley teased "Fiji's finale sacrifice." That may sound ominous, but she and this particular demon have a history. It's kind of her fight at this point.
"Fiji is in a place where she feels at a loss," she said, "having to be that vulnerable in front of her friends, really her family. She's having to deal with her feeling of really being an outsider, even in this family that she's created for herself." She wants to be normal, just like everyone in Midnight, but seemingly can't balance any kind of happy relationship with the dark side of her powers.
That's just one bit of drama going into the final episode. In an interview with SyFy Wire, François Arnaud talked about how his "unfinished business" in the real world isn't necessarily a vendetta. It's love. It's Creek. "I think there's an understanding that she has lost so much," he said, "he doesn't want his death to be another burden on Creek's shoulders. It gives him a reason to not die. I think if he didn't have Creek he'd be more willing to die." Sure, he's a chosen one and a fledgling leader — but there's a much more human element to his journey.
With all of the twists and turns that have been dealt already on Midnight, Texas, you just know that Season 1 is going to end with some kind of shocking cliffhanger. Owasu-Breen promised as much. Surely all of the 'shipping woes won't be resolved by the end of the finale. Even if the first season is resolved with a satisfying ending, fans are going to be begging for more, and hopefully NBC will deliver.