There Are SO MANY Meghan Markle References In The 'Christmas Prince' Sequel
Netflix
The Netflix original A Christmas Prince took the world by storm just a handful of days before Meghan Markle and Prince Harry announced their engagement and also took the world by storm. And then the day before the real royal wedding, in a Meghan Markle and Prince Harry-themed teaser trailer, Netflix announced that the fictional Aldovia would also be getting its own royal wedding in the sequel — A Christmas Prince: The Royal Wedding. So it's no surprise that A Christmas Prince 2 has Meghan Markle references everywhere. Spoilers ahead.
And while A Christmas Prince: The Royal Wedding is not necessarily a behind the scenes look into what Markle's own wedding prep was like, it is fun to see what happens when a strong-willed American determined to change things up a bit enters a histories-old royal family. And in this universe, Meghan Markle gets to keep her blog!
Although the teaser trailer did have Amber sitting down and watching Markle's wedding to take notes for her own, it's worth pointing out that their stories are definitely not identical and some references may perhaps be intentional while others are just happy accidents. In any case, here are all the possible Markle nods you can catch in the movie.
1. Amber & King Richard Have To Travel A Ton
In the beginning stages of Markle and Prince Harry's own relationship, they had to commute between Britain and Toronto where Markle was still filming Suits. In A Christmas Prince, Amber and Richard are flying back and forth between New York City and Aldovia on a regular basis.
2. Amber Did A Magazine Shoot Right Before Her Wedding
Remind you of the Markle Vanity Fair cover story?
3. The Palace Press Advisor Mocks Amber For All Her Media Work
"Magazines, television, blogs," she says, listing off exactly what Markle had also been doing before she and Harry got married.
4. Amber Wants A Simple Wedding Dress
Netflix
WPA Pool/Getty Images Entertainment/Getty Images
Markle's own wedding dress was fluff-free — just a simple white boatneck gown. Amber also expresses a desire to have a more simple wedding dress. Hard to blame Amber considering what the stylist initially put her in at first.
5. Amber's Always Breaking Protocol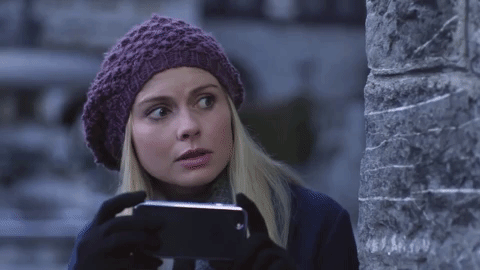 Markle is also always being accused by tabloids of "breaking protocol." How much of that protocol is actually still observed in 2018 isn't clear, but it is clear that Markle does things her own, refreshing way — as does Amber.
6. Amber Wants To Modernize The Royal Family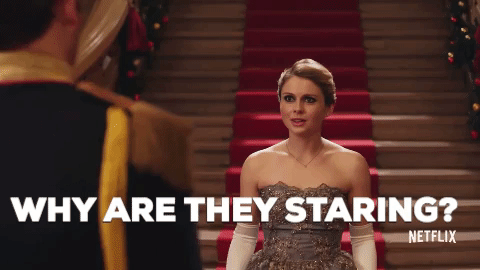 Markle's marriage to Prince Harry was a huge step into the present for the royal family. Not only was Markle American, but she had previously been married. Just a few decades earlier, the Queen's own sister was forbidden from marrying a divorcée. Amber wants Aldovia to similarly adapt and evolve like the UK monarchy has in recent years.
7. Amber Is A Blogger Too
Markle's lifestyle blog "The Tig" was eventually shuttered after her engagement to Prince Harry. Meanwhile Amber fights to keep her blog up, and succeeds — which is surprising since it's literally a blog about the royals that the palace doesn't have any control over content-wise.
8. Amber Also Sported A Messy Bun On Her Wedding Day
Chris Jackson/Getty Images Entertainment/Getty Images
Netflix
Making messy buns a royal signature one wedding at a time.
Stay tuned for what will hopefully be a third movie, A Christmas Prince: Royal Baby. Netflix can just keep on mirroring Prince Harry and Markle's real life all the way through this franchise.