Why Prince Harry & Meghan Need To Be Taking Notes From This Feisty Royal & 'The Crown'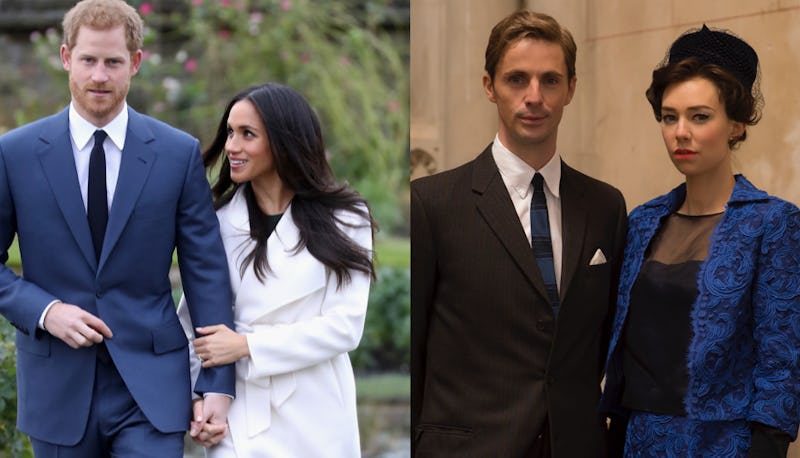 Chris Jackson/Getty Images Entertainment & Alex Bailey/Netflix
It doesn't matter if it's 2017 or 1960, opinions about upcoming British royal family nuptials are at times indistinguishable. In a scene that could very well end up in a future season of The Crown, Prince Harry and Megan Markle announced their engagement last month after much speculation about their relationship status. While there was plenty of celebration in the press and around the U.K. and U.S., not everyone was clicking the like button. Instead, some news outlets latched onto Markle's biracial heritage and status as a divorcée as fodder for hot takes that espoused views that even in 1955, when Princess Margaret was embroiled in her own engagement drama, would have seemed antiquated to huge swaths of the public.
If you're not a scholar of British history or a fan of Netflix's The Crown, you may be wondering: Why all this consternation about divorce? Divorce was what led to King Edward's VIII abdication in 1936 — his desire to marry an American with two living ex-husbands caused a constitutional crisis. It was also the reason why Princess Margaret couldn't marry her lover, the recently divorced Captain Peter Townsend; their tragic love affair was documented in Season 1 of The Crown.
Thankfully for Harry and Meghan, being divorced is no longer an obstacle to marrying into the royal family in the 21st century, as Prince Charles — who is next in line to the throne — is married to a divorcée whose ex is still alive; Charles himself is also divorced. Yet somehow, when the Harry/Meghan nuptials were announced, it suddenly became important to mention Markle's previous marriage, proving that though the monarchy has changed somewhat in the recent decades, Harry and Meghan will still have to contend with remnants of many of the obstacles that Princess Margaret encountered during her love affairs. Here's what the happy couple can learn from the past, or, if you're a Netflix obsessive, Princess Margaret's arc on The Crown.
Royal Gossip Will Always Sell
As Harry and Meghan no doubt already know, tabloid gossip about members of the British monarchy is as much of an institution as the queen's Christmas message and the changing of the guard. While technology may have evolved substantially in the last 100 years, the public's desire for a "Royals—They're Just Like Us" scandal is as strong now as it ever was. As the first member of the House of Windsor to marry a commoner since 1919, Princess Margaret's choice to marry the photographer Tony Armstrong-Jones was front-page headline material, and Season 2 of The Crown tracks them from lusty hook-ups in Tony's studio and motorcycle rides across London to (spoiler alert!) arguing about pretty much everything, all while in the public eye.
Tony's "bohemian" lifestyle was also put under the microscope, and he was expected to give up his day job (something Markle has already done). Photography remained his passion (and profession), and some of the most intimate pictures of the royal family were taken by Tony long after his marriage to Margaret had ended: There are even some featuring Prince Harry. But while the press was particularly interested in the fact that Margaret would marry a commoner, they were pleased that he was at least British. "One very popular virtue of Mr. Armstrong-Jones is that with him the princess will have no temptations to belong to other nations but will remain an English Lady," The Times of London wrote.
Though there's admittedly less xenophobia these days, Markle has already endured heavy tabloid scrutiny and an onslaught of rumors, derogatory digs, and coded bigotry mostly focusing on her previous marriage, biracial heritage, and the fact that she's American. In fact, the first sign that Prince Harry was serious about his relationship with Markle came when he issued a rare and unprecedented public statement about the tabloid rumors, calling out the "racial undertones" of comments like ones in the press pointing to Markle's "rich and exotic DNA." Unfortunately, it seems some level of tabloid scrutiny will always come with the territory.
Your Friends And Family Are Also Front-Page News
Public interest comes in all shades, and Margaret would know that it also involves targeting family members beyond just the betrothed. In her day, naysayers wrote headlines about the messy love lives of Tony's family members, with one headline reading, "His Father Has Been Married 3 Times and Wife Number 3 Was An Air Hostess."
Exes and former BFFs often come out of the woodwork, but it was Tony's "friendship" with dancer Jacqui Chan that concerned some of the public: "The invincible snobbery of the English middle class is always outraged by strange professions, odd clothes and irregular habits. Aunt Ethel and Uncle Joe are worried as can be about Miss Chan," The New York Times wrote. Mostly true to history, The Crown does portray a sexual relationship between Jacqui Chan and Tony, as well as her attendance at the wedding.
Meghan Markle can likely relate to the lives of her family members getting picked apart. And some of her relatives, most notably Markle's half-sister, whom she hasn't had contact with in over a decade, are trying to make a quick buck off this sudden thrust into mega-stardom.
It's Good (Or At Least Slightly Better) To Be The Spare
Like Princess Margaret, Prince Harry is the 'spare,' the sibling of the monarch (or monarch-to-be). This affords some benefits, as there isn't the same level of rigidity over their private life or desire to see them settle as quickly. Still, interest in a love match is just as high for the spare as it is for the heir to the throne. Even as they get knocked further down the succession list, they'll still get asked about when they plan to have children.
But if Princess Margaret's experience is any indication, it's a bit easier to have public opinion on your side as the spare, when a little less is at stake. Despite the taboo that Capt. Peter Townsend was divorced, The New York Times reported that "the press of almost every shade of opinion has wished her happiness in her choice." The same 1955 article notes the "tremendous human interest of this modern-day love story." And because that relationship ended in heartbreak, the desire to see Margaret happy meant there was going to be a lot of focus on her next beau. One report after her engagement to Armstrong-Jones explained, "Any marriage for Princess Margaret is bound to be popular," citing the dissolution of her relationship with Townsend. Forbidden love is always going to offer a boost to public opinion.
The Wedding Will Almost Definitely Be Televised
A loving public is also going to want to feel included on the big day. But don't worry, Princess Margaret set a precedent that the soon-to-be-wed couple will likely follow. Television made the British monarchy feel more accessible to the public starting with the broadcast of Queen Elizabeth's coronation in 1953, which was shown in detail on The Crown last season. By the time Margaret's wedding would roll around seven years later, the Windsor family was getting a public bashing for how out of touch they had become. And the call was coming from inside the house, so to speak; Lord Altrincham, a member of the peerage, wrote a scathing op-ed in the National and English Review about the outdated aspects of this monarchy. He then followed this up with appearances on news programs to discuss the piece further.
One way to get the public back on the monarchy's side is through experiences that are universal. Margaret's wedding — and the recent birth of Elizabeth's third child— was seen as a turning point, with one article mentioning how there are "few things more human than birth and marriage" and that the British people are "fond of pageantry and ceremony." With Britain currently experiencing an identity crisis with tough ongoing Brexit negotiations dominating the news cycle, Harry and Meghan's wedding could be the kind of distraction needed to unite the kingdom again.
While it hasn't been confirmed that the recently announced May 19 nuptials of Harry and Meghan will be broadcast live, there's a strong indication this will be the case, and Harry's father and brother also had their big day screened to the world. In 1960 there wasn't the technology for a simulcast; instead tapes were flown via jet planes to all corners of the globe and translated into a number of languages including Swahili and Hausa, while East German citizens watched West German television feeds just to get a glimpse of the event. So while Britain's power on a global level has waned, interest in its monarchy still reigns.
Princess Margaret's love story across the first two seasons of The Crown reveals that little has changed over the last sixty years or so when it comes to public and tabloid interest in the love lives of the British monarchy. But despite the negative scolding and coded rhetoric from some corners, there is overwhelming public support for the union of Prince Harry and Meghan Markle. Hotels in Windsor have already been booked up for May 19, and the streets will likely be lined with well wishers. Here's hoping the rest of us will be able to watch the nuptials on YouTube.