The 'Christmas Prince' Sequel Trailer Will Give You Major Meghan Markle Vibes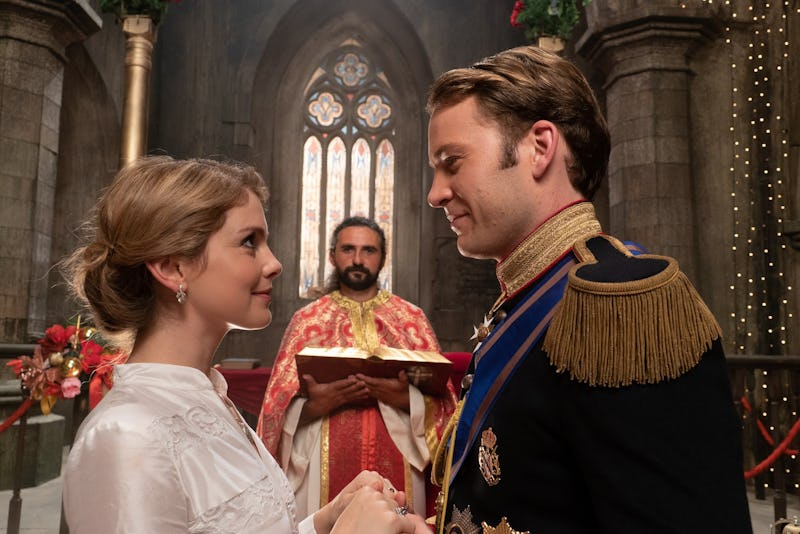 Netflix
It's time to get royally excited for this holiday season. From the looks of Netflix's A Christmas Prince 2 trailer, it's clear that Aldovia is the place to be, as Amber (Rose McIver) and Prince Richard (Ben Lamb) get ready to say "I do." In fact, it might just give you flashbacks of another royal wedding that took place this year since it's hard not to see the similarities between Amber and Meghan Markle.
But, as the trailer for A Christmas Prince: The Royal Wedding shows, it might not be all candy canes and sugarplum fairies dancing in their heads. Here in Aldovia, a royal wedding isn't just about Amber and Prince Richard promising themselves to one another, but to a country.
"It's been 349 days since I said yes to the love of my life Richard Bevan Carlton," Amber says in the trailer. In less than a year, she's gone from journalist to royal fiancée but she swears that through the insanity of her quickie role engagement, "I'm still me even though I'm about to become queen of a small country." Famous last words if I've ever heard them.
See, this whole ruling thing is pretty new for Amber, and she's about to realize just how complicated it is. Especially, when your husband-to-be is dealing with a "political crisis that threatens to tarnish not only the holiday season, but the future of the kingdom." Can this modern girl get behind her new country's traditions? Well, fans will have to wait until Nov. 30 to see.
Luckily, though, the trailer gives some clues of what Amber is up against and they parallel some of what Markle reportedly experienced before becoming a royal. No surprise, those nods to Markle are planned since A Christmas Prince was inspired by the real-life royals. In fact, A Christmas Prince screenwriter and former investigative reporter Karen Schaler told Entertainment Tonight that the film was loosely based on her time reporting on the royal family.
A Christmas Prince has never tried to ignore its real royal connection, even featuring Prince Harry and Meghan Markle's royal nuptials in its first teaser trailer. But in this trailer, the similarities between Amber and Markle become even more obvious. Amber is being asked to give up her blog as not to reveal too much about the family and to some extent, herself, which is definitely a problem for her.
A few months into dating Prince Harry, Markle deleted her lifestyle blog, The Tig. Sources claimed to People that the site's removal was unrelated to her relationship with the prince, but when she later deleted her Twitter and Instagram, it was hard to believe it didn't have a little something to do him. The royals don't have their own individual social media profiles, but @theroyalfamily will help fans get their Buckingham Palace fix.
Amber is having trouble balancing the traditions of Aldovia with her own modern views when it comes to her wedding look. Specifically, she's not a fan of her veil. "I can't see," Amber says in the trailer as her heavily bedazzled veil covers her face. But, it's tradition, which means it's going to be hard for her to scrap it.
Maybe like Markle, though, she'll end up using her veil as a way of celebrating her new royal family while keeping with her own classic style. According to People, Markle's tulle veil "featured a trim of hand-embroidered flowers from each of the 53 counties in the Commonwealth in threads and organza."
"Life in a fishbowl takes getting used to," she tells her future hubby, and it's hard to believe Markle didn't feel the same way after announcing her engagement to Prince Harry. But, let's hope Amber, like Markle, can figure out a way to balance the two and give the world the happy ending they've been waiting for. Let's be honest, all anyone wants for Christmas is for Amber and Prince Richard to live happily ever after.