A Quick Guide to All The Men In 'My Brilliant Friend,' Even Those Awful Solara Brothers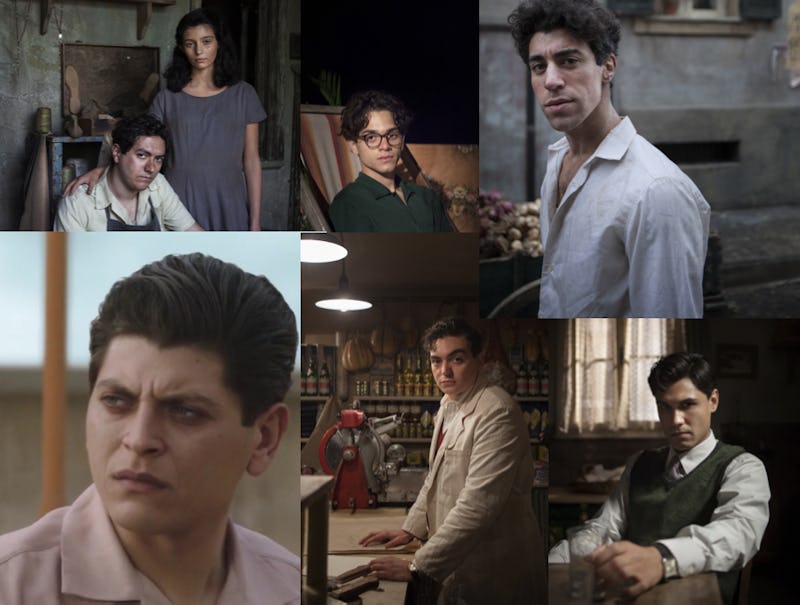 Eduardo Castaldo/HBO
Spoilers through My Brilliant Friend Episode 6. It can be difficult enough for English-speaking viewers to keep up with the My Brilliant Friend plot (hello, subtitles) without taking into account that the characters are played by a series of different actors. The HBO show centers around Elena Greco (Margherita Mazzucco) and Lila Cerullo (Gaia Girace), yes, but the boys on My Brilliant Friend are arguably just as integral to the complicated, decades-spanning plot.
A lot has changed in their Naples neighborhood over the past six episodes, and Elena (Lenu) and Lila's trajectories have become more pronounced the longer the show has aired. While the young Greco has been fortunate enough to attend high school, Lila's family can't afford higher education. In Episode 6, audiences see Lenu go to Ischia for the first time, spending a summer in relative luxury. Lila, meanwhile, is forced to ward off Marcello Solara's dogged advances. To make things worse, he's got the entire Cerullo family eating from the palm of his hand, bribing them with progressively larger gifts in exchange for Lila's hand in marriage.
Michele Solara, on the other hand, is the neighborhood bully and does his older brother's bidding. And then there's Nino Sarratore, who declared his love for Elena when they were kids and now won't give her the time of day at school. But not all of the boys serve as romantic interests: Rino, for example, is Lila's older brother and arguably her closest friend. But if the show's cast of characters still has audiences perplexed and furiously consulting the novels' family trees, this guide should dispel any further confusion.