Why You'll Be Hooked By HBO's 'My Brilliant Friend' — Even If You Didn't Finish The Book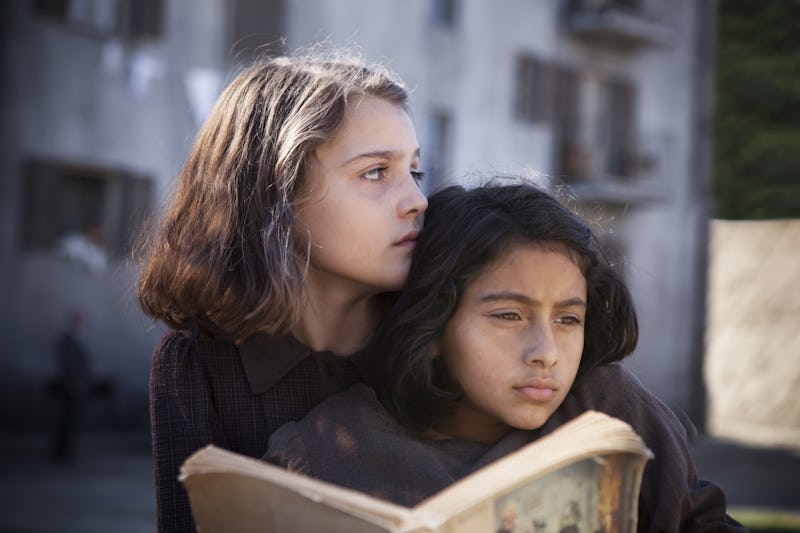 Eduardo Castaldo/HBO
Spoilers ahead for My Brilliant Friend Episodes 1 and 2 The HBO adaptation of Elena Ferrante's novel, My Brilliant Friend, premieres Sunday, Nov. 18 before releasing a second episode just after on Monday, Nov. 19. The series is dreamy and slow, the camera panning lazily across the dusty Naples enclave where protagonist Elena Greco (Elisa del Genio) and her frenemy Lila Cerullo (Ludovica Nasti) grew up. Their neighborhood is tightknit but gossipy, with women both literally and figuratively airing out their laundry on the balcony. Audiences see all this through the two girls' eyes, and My Brilliant Friend Episodes 1 and 2 reveal just how difficult it was being a girl in 1950s Naples — even more, maybe, than the first book in Ferrante's Neapolitan novels. The novels are just evocative, but seeing it all play out on screen and hearing the roughness of the Neapolitan dialect its characters use adds a lot to the story; both fans, haters, and newcomers to the Neapolitan novels will find something to stick around for once they press play on the 8-part miniseries.
Lila carries herself with a self-possessiveness that fascinates Elena. And while they initially avoid each other, the two girls become inseparable after Enzo, a neighborhood boy, starts throwing rocks at Lila. She'd just eviscerated him in a school competition, which upsets him. Elena offers the young girl a rock, which she lobs across the street at him. This act of violence against the boy bonds them, and they slowly begin to spend time with each other.
"The men were always getting furious, but then they calmed down, whereas the women flew into a rage that had no limit and no end."
Elena is gullible while Lila is bossy, and the young Cerullo uses that to her advantage. A prime example occurs when Lila makes them swap dolls, immediately after throwing Elena's down into the cellar. The other girl reacts by defiantly tossing Lila's doll through the iron bars, too. "What you do, I do," she says. Although they become connected at the hip, there's always an underlying tension between them. Audiences who've read the novel are well-acquainted with this nuanced dynamic, but for first-time viewers, their relationship can seem bizarre.
That said, there are some reasons why Lila is so confident — for one, she's a bona fide genius, and Maestra Oliviero is rendered speechless when she discovers that her young pupil had taught herself to read and write. Furthermore, it's clear that she doesn't have a great home life. Because of her family's dire financial situation, Lila's father forbids her from seeking higher education. This saddens her brother, Rino, who offers to work for her tuition. "Why should your sister, a girl, go to school?" their dad asks him furiously. Rino responds, "She's the smartest person in the neighborhood — ask the teacher!"
"You don't even know how to beat your daughter," she hisses. "What kind of man are you?"
But it's no use when Maestra Oliviero tries to convince Lila's mother that she belongs in school. "You think I'll speak to my husband, and he'll change his mind?" Mrs. Cerullo responds, helplessly. "You think my daughter, who's a girl, will go to middle school like a lady while her brothers'll go to work? Maybe things are like that in your house, but not in ours." This reveals the overt sexism that existed during the 1950s — not just in Naples or Italy at large but worldwide. And when Lila announces that she's going to take the admissions test anyways, her dad literally throws her out the window, yelling awful things after her. The young girl tells everyone she's fine, and although she clearly isn't, this reveals how Lila came to possess her "firmness," as Elena calls it.
That said, Lila's not the only one getting smacked around by her parents. Elena has a tempestuous relationship with her mother, who resents the fact that her daughter gets to attend school while she's stuck at home doing housework. After Elena is caught skipping school, Mrs. Greco nags her husband for not sufficiently punishing his child. "You don't even know how to beat your daughter," she hisses. "What kind of man are you?"
There's something unsettlingly competitive about all of the women in My Brilliant Friend. The most obvious case is Lidia Sarratore and Melina Cappuccio, who claw at each other on the staircase of the palazzo over a man. "As a child, I imagined tiny animals that...made their way into the water, the food, the air, making our mothers as angry as starving dogs," an older Elena narrates over a dream sequence in which cockroaches climb out of every nook and cranny of the neighborhood, blanketing the streets, crawling over people while they sleep. "The men were always getting furious, but then they calmed down, whereas the women flew into a rage that had no limit and no end." Perhaps Lila and Elena can't help but be infected by this generational bitterness, which seems to pit them against each other for attention.
While the HBO series is incredibly true to its source material, there's still something about seeing this brutality, pent up rage, and dusty poverty played out onscreen that makes Elena and Lila's childhoods that much more bleak. Their lives could be worse, yes, but that it's so difficult for them to get an education or escape their upbringing is sobering. Even when Elena's father tells her that she can continue going to school, despite the mother's protestations, her father demands that she be the best in school. People are putting up obstacles in front of them, everywhere they turn. Even the two best friends will eventually, as readers know, end up doing this to each other on and off throughout their life.
It's not a light story by any means, despite the beautiful cinematography, captivating performances by the young women, and the moving coming of age story that runs throughout. Often, the Neapolitan novels are billed as the story of a complex friendship between two women — and they are, in part. But the visceral nature of the HBO series drives home a more fascinating theme from the novels, about how two young women overcome the brutality and violence of their shared home, and their troubled relationship with each other.