Why 'The Mick' Got Renewed For A Season 2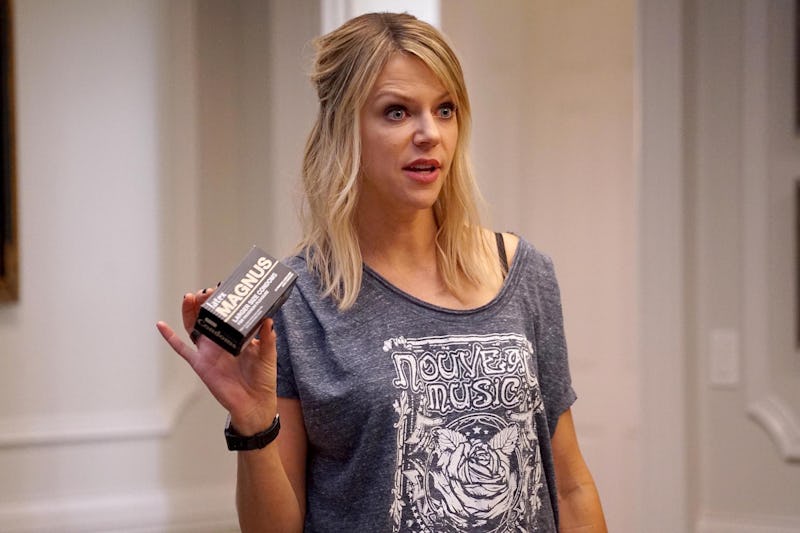 Fox
The days of a loving protagonist and his or her ideal family feel pretty much over. Adios, Leave It To Beaver! Sayanara, The Brady Bunch. People don't want to be jealous of your perfect lives/hair. This might be why, according to Variety, The Mick was renewed for Season 2 — because perfect protagonists are boring. We want to see a lead character who is just as flawed as we are — and Kaitlin Olson's Mickey offers up just that.
The Mick follows Olson's character Mackenzie "Mickey" Murphy, a self-aware degenerate who heads to Connecticut to canoodle some money from her estranged sister and brother-in-law. Luckily, she gets everything from the couple when they escape the country due to accusations of federal fraud. But along with a beautiful mansion, Mickey also gets custody of her sister's spoiled children. In the series, the new family navigates the uncharted territory of boundaries and love without all the bells and whistles. It's one of those shows that, when watching it, will make you feel so much better about your own sometimes erroneous choices.
So far the series, which debuted midseason at the beginning of 2017, has been the golden child of Fox's Tuesday lineup. Early in its first season, the show got an additional episode-order of up to 17 episodes. It turns out that people really, really want to see more of Kaitlin Olson doing the self-involved thing.
David Madden, an executive from Fox had nothing but nice words for the series in a statement announcing the second season. He claimed, "from the earliest stages of development, all of us at FOX had enormous faith in The Mick, and it hasn't disappointed." He also had nice words for the cast and crew stating, "Kaitlin is a fearless comedic force, and the rest of the cast has just proven to be phenomenal. John and Dave Chernin have a very clear vision of what this show is, and they execute on that vision each week to perfection."
This isn't the Chernins and Olson's first rodeo of a show featuring flawed leads. All three are involved in another comedy series about a dysfunctional family and their friends, It's Always Sunny in Philadelphia, which is now in Season 12. It seems that they've figured out the recipe for good television — protagonists we love to hate.
Keep up the good work, guys! The catharsis brought on by The Mick's imperfect characters is so necessary.