Why 'Mindy Project' Fans Shouldn't Be Sad That The Show Is Ending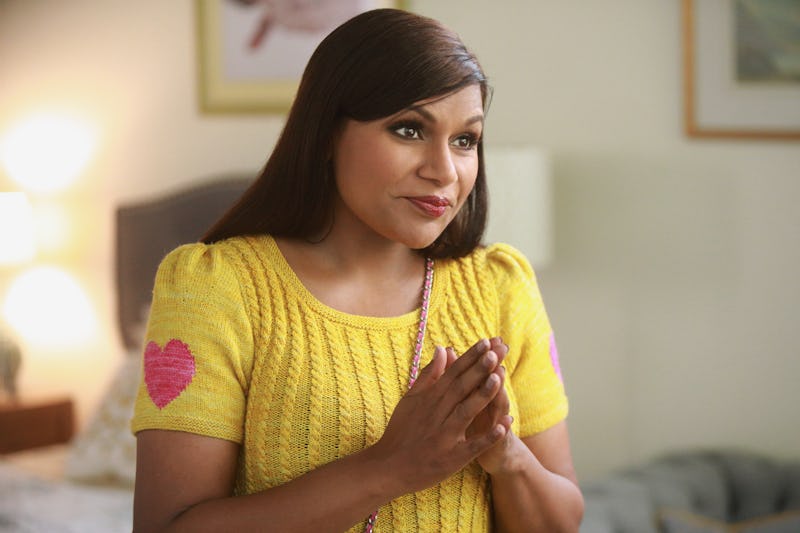 Jordin Althaus/Hulu
The Mindy Project is as good as its ever been: The title character Mindy Lahiri has developed over the seasons into a self-aware, complex female character who has grown because of her experiences. A show that began as a romantic comedy-meets-workplace sitcom has evolved into a show about learning and changing while still maintaining a sense of romance and hope. The cast is as dynamic as ever and the storylines feel surprising yet satisfying. Yet despite continued success, The Mindy Project won't return for Season 7 on Hulu — but show creator and star Mindy Kaling supports the show's conclusion.
And, it is always good when a show gets to end on its own terms, wrapping up storylines and tying things up how it chooses. Some shows are forced to end abruptly, due to cancelation or talent departure, and it always feels jarring and rushed for fans. The Mindy Project will end however it wants, having explored the characters fully. Kaling has been outspoken abut the reasons the show is wrapping up, and they may make fans feel better about the show ending.
One of the reasons Kaling feels its time to wrap the show, is that she has already explored so much in six seasons. The Mindy Project has followed a single, dating, hopeless romantic Mindy Lahiri through her adventures and into becoming a mother and even getting married then divorced. It has been an interesting journey from a show about pure romantic hopes and failures to one about putting grown up choices first. Kaling spoke about the show before the final season began to Entertainment Weekly. She said at the time,
"We've seen [Mindy] be a mom, and we even had enough time to explore that. We started this series when she was single, and now she's married [and divorced] and has a kid and she has a stepdaughter, and it kind of just felt like [a few] more episodes was all we needed to wind this down."
Time was given to all the characters on The Mindy Project and now the show can wrap up, having concluded many creative avenues.
Another reason for concluding The Mindy Project with Season 6 is Kaling's increasingly demanding career. Kaling has always been busy, writing and staring in The Mindy Project, while also working on other projects and even releasing books of her own. But as of late, her career has taken off to a whole new level of intensity. The Hollywood Reporter wrote about Kaling's many new projects, including that Kaling will be involved in two major movies in 2018: Ava DuVernay's A Wrinkle in Time adaptation for Disney, and the female-led Ocean's Eight. Kaling's also writing for the NBC comedy Champions, developing additional comedies for Hulu, and working on a future film with Emma Thompson.
She told The Hollywood Reporter about her love of taking on all roles in television and film saying,
"The great thing about right now in television and film is you don't really have to choose ... For me, especially since I'm eight months pregnant now, it's really a gift to be able to bounce back and forth from having creative control of something to being cast in something and letting someone else take control. That's one of the nice parts of my career right now is I'm afforded that opportunity."
Oh, and she's eight months pregnant as well, no big deal.
Fans are eager to know what to expect from the series finale. Kaling told Entertainment Weekly that she's actually had an image in her mind for the last five minutes of the series for quite some time now. She said,
"I've always had an image in my mind of what would be in the last five minutes of the finale, but I don't know what the explanations are for it ... I want to do something surprising. I want to do something that feels good but also makes you feel like when you leave the character, that she's learned something in these past six years — for someone who doggedly doesn't want to learn."
Season 6 has felt like the conclusion of a growth narrative for Mindy Lahiri, so it makes complete sense that Kaling pictures a conclusion that represents that.
While all the specifics are still a mystery, Kaling hinted that she'd love for Mindy Lahiri to end up in another iconic New York place. The Mindy Project has always had New York as a backdrop and Kaling considers this an important part of the show. She told Entertainment Weekly,
"There's still a small handful [of places] that I don't want to say that I would love to have her go to, but she's been to the Empire State Building, she's been to the Central Park carousel. She's been everywhere, she's run into every New York politician. So I think it'll be fun to see what is left."
Wherever she ends up, it's nice that Kaling is in full control of the series finale. The Mindy Project may be ending, but at least its ending on its own terms and with the conclusion it wants.