How The Women Of 'The Mindy Project' Are Thanking Mindy Kaling For Literally Changing Their Lives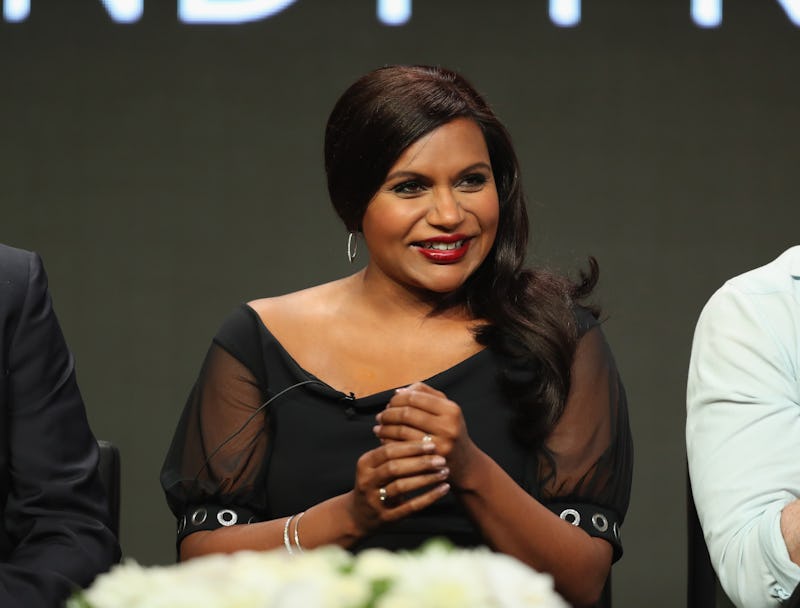 Joe Scarnici/Getty Images Entertainment/Getty Images
After six hilarious seasons of the series, Mindy Kaling's last day shooting The Mindy Project has come and gone. On Wednesday, she shared an Instagram of herself sitting in Mindy Lahiri's office and captioned it: "Last day". It's definitely bittersweet, but all good things must come to an end. The comedy has not only transformed TV — especially since it was created by and staring a woman of color — but the lives of both fans and those who participated in the Hulu series. So much so, the women of The Mindy Project cast are thanking Kaling across social media for giving them jobs and, of course, for changing their lives in amazing ways.
The former star of The Office is most definitely an influential woman in Hollywood. It's something her female co-stars haven't been shy about admitting, either. In September, Xosha Roquemore (Tamra) told Entertainment Weekly, "It was a really, really good show that was one of a kind, and it was groundbreaking in terms of the comedy and in terms of our creator, executive producer, and star." Beth Grant (Beverly) echoed Roquemore and said of Kaling,
"She's a hero, she is a feminist hero, that is for sure. I mean she's my ideal — she's who I want to be when I grow up. One woman stood tall and stood strong and let her voice be heard — that you could star, produce, write, shepherd, be a fashion icon, do it all — it is possible."
Ever since her days as Kelly Kapoor, Kaling has acquired a massive fan base, who even freaked out with joy after learning of her pregnancy. That is how much the 38-year-old actor has touched the lives of those who admire her and are genuinely thrilled for her success. The same can be said for the women on her show, who are beyond grateful for Kaling giving them a voice and the ability to do what they love. Here are just a few of the praises she's received from them, so far, on Instagram.
Fortune Feimster
Feimster, known for playing Colette, can't thank Kaling enough for "taking a chance" on her. It's something she also talked about at the Los Angeles premiere for the final season. " [Kaling] has a funny perspective on life, she's not perfect, she's got lots of quirks," she said. "We need people like that. A perfect person with no flaws, that's not realistic. Any time a woman runs the show, runs the writers' room, is the lead actress, it's huge."
Allison Tolman
"@mindykaling was the first person to offer me a job after Fargo hit," Tolman wrote on Instagram next to a photo from one of her episodes. "I'll never forget where I was when I got the call about #TheMindyProject, when it registered that work begat work, when I realized that there was going to be a life for me in this industry after Fargo. I'll be grateful to Mindy for that forever. Her show wraps shooting this week, and it's a good one. Thank you, thank you, thank you Mindy."
After wowing everyone in the first season of Fargo, Tolman then headed on over to Mindy in 2014 for a short arc as Peter's (Adam Pally) love interest, Abby. In November 2014, Tolman told Vulture of working with Kaling, "They cast all sorts of people of different races, sizes, types, et cetera, and that has created a sitcom world that actually looks like the world I live in," she said. "I appreciate that when I turn on the television. She writes for women in a way that men can appreciate, while exploring what it means to be a woman and be feminine right now in a big city."
Beth Grant
"Happiest memories, mountains of love, joy, and gratitude!" Grant wrote next to a slideshow of her character created by Kaling. "Thank you, Mindy. Thank you for everything!"
Grant will forever be known as the bold and unapologetic Beverly and it's something she can't help but thank Kaling for. "I fell in love with Mindy and thought, 'This is this brilliant young woman who has her own voice and I'm going to go and be of service to her'," she gushed to EW in September. "And it was my genuine heartfelt desire to do that, and of course, the irony is she was of service to me, and it changed my life. I'm not the same person I was six years ago. I was old and crabby and ready to quit."
Tracey Wigfield
Not only did Wigfield play Lauren, Peter's wife, throughout the series, but she also served as co-executive producer and writer. "During the second season at Mindy, we had written a character named Lauren as a love interest for Peter," she told Cosmopolitan in October 2014. "I read the part at the table read, and I guess it had gone well because Mindy asked me if I wanted to audition for it. She knew I did improv and that I had an interest in performing. She is so generous and open to giving me this opportunity because she got her start as a writer and an improv actor as well. She really pushed for me and made it happen." Wigfield also added, "It's such a blessing to be able to act on such a great show because I know it's so hard to do this as a living."
"When I made the show, there were no women of color who were the star of their own show," Kaling said at September's PaleyFest panel (via EW). "There was not even a man [of color] who was the star of their own show since I don't even remember when. Now my favorite shows are all women of color, the leads. Things move so quickly, now it doesn't seem as scary."
As Kaling mentioned, there are, thankfully, shows like Insecure, which Issa Rae co-created and also stars in. Then, there are dramas created by Shonda Rhimes (who also appeared in The Mindy Project during Season 3) that feature women of color in leading roles, like Kerry Washington in Scandal and Viola Davis in How to Get Away With Murder. Of course, there is also Ava DuVernay's Queen Sugar, which airs on OWN, and The CW's Jane the Virgin, starring Gina Rodriguez. Thanks to Kaling and these women, TV has come a long way.
It's been made quite clear by her co-stars and the work she has produced that Kaling is a true inspiration for women and will continue to be.