The Sex Toy For People Who Aren't Into Sex Toys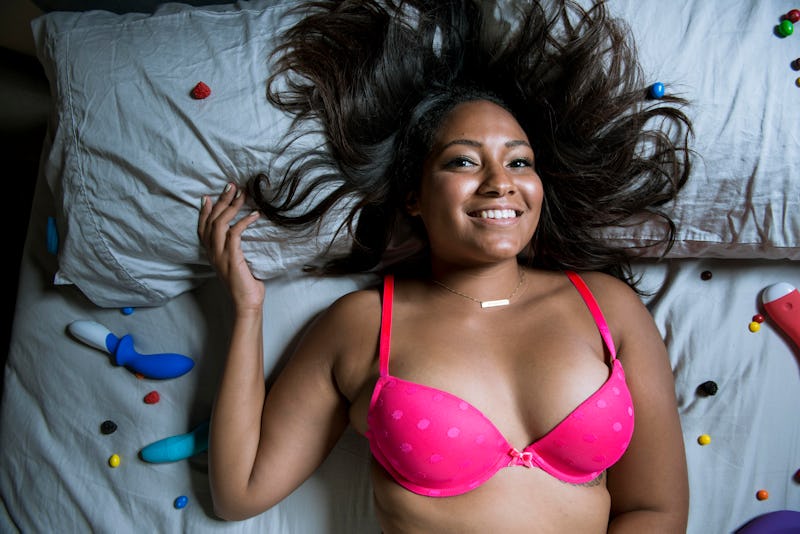 BDG Media, Inc.
Confession: I'm not much of a vibrator girl. I was masturbating with my hand for years before I bought my first vibrator and, frankly, I usually find them to be unnecessary at best and annoying at worst. My body just doesn't seem to need the intensity of a vibrator, so I've largely gone vibe-free, with a couple of exceptions that lasted for a masturbation session or two before I forgot about them in the underwear drawer. That is, until I was introduced to the Minna Limon.
First of all, let's talk about the design. I remember walking into Babeland in New York City the first time when I was 19 and being kind of freaked out by the fact that so many of the toys were shaped like animals. I didn't know then that the original vibes with external and internal stimulation (think the super-famous Habit Rabbit) originated in Japan in the '80s. The animal decorations were added because vibrators were illegal there and it helped them get past the sensors. All I saw were "toys" that were used for sex that felt really infantilizing. To 19-year-old me, that wasn't going to fly.
Oh what a difference a decade makes! The only thing the Minna Limon has in common with those 1980s animal vibes is the fact that it comes in friendly colors — teal and pink, to be exact. As you might expect from the name, the Limon is shaped like a lemon, with a little nub at the top and smooth, rounded sides. The control buttons are integrated into the design, with just enough of a rise that you know where to find them, but not so much that they're distracting or get in the way. Each vibe also comes with its own little pouch and a USB-charger for easy recharging.
Minna Limon, $135, Amazon
My favorite thing about the Limon, however, is its vibe. One thing that has never worked for me — although I know that it's undoubtedly one of the things that's worked for other people — is how many vibrators have a consistent vibration that require you to switch up or down a level or push a little lever for a slightly smoother transition. Varying your vibration intensity can hard to get just right with most vibes.
But the Limon is the Goldilocks of vibrators, due to its Squeeze Control feature. Rather than a lever or a switch, the Limon is controlled by squeezing. I haven't quite figured out exactly why yet, but I've found that this gesture is much more intuitive than any other vibrator I've used. The best reason I've come up with so far is that it's similar to what happens when I rub my clit with a finger. When masturbating that way, my hand intuitively responds to whatever I'm fantasizing about or the erotica I'm reading. Hotter part of the fantasy means pressing harder; less hot part means pressing more lightly.
The same thing happens with the Limon: when I'm at a hotter part, I squeeze harder. Plus, the little nub at the top is about the size and shape of the top of a finger, so it's kind of like masturbating with your hand, but better. Oh, and it also can record and replay vibration patterns, which is definitely something that your hand can't do.
Now, I'm not saying that the Minna Limon is for everyone. I'm not even saying it's necessarily for the majority of people who use vibrators to masturbate. What I am saying is that as someone who doesn't usually use vibrators but definitely has used quite a few and who has been writing about sex and sex tech for half a decade, this is the first one I've ever felt compelled to write a review for. And that, I'd say, says a lot.