The Mister Rogers Documentary Trailer Is Here & It's Officially A Beautiful Day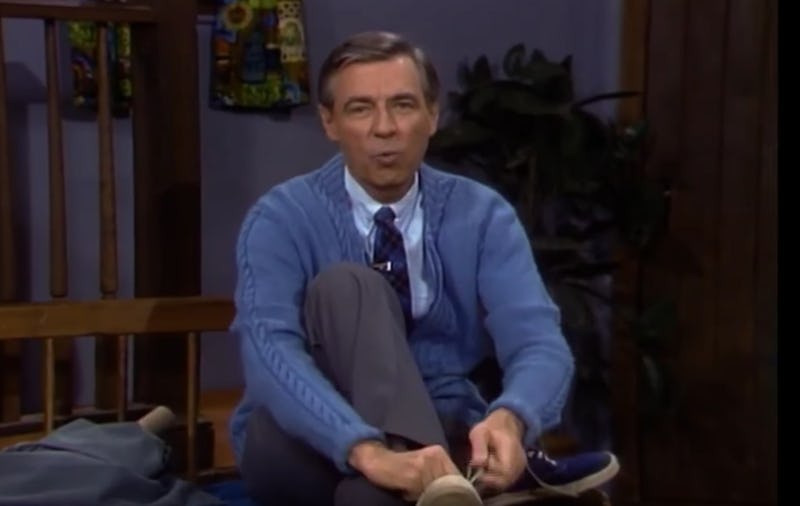 PBS/YouTube
Grab your cardigan, and call your neighbor. The trailer for the Mister Rogers documentary, Won't You Be My Neighbor?, just came out on what would have been Fred Rogers' 90th birthday. The trailer will bring you right back to your childhood in the best possible way. The documentary, which comes out on June 8, will offer an intimate look into the life of Mr. Rogers, who you know as the host and creator of Mister Rogers' Neighborhood. Not only will you learn more about the man behind the show that taught you lessons in morality and kindness, but the documentary will also attempt to understand how the show became the phenomenon that it did.
"[If] you take all of the elements that make good television and do the exact opposite, you have Mister Rogers' Neighborhood," Margy Whitmer, a producer of the show, says in the trailer. It's true that the show takes a more simplistic approach to entertainment than most shows, even at the time that that Mister Rogers' Neighborhood first aired in 1968. "Yet, it worked," she added.
Not only did the show work, but it continued to run for 33 years. What the show might have lacked in production value, it made up for in heart. Based on the new trailer that just came out, it looks like the documentary does the perfect job of representing Fred Rogers' powerful effect.
Even though Mr. Rogers passed away in 2003 — just two years after his show's final season — his legacy has endured. If you ask anyone who watched Mister Rogers' Neighborhood as a kid, which is almost anyone under the age of 60, they will probably tell you that the show had a profound impact on them in some way.
It's hard to watch the trailer for Won't You Be My Neighbor? without getting a shiver down your spine or a tear to your eye. Something about that man instantly brings you back to your innocent childhood.
One of the best things about Mister Rogers was the way he explained things about the complicated "real world" to children in an accessible and calm way. With Mister Rogers on TV, everything felt like it would be okay, and the documentary will certainly touch on the important lessons the host taught about everything from understanding divorce to resisting racist stereotypes.
François Clemmons, who played Officer Clemmons on the show, explains in the trailer, "They didn't want Black people to come and swim in their swimming pools. My being on the program was a statement for Fred." In a memorable episode, Clemmons and Rogers sit outside and with their feet in a kiddie pool. In that same scene, Clemmons sang "Many Ways to Say I Love You," and it was about as heartwarming as anything could get. Even if you didn't know it at the time, Mister Rogers' lessons in love and compassion were often subtly radical, and pretty much everyone agrees that the world could do with a lot more of them right now.
Fortunately, more Mister Rogers is exactly what the world is getting, because Won't You Be My Neighbor? isn't the only film about the children's show set to come out soon. Early this year, it was announced that Tom Hanks would portray Rogers in a movie called You Are My Friend, which is based on a 1998 interview for Esquire, according to Entertainment Weekly. The company producing the upcoming Hanks-starring biopic described the story as "A cynical journalist begrudgingly accepts an assignment to write a profile piece on the beloved icon and finds his perspective on life transformed," as reported by EW.
Mister Rogers transformed so many people's lives. Even if Mister Rogers' Neighborhood isn't currently in production, with the help of the upcoming documentary, the memorable TV host will continue to have an impact on future generations to come.