Tom Hanks Is Set To Play Mister Rogers In A New Movie & Yes, You Should Be Excited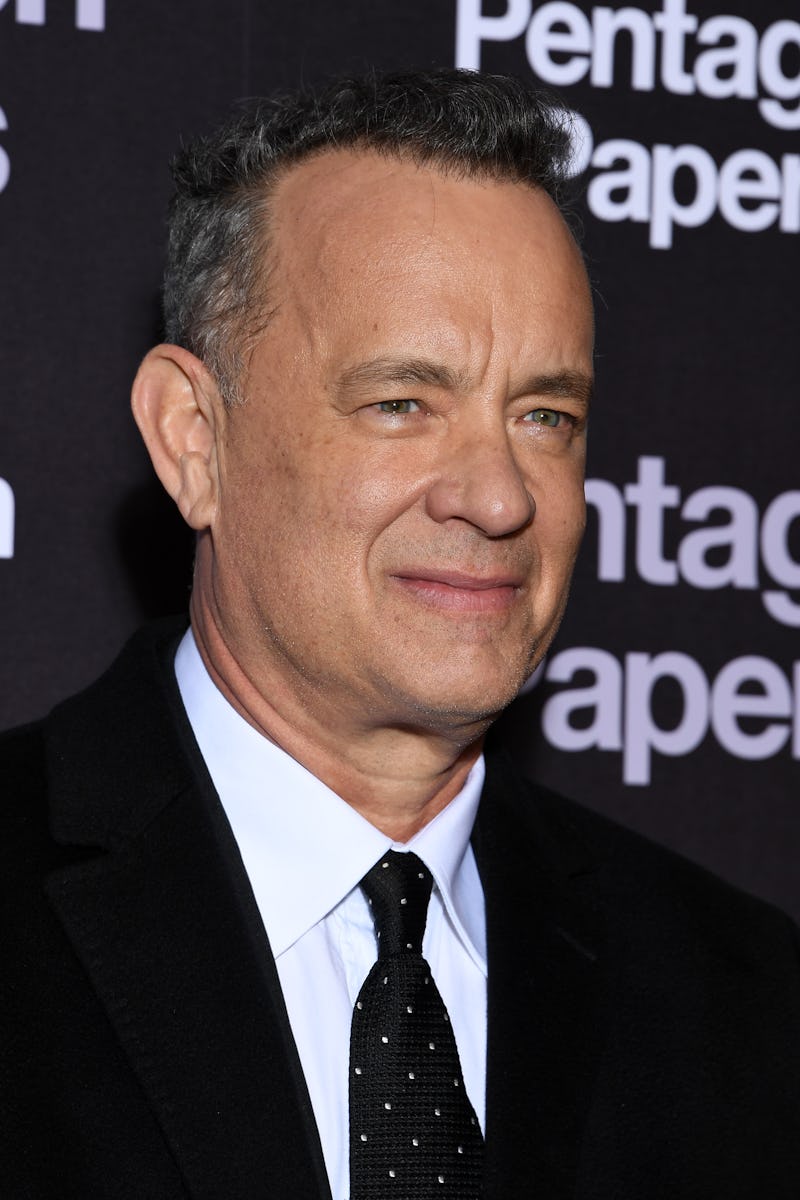 Pascal Le Segretain/Getty Images Entertainment/Getty Images
In what may be one of the most on point casting decisions in Hollywood history, Tom Hanks is playing Mister Rogers in You Are My Friend, a film about everyone's favorite children's TV host. According to Entertainment Weekly, the film is based on a profile piece of Fred Rogers written by journalist Tom Junod for Esquire in 1998. The film is set to explore how Rogers cracked Junod's cynical shell and completely changed the writer's outlook on life in the process.
Taking on the role of Rogers, a person who was as famously kind and caring in real life as was on public television when he was welcoming children to his neighborhood, is no small task, but if anyone is up for it, it's Hanks. The Toy Story actor has earned a reputation for being "the nicest man in Hollywood," and by all accounts it appears to be true. Whether Hanks is befriending cab drivers, giving thoughtful gifts to White House reporters, or serving drinks at the Golden Globes, the actor's reputation for kindness precedes him. That's certainly a necessary quality for anyone who wants to take on the role of Rogers, a man who devoted his life to advocating for children's education.
According to EW, You Are My Friend is being described by TriStar Pictures as with the logline: "a cynical journalist begrudgingly accepts an assignment to write a profile piece on the beloved icon and finds his perspective on life transformed." This heartwarming tale needs an actor whose gentle nature never feels forced, and Hanks has proven he's that guy for decades in films like Big, Forrest Gump, and The Terminal. Seeing Hanks take on the role of Rogers is an exciting prospect — and, let's be real, one that practically guarantees that tears will be shed over this film.
President of TriStar Pictures, Hannah Minghella, definitely seems to have faith in the ability of this story to warm hearts. Minghella told EW,
"The script knocked me out with its message of kindness and its exploration of the human spirit. As a mother, I am so inspired by the teachings of Fred Rogers, and as a human I am in awe of his life's work. I can't wait to bring his story to the public and be a part of such a thoughtful, smart group of people who are all coming together to make this film, which truly feels to me like an antidote to our very fractured culture."
Generations of children grew up watching Rogers on public television where everyday he would invite kids to join him in a place where they could feel safe and valued for exactly who they were. Over the course of his career, Rogers received the Presidential Medal of Freedom, was inducted into the Television Hall of Fame, and received a number of lifetime achievement awards. Through it all, he spoke passionately about the importance of public television in the lives of children. In 1969, Rogers went before the U.S. Senate Subcommittee on Communication to plead with the government not to move forward with the public television budget cuts proposed by Richard Nixon. Roger famously argued,
"This is what I give. I give an expression of care every day to each child, to help him realize that he is unique. I end the program by saying, "You've made this day a special day, by just your being you. There's no person in the whole world like you, and I like you, just the way you are." And I feel that if we in public television can only make it clear that feelings are mentionable and manageable, we will have done a great service for mental health."
His argument swayed the committee. Rogers tended to have that effect on people, as his story with Junod is likely to illustrate on the big screen. Though Rogers passed away in 2003, his legacy is one that deserves to live on, and there truly is no better actor to help make sure that happens than the equally lovable Hanks.