Ariel Winter Just Revealed Some Major Clues About Who Will Die On 'Modern Family'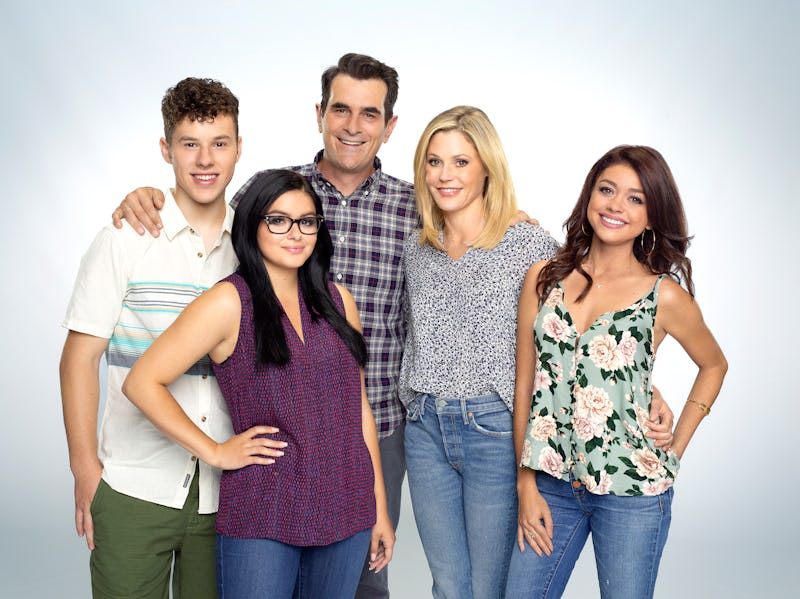 ABC/Robert Ashcroft
For a show that has gone on as long as Modern Family has, it's pretty remarkable that the family sitcom can still keep audiences guessing. While the show hasn't been known for brutal cliffhangers, it's well known that this Modern Family will experience huge shakeup during this 10th season in the form of a death. The identity of who will die this season is still unknown, but star Ariel Winter just said that the Modern Family death is someone unexpected, which may narrow down the possibilities.
Entertainment Tonight interviewed Winter at the Girl's Up #GirlHero Awards luncheon in Los Angeles on Oct. 14. During the interview, the actor shed some light about who will die on Modern Family and what it will mean for the show going forward. "It's a character that we'll all be sad to see go, but it's probably not an older character that you think is going to go," Winter said. The reveal that's the character isn't someone fans might expect and is not an older character cuts Dede Pritchett ( Claire and Mitchell's mom) and Jay Pritchett out of the running, most likely. And, it's looking more likely that it's going to be one of the other parents, or worse, one of the kids.
The series' co-creator, Christopher Lloyd, announced that someone would die in this season of Modern Family in early September. He told Entertainment Weekly that the victim would be a significant character, and that this death would stretch across several episodes. "We're handling some bigger life events in this season," Lloyd said. "We do deal with a death, which is certainly a topic that families have to deal with, and on television, it's not easy to do because that's a heavy subject. But at the same time, it would seem unusual for a family not to go through it."
There's been death on the show before (when Phil Dunphy's mom passed away), but while that was a character never seen on camera, the new death in Season 10 is going to be someone we've presumably watched every season and come to love. According to Winter, his type of grieving is going to be totally new for the show's characters. She explained to ET:
"We haven't ever really had a death on the show. It definitely impacts the family, as I think it impacts any family. You know, some people have never dealt with death or if it's a person close to them, they're having to deal with them because it's a tragedy, and you follow people's stories on how they do that and I think some people obviously take it better than others."
As Lloyd said previously, dying is a natural part of life and therefore a common event that families deal with. Despite being a fictional family, eventually the Dunphy-Pritchett-Tucker's would have to deal with this subject. According to Winter, it's going to be pretty realistic in that aspect. "It doesn't hit people right away and it's gonna be an episode that's pretty relevant to how people deal with it, and some people's struggles with the person that passed, and I think it's a pretty real episode," she said. "And we try to do everything lightheartedly and it's a show that people can enjoy, but also incorporate some real-life occurrences."
Modern Family is a comedy, but it's also heartwarming and about the relationships between a growing family. Even though one of the characters is going to die this season, it's not going to mess with the family-friendly, warm and fuzzy tone it's already established. Unless they kill off Stella. Then we'll have to talk.