The Mooch Is The Ultimate Trump Administration Meme & Twitter Proved It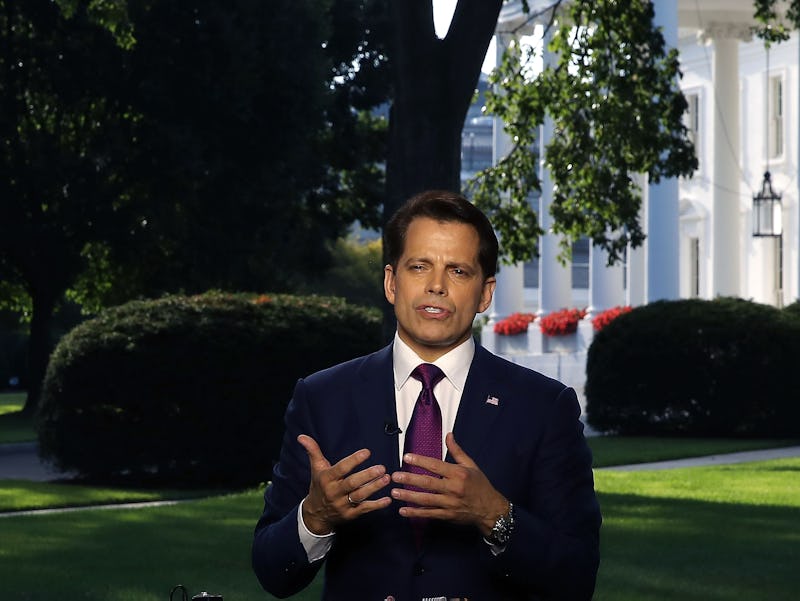 Mark Wilson/Getty Images News/Getty Images
It's been just days since Anthony Scaramucci assumed the role of White House communications director, but the so-called "Mooch" has already solidified his place in social media history. After The New Yorker published a bizarre conversation with the newest face of the Trump administration, memes and tweets about the Mooch circulated across social media on Thursday. As much as they were about the absurd interview, the jokes also made for an early progress report on Scaramucci's performance.
The New Yorker piece suggested some serious infighting within the Trump administration. According to writer Ryan Lizza, Scaramucci called White House Chief of Staff Reince Priebus a "paranoid schizophrenic." He also reportedly threatened to fire everyone on the White House communications team for leaking information about a dinner that Scaramucci was attending.
Thursday's New Yorker story quickly turned Scaramucci into a trending topic, but he had already become an internet character all his own. Instances like that time he quoted Joe Paterno on honor — and his identifiable last name — have given Scaramucci a nickname and a reputation for the bizarre. He's only about a week into his new White House job, but Scaramucci may not shake these punchlines for a while.
Jeff Sessions
The attorney general had been at the center of his boss's attention before Scaramucci and Priebus' strife went viral.
Week 1
Did the Mooch miss White House orientation?
Press Conference
It's unclear when we'll actually see another Scaramucci press conference, since he said earlier this week that he plans to let Press Secretary Sarah Huckabee Sanders continue leading the regular press briefings.
Can't Stop Him
Will he ever be stopped?
Getting Ready
Who will he call next?
SNL
Let the countdown to Saturday Night Live begin.
Spicey
If we can't have Melissa McCarthy's Sean Spicer impression, at least let there be a Scaramucci impression on the way.
Seinfeld
A Real Housewives-style table-flip would be memorable, though.
Tomorrow
Be prepared, White House communications team.
First Impression
He's just getting started.
Wrecking Ball
Guys, he never meant to start a war.
The West Wing
Something tells me Toby wouldn't be happy.
Bohemian Rhapsody
"The Mooch" isn't the only joke his name has inspired.
In all seriousness, the jokes at Scaramucci's expense may very well continue. The rumor mill has already started to swirl with questions about who could play Scaramucci on upcoming episodes of SNL. It's a good bet, however, that not all of his colorful language will be welcome.