These Oscars Dresses Defied Fashion Norms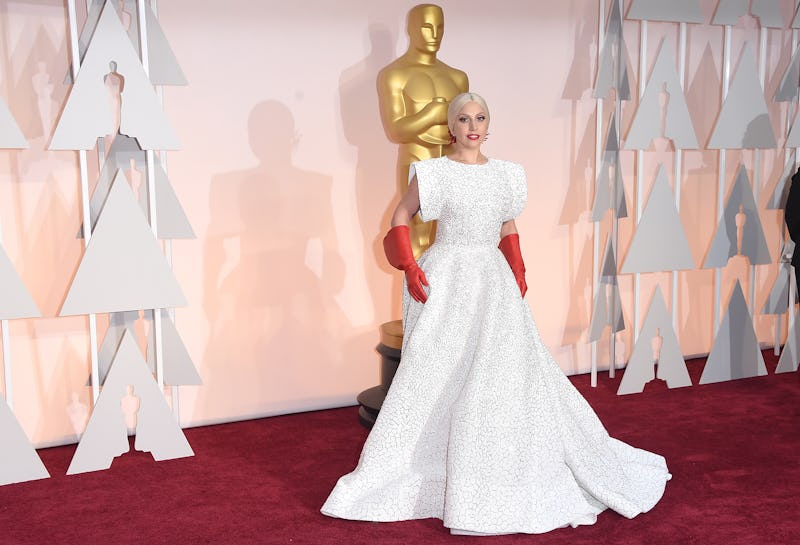 Jason Merritt/Getty Images Entertainment/Getty Images
Of course, there are a lot of reasons to watch the Oscars — I mean, having that many actors in one room is bound to be entertaining — but the fashion is what especially draws me in front of the TV each and every awards season. The most groundbreaking Oscars dresses over the years prove why time and time again, the red carpet is where some of the most exciting action takes place.
Whether these women rocked pants on the red carpet way before anything but fancy gowns were the norm or showed up in a practically completely see-through outfit, there's a reason why these ensembles made the list of the most influential Oscars moments. Everyone from Cher to Sarah Jessica Parker left their mark in Oscars history, and if you're lucky enough, you'll see more statement-making moments happen in real time at the 2017 Oscars on Feb. 26.
You can watch the red carpet starting at 5:30 p.m. ET, and trust me, you're not going to want to miss a minute of the footage of Hollywood's best strutting the greatest fashions. Pop some popcorn and take a seat, outfits like these are precisely why you'll be watching this weekend, and every Oscars Awards show to come.
1. Audrey Hepburn
In 1954, Hepburn dressed in an elegant lace dress, and according to Smithsonian magazine, her relationship with the dress' designer, Givenchy, "helped cement the Oscars as a marketing opportunity for designers." According to the publication, Hepburn didn't get paid to wear this label's dresses, but she did drastically effect his business. Nowadays, actors often get paid for this kind of arrangement.
2. Barbra Streisand
OK, is this a major power suit moment or what? Streisand rocked pants on the red carpet in 1969, and if that wasn't ahead of her time enough, they were also see-through. Talk about making a fashion statement!
3. Cher
In 1986, Cher came to the Oscars in a two piece number that showed off her midriff, defining the "Naked Dress" way before it became trendy in 2016.
4. Geena Davis
Geena Davis sported a high-low silhouette way before this short in the front, long in the back style gained popularity in 2015. This dress was definitely ahead of its time, especially on the red carpet. Trend-setting, much?
5. Whoopi Goldberg
This color combination is certainly unusual for the red carpet, but the fact that Whoopi Goldberg sported this unique silhouette way before Lady Gaga did it in 2016 is pretty groundbreaking, IMO.
6. Nicole Kidman
Melissa Rivers, who covered this year's red carpet for E! told Vanity Fair this Dior gown was "the first true couture dress on the red carpet, and you went, 'Wow' [upon seeing it]." Between the bright color and the stunning fabric, this was certainly the way to make an entrance.
7. Uma Thurman
Two-piece numbers are trendy at the moment, but in 1999, I think it was a bit of a risk to expose your stomach at the Oscars. Uma Thruman couldn't look more amazing, though.
8. Celine Dion
This is a suit... turned backwards. If that's not defying the standards, I don't know what is. An edgy take on the suit was was ahead of its time, considering she wore this in 1999.
9. Bjork
Who could forget this dress? It's probably the most iconic dress on this list precisely because it's such a unique look. There's no denying this dress is one-of-a-kind, and when it went down the carpet in 2001, it definitely caught everyone's attention.
10. Anjelina Jolie
Way before her leg-exposing gowns, this woman was owning pants at one of the most formal occasions. Way to go, Jolie!
11. Halle Berry 2002
No one would bat an eye if Halle Berry wore this in 2017, but in 2002? It was a bit early for a see-through moment, making this dress a truly original red carpet statement at the time.
12. Sarah Jessica Parker
This may seem like a subtle yellow dress, but knowing what we know in 2017, this was SJP trend-setting. The attached collar accent on this dress is hugely popular at the moment, but remember — SJP did it first.
13. Lady Gaga
What makes this look so special is not how avant garde it is, it's more about how much of a throwback it is. Gloves on the red carpet is an antiquated notion, but leave it to Lady Gaga to make it modern. She makes every event she attends about self-expression, and that's something to be admired, if you ask me.
I'm looking forward to all of the groundbreaking moments to come this year. Snuggle up on the couch and get ready for some must-see fashion Sunday night!