The Most Kirakira Glitter Shoes From The Fall 2017 Runways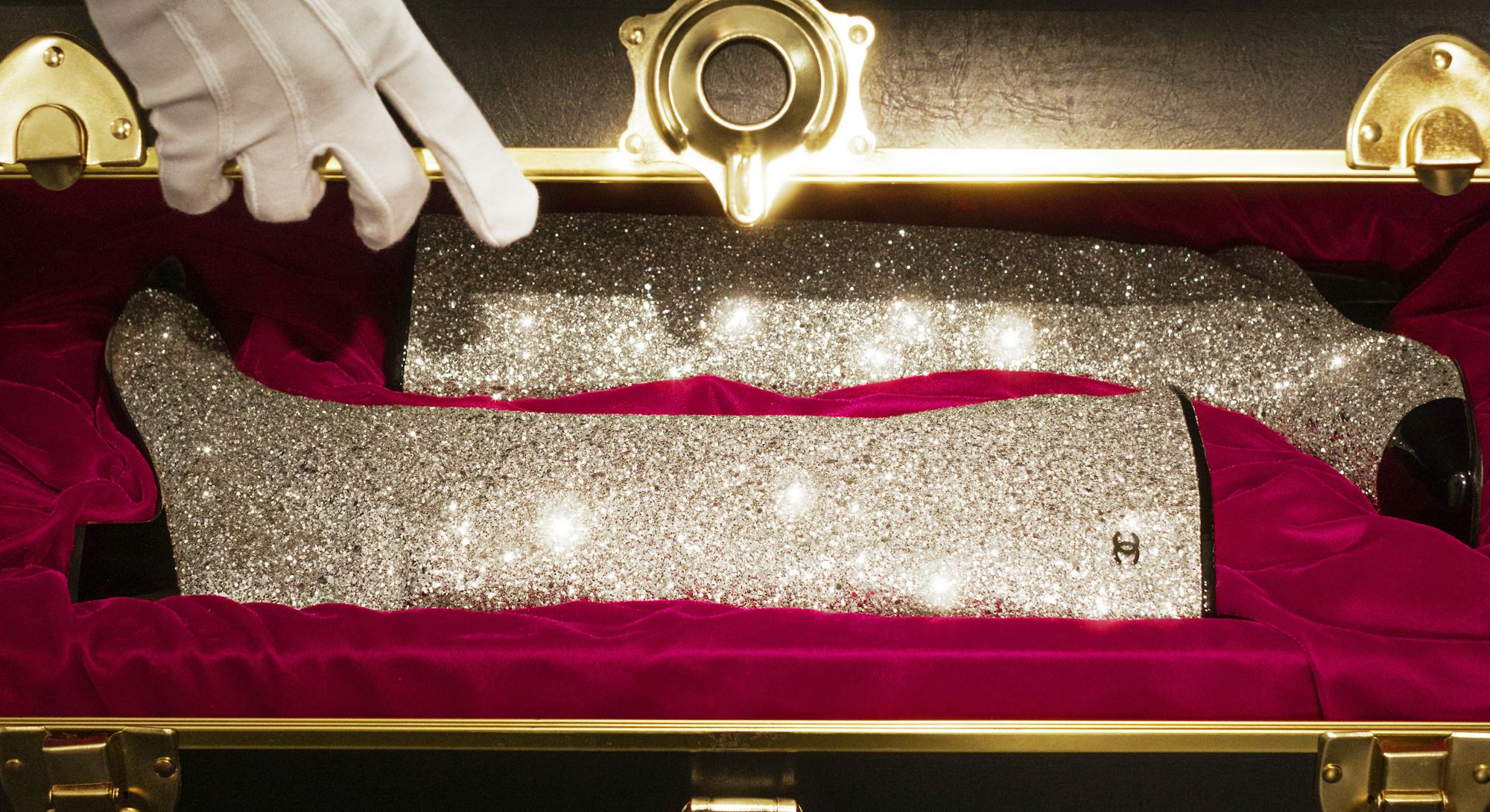 Ashley Batz/Bustle
Bustle and Coveteur are working together to bring you the best mix of the season's fashion and beauty releases, shopping tips, and service stories in ways that are both inspirational, and attainable. Check The Fall Style Edit channel weekly to see what we're up to.
If we're being honest, it's hard to find someone that doesn't have a fascination with glitter. Even as kids in preschool and kindergarten, the glitter pens were always the ones to go first — and the ones you would hoard for yourself.
The gag is, when you grow up, that doesn't really go away. Actually, it might intensify with age. The interests just evolve (and get more expensive), going from glitter pens and paint to beauty, jewelry, and accessories. The popularity of Kirakira+ proves our obsession and desire to make literally everything that we see sparkle. And if we're using an app to make things shiny, we clearly want to have things that actually glitter IRL. This season, one of the biggest fashion trends made our Kirakira's explode: Glitter was everywhere and seen most prominently in shoes.
While shoes are obviously meant to be worn, some of the best sparkle shoes from the runway seem to be almost too good to wear — kinda like how the Crown Jewels are put on display for people to see because they're too precious to be worn. Or perhaps in a more relatable example, how when you found a really rare and precious Beanie Baby, you wouldn't play with it. You put a tag protector on and put it in a box to display it (because they're gonna be worth a lot of money some day, right?). So, feast your eyes on some of the most sparkly, entrancing, glamorous shoes from the fall 2017 runway. In our case, these aren't made for walking, but they sure make for a pretty picture.
DOLCE & GABBANA
These Dolce & Gabbana beauties are giving off the best type of classic Disney Princess vibes. From Cinderella to Aurora, these strappy numbers evoke royalty.
MARY KATRANTZOU
Served up on a pillow, these Mary Katrantzou's mix a traditional style of shoe common among royals with the modern twist of a mule. Add in the glitter factor, and you have a shoe that is worthy of a collection.
MISSONI
The gold and other subtle color metallics in these Missoni boots really do make them feel like encrusted jewelry. Gold glitter was not seen as frequently as silver this season, so these are technically a hot commodity!
ISABEL MARANT
Sometimes just a hint of glitter is enough. The sparkly bows on this Isabel Marant pair are the perfect addition to a strappy sandal and instantly elevate them from casual to extravagant. It's the perfect shoe to embody the statement of "not too much just just enough."
BROTHER VELLIES
Brother Vellies is well known for furry accents on their shoes, so these glitter mules stand out in their fall collection. The wooden heel is a nice contrast to the sparkle of the shoe.
MARCO DE VINCENZO
Marco de Vincenzo's ankle boots are extra in the best way. A stiletto heel, sparkle all over, and all wrapped up with a bow on the toe... there's not much else you can want from these shoes. Just sit back and soak up the lavishness.
CHANEL
These have been dubbed fall's go-to boot and with good reason. Chanel made a boot that's impossible to ignore and extremely sought after. The demand for these is so high that even the most unlikely person will want to snatch them up from themselves!
OSCAR DE LA RENTA
What better way to add a little heat to the chill of the fall season then with a suede, over the knee, all sparkle boot? There's no such thing as OTT when it comes to glitter footwear.