The Mountain From 'Game Of Thrones' Shared An Incredible Photo From His Wedding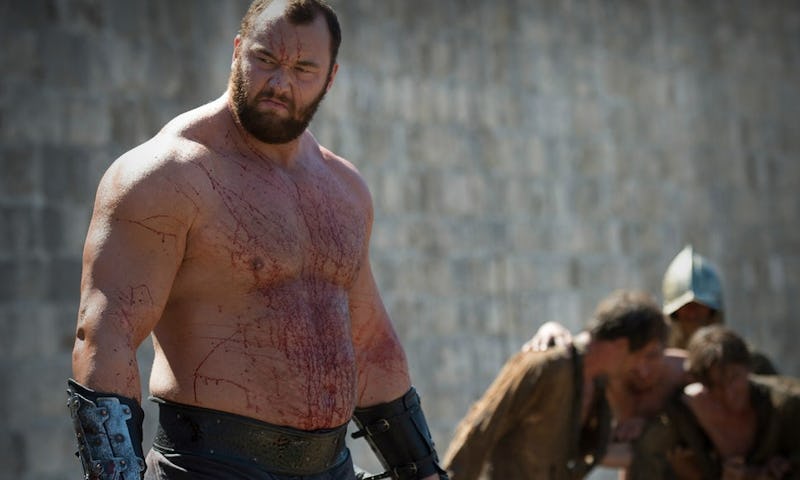 HBO
Kit Harington and Rose Leslie aren't the only Game of Thrones actors who are currently experiencing wedded bliss off-screen. Hafþór Júlíus Björnsson, who plays Ser Gregor Clegane, known best as The Mountain on Game of Thrones just got married to his girlfriend, Kelsey Henson, over the weekend in Iceland. The actor shares some photographic evidence of this joyous affair on Instagram, and the images are simply stunning, to say the least.
Typically, hearing the words "Game of Thrones" and "wedding" in the same sentence together is enough to make any fan cringe in fear. But it seems like Björnsson's big day managed to take place without any Westeros blood being spilled. (Could you maybe tell the Lannisters and Starks your secret to save us all from anymore heartache?) For his part, the actor seemed to have an amazing time, if the photo he posted is any indication. In fact, the gorgeous image was accompanied by a very sweet caption about his new wife. "It is with great pleasure that I now get to call Kelsey Morgan Henson my wife!" Björnsson wrote. "I get to hold this beautiful woman through thick and thin for the rest of our lives! I'm so excited for all of the future adventures we will tackle side by side."
The black and white image shows Björnsson carrying Henson in his arms as they gaze loving at one another. Not to be outdone, however, Henson also posted a wedding photo on her own Instagram account, which showcased their substantial height difference. According to People, Björnsson clocks in at 6-ft. 9-in while Henson is 5-ft. 2-in.
Henson's message was equally sweet in its sentiment, proving that these two are absolutely head over heels for each other. "Looking forward to pulling this big guy around for the rest of my life," she wrote on the social media site. "@thorbjornsson I love you now and forever and promise to stand by your side through all that life throws at us. I love you baby!"
The couple began dating in September 2017. According to TMZ, the two of them shared instant chemistry from the moment they met after Henson asked if Björnsson would take a picture with her at a bar in Alberta, where she was working. Björnsson, who was in the area for a Strongman competition at the time, agreed and the rest, as they say, is history!
But while the actor himself may be currently experiencing marital bliss, we may not be able to say the same for his Game of Thrones character, The Mountain, when the eighth and final season premieres sometime next year. Last we saw, his character had a rather intense face-to-face with his younger brother Sandor "The Hound" Clegane. Many are hoping their volatile history will eventually result in an epic display of physical combat, which fans have come to refer to as the Cleganebowl. If it happens, odds are that only one will be able to make it out alive, though who would come out victorious remains to be seen. The Mountain has already cheated death once, so how lucky can one guy be, really?
Either way, it's good to know that his off-screen life is proving to be a lot brighter than his on-screen one. Congrats to the happy couple!