It's Been 20 Years Since 'Mulan' Was Released, & This One Fact About The Cast Is STILL Shocking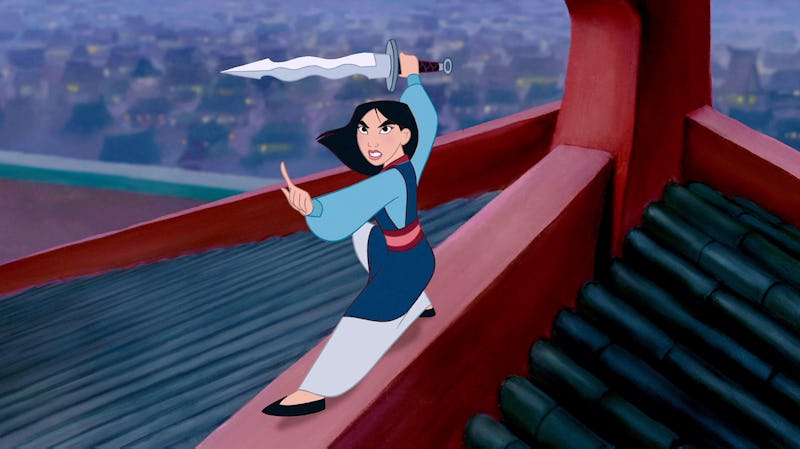 Disney
There is no shortage of iconic Disney films out there, but a standout for many will always be Mulan, which celebrated its 20th anniversary this week. Centered around a young, female warrior who has to hide her identity in order to protect her father and ultimately ends up saving all of China from the Huns, Mulan is a character many girls aspire to be. She's the embodiment of what it means to be a hero, regardless of gender. As such, some members of the Mulan cast took some time to celebrate the film's 20-year anniversary, and one of those cast members — none other than Donny Osmond — might surprise even die hard fans.
Mulan proved to be a huge step forward in regards to cultural representation. Not only was Mulan Disney's first Asian princess, it was also one of the first Disney animated films with an Asian cast. Ming-Na Wen, the voice of Mulan, and B.D. Wong, who voiced Mulan's captain-turned-love-interest, Li Shang, are both of Chinese descent. And yet, despite the film's specific, and non-American, setting, it became a huge hit.
To celebrate the film's anniversary, Wen spoke to Disney's D23 online magazine about why she thinks fans continue to love Mulan so much. "There is just so much love for the character that it bypasses any of the cultural differences of the kids who are watching," Wen explained. "And they get a greater sense of feeling — a connection — to Mulan, because it doesn't matter that she's Chinese or that she's from a whole different cultural time period. For them, they're just watching this girl discovering who she is." Wen went that the story of Mulan, despite being specific to China, is also universal. "And that universal story crosses all boundaries of cultural or racial boundaries. And I think that is its ultimate success."
Donny Osmond, who provided the singing voice of Li Shang, also made a point of paying tribute to Mulan on the film's 20th anniversary, sharing a story on Instagram about why being part of the movie was so special to him.
Posting a clip from the film — the popular hit "I'll Make a Man Out of You" — Osmond wrote in the caption:
@Disney's hit film Mulan was released 20 years ago today. Many people are surprised when they find out that I was Captain Li Shang's singing voice for the song "I'll Make a Man Out of You." I still remember the epic night when Debbie and I took the boys to the Hollywood Bowl premiere. We watched the movie on an incredible screen that was 5 stories high. Although the setting that night was phenomenal, nothing will ever beat my sons' expressions as they heard Captain Shang's voice booming through the amphitheater. They all began smiling from ear to ear as they recognized his voice as my own. Once the movie ended they all agreed, "Dad, you're really a star now." Captain Shang finally made me a cool dad in their eyes.
Perhaps some fans were already aware of this dual role, though others may find it rather surprising that Wong voiced the talking parts of Shang, while Osmond took on the singing parts. Of course, that's not to say that it isn't uncommon for something like this to happen, either because the actor isn't comfortable doing the singing themselves or doesn't have strong enough vocals for what the writers are looking for. In fact, Filipina singer and actor Lea Salonga performed the singing parts Mulan (though a version of the songs were also recorded by Christina Aguilera). However, it seems odds that Osmond was cast since it treads into white-washing territory.
To be fair, Mulan isn't the only Disney animated classic guilty of a bit of whitewashing. Aladdin, in which Full House actor Scott Weinger voices the title character, also fell into the outdated Hollywood trap. It's one area in which Mulan really does show its age. If the film were made today, it's likely that Disney would follow the precedent set by Moana and avoid having any white voices dub characters of color.
Meanwhile, the Internet celebrated Mulan's 20-year anniversary in the way that only the Internet can: with memes and giphs.
Mulan truly is the gift that keeps on giving, even if a white singer did voice an Asian male lead. It will always be remembered as the first (and so far only) Asian Disney Princess movie, and that's worth celebrating.