This GoFundMe Is A Wonderful Form Of Solidarity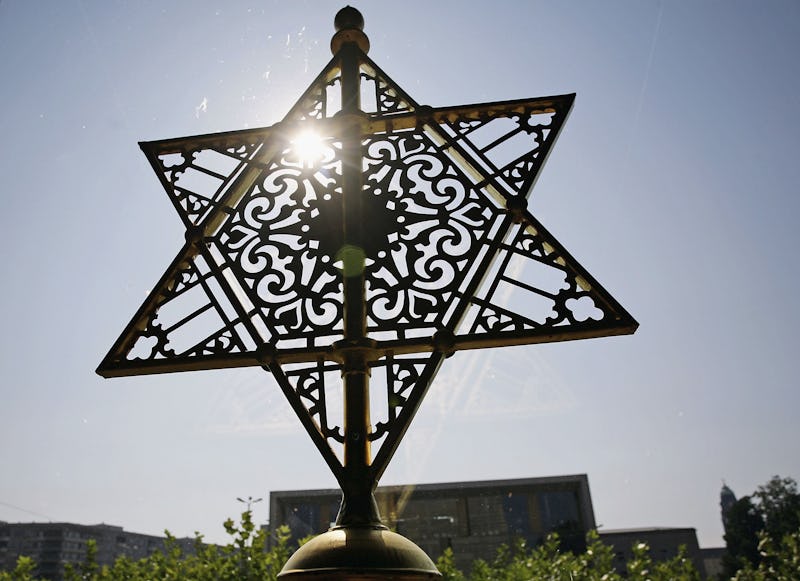 Carsten Koall/Getty Images News/Getty Images
After reports emerged that a Jewish cemetery outside of St. Louis was vandalized amid a wave of anti-Semitic attacks and threats, an outpouring of public support for the Jewish-American community has come from the activist community. DC Women's March organizer Linda Sarsour along with fellow Muslim advocate Tarek El-Messidi have organized a crowdfunding campaign to rebuild the Chesed Shel Emeth Cemetery, and the show of Muslim solidarity with Jews in the midst of the horrifying rise of anti-Semitism is so inspirational.
There's been an amazing trend of Jewish solidarity with Muslims in the wake of President Donald Trump's controversial immigration ban, and my own desire to show solidarity with my Jewish sisters and brothers has intensified because an unfortunate need has arisen. The disgusting and symbolic vandalism of the Chesed Shel Emeth Cemetary, which happened the same day the Trump administration denounced bomb threats at Jewish Community Centers across the country, has made the need for Muslim support of Jews more immediately urgent than I or my fellow Muslim-Americans likely expected.
To see Sarsour, herself the recipient of hateful threats, stand up for Jews in this way moved me as much as the reverse of this solidarity movement, when Jews reached across political, cultural, and religious lines to show support for Muslims. I hoped and prayed that when the time came, my fellow Muslims would step up to the plate. It appears that many of them are.
This incredible outpouring of monetary support, paired with Sarsour's use of her clout as a Women's March organizer and highly-public advocate for Muslims, is amazing to behold. Given the deep and divisive history of Muslim-Jewish relations based on the proxy conflict between Arabs and Israelis, this new solidarity is truly the stuff of dreams.
To say that solidarity between our similar but incredibly divided groups seemed like a naive dream is an understatement — until this election, I truly couldn't have imagined solidarity on this level. But even as Jews rallied to support Muslims in the face of Islamophobia, I worried that when the time came to reciprocate that support, Muslims would resort to the tired anti-Semitism I witnessed among some of my family and friends growing up.
Instead, they are proving that we are willing and able to overcome the deep wounds on both sides to fight for our shared rights.
As with every inter-ethnic and interfaith coalition, there is undoubtedly a massive campaign of healing ahead of us to truly address and eradicate Islamophobia and anti-Semitism in our Muslim and Jewish communities. But this most recent win for this beautiful new solidarity proves that we will have each others backs in the resistance, and will do the work now to ensure that we can heal in peace down the road.