The Netflix Christmas Movie You Should Watch, Based On Your Mood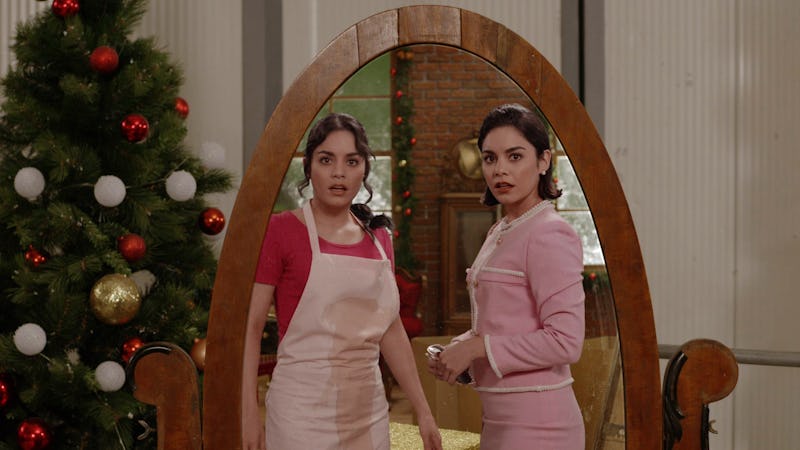 Netflix
Each day of the holiday season can come with its own mood. There's pre-Thanksgiving, where you sort of feel guilty for starting listening to Christmas music so early, but also secretly love it. There's post-Thanksgiving where you can finally decorate without shame. There are the 25 days of Christmas to count down, then the 12 days of Christmas which is like a more intense version of 25 (it's really almost here!), and all along there are hundreds of movies to choose from for your everyday Christmas season viewing. With so many options, you may want to turn to the Netflix original Christmas movies for easy streaming viewing. Luckily, the site has an original holiday flick for every mood you could possibly be in this season.
Netflix has ramped up its Christmas offerings in 2018 especially, dropping four new heartwarming holiday movies in the last few weeks. But the site has added a few holiday choices here and there over the past few years, and they come in a wide range of genres.
There's a musical, a shootout film featuring a Christmas Eve hostage situation, and a bunch of ones about royalty at Christmastime. If you're struggling with which one to choose, look no further than this list. It will determine what mood you're in, and which movie matches it.
The Christmas Chronicles
Synopsis: Two siblings who recently lost their dad and don't get along all that well are forced to work together to help Santa rescue his lost toy bag.
Watch it if you:
Want to watch a The Santa Clause but can't find it online.
Love a non-traditional Christmas movie where Santa is depicted as raunchier and gruffer than he's usually jollily characterized.
Like Kurt Russell and don't mind being a little attracted to Santa Claus.
The Princess Switch
Synopsis: A Chicago baker travels to Belgravia for an international Christmas baking competition. Along the way she runs into the Belgravian queen-to-be, and the two women are strikingly similar in appearance. They switch places to see how the other half lives.
Watch it if you:
Are about to do some Christmas baking and don't want to be alone.
Need a reminder that you don't have to sacrifice who you are for a man — and that a person who likes you for you is worth waiting for.
Simultaneously miss High School Musical, The Parent Trap, and The Lizzie McGuire Movie.
Think white lies and deceit can be forgiven in the name of love.
A Christmas Prince
Synopsis: An eager young journalist travels to Aldovia to cover the royal family as they try to determine if troubled Prince Richard will take his father's place as king.
Watch it if you:
Are a journalist looking for a good laugh at what Netflix thinks journalism is like.
Consider Converse an all-occasions shoe.
Think white lies and deceit can be forgiven in the name of love.
A Christmas Prince: The Royal Wedding
Synopsis: (spoilers ahead if you haven't watched the first one) King Richard is set to marry his American journalist fiancée. Along the way the couple must deal with strict royal protocols, a can't-be-trusted cousin, and the country's mysteriously failing economy.
Watch it if you:
Miss Prince Harry and Meghan Markle's wedding.
Like your Christmas romance with a side of labor union strikes.
Need to be reminded not to sacrifice what's important to you, no matter how royal the man you're marrying is.
El Camino Christmas
Synopsis: A misunderstanding with a crooked cop leads to an accidental hostage situation in a liquor mart on Christmas Eve. No one, including the unwitting perpetrator, wants to be there — but along the way new relationships are forged, some lives are lost, and others changed forever for the better.
Watch it if you:
Are looking for a movie with a little less holiday cheer. Christmas is a glancing idea in the film, but not a suffocating presence.
Consider Die Hard a Christmas movie.
Want to see Tim Allen in a Christmas movie, but can't stomach watching The Santa Clause 1-3 again.
The Holiday Calendar
Synopsis: A struggling photographer is given a magic advent calendar that starts predicting her future. But it could be leading her further away from her one true love.
Watch it if you:
Can relate to having a family that is constantly disappointed in your life choices.
Also feel like you're not exactly where you want to be in your career right now.
Need a little inspiration to go after your own dreams.
Miss watching William all the time on This Is Us or Bonnie on The Vampire Diaries.
A Very Murray Christmas
Synopsis: A giant snowstorm cancels Bill Murray's holiday special, but through various happenstance bar interactions and booze-fueled dreams, Murray's musical special comes together in its own way.
Watch it if you:
Are in a more melancholy, self-pitying state of mind and want your media to reflect that.
Love a celeb cameo.
Want to see George Clooney and Miley Cyrus sing "Sleigh Ride."
Christmas Inheritance
Synopsis: A high-powered, corporate, big city woman has to go back and face her small town upbringing to complete a Christmas task. She meets a gruff, flannel-wearing, city-hating inn owner who makes her question all her own values and priorities.
Watch it if you:
Like watching men in suits lose for once in their life.
Also dream of running off with a hot, flannel-wearing inn owner.
Need to be reminded of what Christmas is really about.
Merry viewing!