Every Time Netflix's 'The Princess Switch' Practically Exploded With Holiday Cheer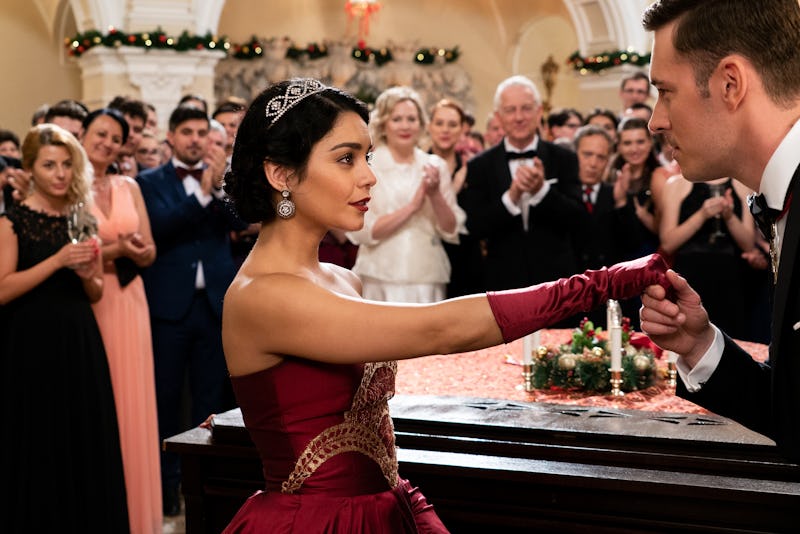 Gabriel Hennessey/Netflix
The holiday season is here and Netflix really, really wants you to know it. The streaming site's latest original movie, The Princess Switch, may not sound like a Christmas movie but it very much is. In fact, it's sort of an explosion of holiday cheer. There are literally Christmas decorations in every frame and Christmas trees in every room. Literally. With so much holiday spirit in so little time, you may have missed some of the best Princess Switch Christmas moments. Although, in a movie like this, it's easier to count which moments aren't full of holiday cheer.
The Princess Switch stars Vanessa Hudgens as both Chicago baker Stacy and Margaret, Duchess of Montenaro as they switch places to see how the other half lives. It's actually one of several holiday originals Netflix is releasing in November. The Holiday Calendar is streaming now, The Princess Switch premieres on Nov. 16, The Christmas Chronicles airs Nov. 22, and the sequel to A Christmas Prince hits the streaming site on Nov. 30.
And having watched The Princess Switch twice already now, I can tell you it's a worthy successor to last year's smash hit A Christmas Prince — with just as much royalty and even more Christmas spirit. Spoilers ahead.
1. Stacy's Bakery Is Dressed To The Nines
Notable decorations include a Rudolph cake and a sign that reads, "All you need is love and Christmas cookies."
2. Her Ex Is Coming Out Of A Christmas Store
Christmas was a special time for Paul and Stacy, and it seems he's keeping that alive.
3. Stacy Is Walking Around With A Gift For No Explicable Reason
What's in the mystery package and who is it for? We never find out.
4. The Belgravia Cottage Is A Literal Winter Wonderland
Kevin's daughter Olivia describes it as Clara's house from The Nutcracker, and she's not wrong.
5. There Are Carolers At The Christmas Market
Because what is holiday shopping without holiday music?
6. Olivia's First Order Of Business Is To Buy Christmas Stockings
A girl after my own heart.
7. There Are Christmas Trees In Every Room
Every. Room. There's even one in the stable so the horses have some Christmas cheer.
8. They Decorate Christmas Tea Cups
Kevin paints a lopsided Rudolph and it's adorable.
9. The Town Gets A Visit From Santa Claus
Olivia wishes for a new mom while Margaret is totally within ear shot.
10. They Have A Snowball Fight While Wearing Elf Hats
The only thing more Christmassy than a snowball fight is one with matching holiday headgear.
11. There Are Not One, But Two Kisses Under The Mistletoe
I don't know why there was mistletoe at the children's shelter, but there was.
12. Stacy And The Prince Play "Carol Of The Bells" On The Piano
The whole room is captivated.
13. Stacy Reads The Night Before Christmas To A Bunch Of Children
Required holiday reading.
14. The St. Nicholas Fountain Never Freezes
Reportedly because of the warmth of Christmas Spirit™.
15. Stacy Wears A Santa Apron While Baking Christmas Cookies
Where did she get this apron? Nobody knows. I would like to think the castle just had it lying around somewhere.
16. Margaret And Kevin Watch A Christmas Prince.
Netflixception.
17. Stacy And Kevin Create A Giant Christmas Cake
Layers upon layers of holiday cheer.
18. Stacy And The Prince Get Married On Christmas
Because of course they do.
It may only be midway through November, but The Princess Switch is guaranteed to get you in the Christmas spirit in just a couple of hours.