Netflix's New Doc 'Voyeur' Scarily Shows How Men Fail To Call Out Other Men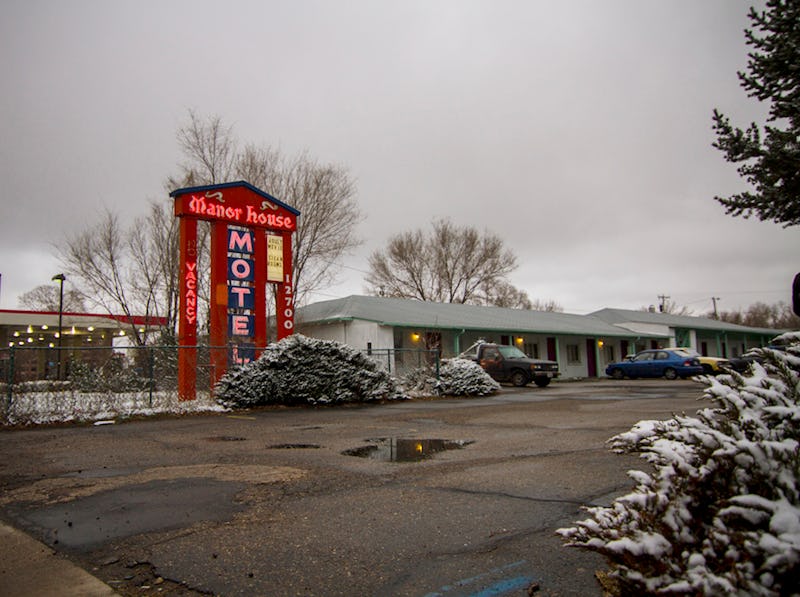 Netflix
In 1980, legendary journalist Gay Talese received a disturbing letter from a stranger living in suburban Denver. The stranger, later revealed to be Gerald Foos, confessed that he had bought himself a roadside motel with the express purpose of spying on his guests. Now, Talese's investigation of Foos' abhorrent actions is the subject of Miles Kane and Josh Koury's documentary Voyeur, which premieres on Netflix Dec. 1. The doc is meant to be an examination of how reporters can put misplaced trust in their sources. But instead, every level of the story, from the voyeur himself, to the journalist covering his tale, to the filmmakers capturing their encounters, contains examples of men failing to call out each other for morally corrupt behavior. As such, Voyeur scarily highlights just how often men let each other get away with sexual misconduct, and how dangerous that can be.
As Voyeur details, Foos purchased the motel in the late 1960s and immediately began spying on his guests. He installed a grate into each room's ceiling through which he could peer down from an attic crawl space. As Foos tells Talese, he spent decades spying, witnessing multitudinous sex acts from a variety of types of couples and groups, in addition to rather regular motel room happenings like TV watching, eating, and sleeping. As documentary subjects go, Foos is one of the more troubling and disturbing in recent memory. He took copious notes on his guests, masturbated multiple times a night, and, in the film's most shocking revelation, describes a time when he was basically an accessory to murder. One night, after witnessing a drug dealer hide his stash in a vent, Foos broke into the room and swiped it. The dealer then turned on his girlfriend, accusing her of the theft and strangled her to death. All the while, Foos watched from above and let the woman die.
Which is why it's so baffling then, after learning all Foos did, that Talese didn't simply turn him into the police. Instead, he met with Foos at the motel, heard his stories, and even joined him for a night up in the attic to watch a couple have sex, and then left Foos to his dirty business for decades. Only when Foos learned that the statute of limitations might have expired on his crimes (he sold the motel in 1997) did he agree that Talese could use his name in the now infamous story in The New Yorker and the subsequent book The Voyeur's Motel.
So just to rehash: Talese discovered that a hotel owner had manufactured a way to spy on thousands upon thousands of people in their most intimate moments, had gotten off on watching them, and even witnessed a young woman's murder, and yet Talese did absolutely nothing to stop it. Decades upon decades of men and women being violated, and Talese, as Voyeur makes clear, felt that Foos' actions didn't warrant intervention.
Talese is a brilliant writer, but he's been guilty of questionable and misogynistic judgement over his vast career. Of Gloria Steinem he once said, "You know how every year, there's a pretty girl who comes to New York and pretends to be a writer? Well, Gloria is this year's pretty girl." Examples of his sexism and insensitivity from 2017 alone include his former teaching assistant revealing that she quit because of his sexism, another incident when he came under fire for saying that he could not think of a female journalist who inspired him, and most recently, that Anthony Rapp should "just suck it up," and not have "ruined" Kevin Spacey's career. With that kind of attitude and behavior, it's sadly not a surprise that Talese felt no need to turn Foos in, and instead let the voyeur continue with his cringeworthy past-time.
As if that wasn't bad enough, there's a third level of Voyeur that lets both of these men off scot free — the documentarians themselves. Kane and Koury don't exactly seem concerned with Foos' crimes or his perverted nature. In fact the doc spends little time casting any judgement at all on Foos' deeds or Talese's inaction. The "drama" that unfolds in Voyeur stems more from Foos and Talese's untrustworthy relationship and Talese's methods as a journalist. The moment in the film filled with the most tension is when Foos' ownership of the hotel comes into question, and Talese believes his book might lose credibility. At no time do the filmmakers go into detail about the murder victim, or bring in anyone who has stayed at the hotel and reveal what may have happened to them. Kane and Koury perpetuate the same boys club of tolerance that helped Foos get away with his deeds in the first place.
With the numerous allegations against famous men like Harvey Weinstein, Kevin Spacey, and more, we've broken down a brick wall that dangerous men have hidden behind for years, and there's no going back. So it's incredibly disturbing that Voyeur reflects not only its subjects' terrible deeds, but how some men will still go to great lengths to protect the reputations of other men, regardless of the morality or legality of their actions. Even in minor social settings, men are sometimes hesitant to call out others for a sexist joke, or make excuses for their questionable actions.
Now, with stories emerging about network executives, HR departments, and those in power allegedly ignoring complaints from victims of sexual misconduct in order to protect their careers, their investors, and their fellow men, people are opening their eyes up to how men need to act. This kind of behavior is no longer acceptable, nor should it have ever been. Talese letting Foos continue to violate his guests was yet another man turning a blind eye to a fellow man's misdeeds, and while Voyeur tries to get away with trudging up the old "boys will be boys" trope, it's simply not OK. Enough is enough.