This Intense New '13 Reasons Why' Trailer Is All About Seeking Justice For Hannah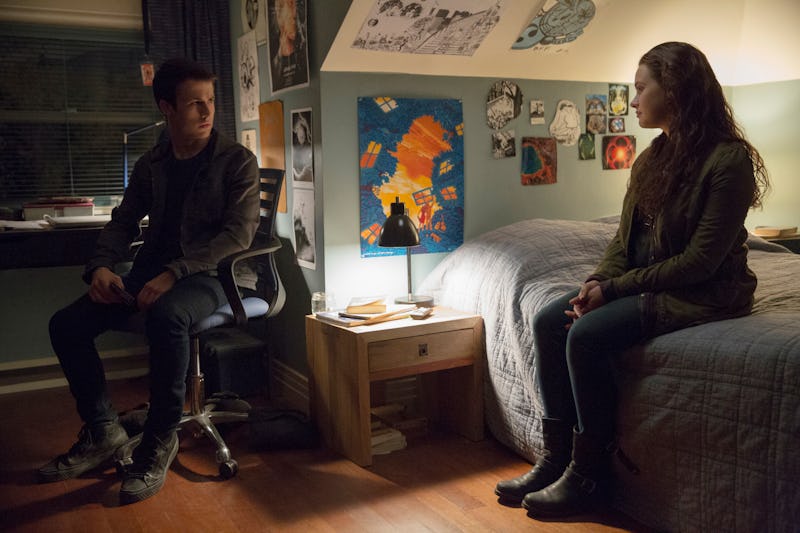 Beth Dubber/Netflix
"Hannah wasn't the only one" is something the new trailer for 13 Reasons Why Season 2 makes clear. Hannah's friends are seeking justice on her behalf, but they're discovering that she's not the only one who needs it. This season of 13 Reasons Why is focusing on sexual assault, not just the abuse Hannah and Jessica suffered at the hands of their classmate Bryce, but the other girls in the school who have also suffered. The tapes might be over, but now there are Polaroids that are looking to reveal a new mystery, one that desperately needs to be solved.
In Season 2, Hannah's parents' trial against Liberty High has started, but there's someone out there who doesn't want Clay and the others telling their truth, which may be different than Hannah's version, but still not good for people like Bryce. In a press release, Netflix explained:
"Liberty High prepares to go on trial, but someone will stop at nothing to keep the truth surrounding Hannah's death concealed. A series of ominous Polaroids lead Clay and his classmates to uncover a sickening secret and a conspiracy to cover it up."
In this trailer, fans get a look at those Polaroids, one of which shows Bryce drinking with a girl. On the back is written the words: "Hannah wasn't the only one," a clue that the unidentified girl in this photo also has a story to tell.
Before the trailer is over, there's even more Polaroids for Clay to go through that tell a darker story about what's going on at Liberty High. "What are you going to do about that?" Hannah asks, but fans already know Clay and the others have to figure out what's going on.
In the trailer, there are shots of Tony frantically burning papers, Tyler being physically attacked, and Jessica holding up photos of herself that have the words "Who would believe this slut?" written on them. Guidance counselor Mr. Porter seems to be looking to help Hannah after feeling as if he let her down last season, but he might be going too far since he's seen physically threatening Bryce.
But, it's the Polaroids that keep coming up over and over again, and it's clear they're the key to understanding the sexual assault problem at Liberty High. "You don't know what was happening in this photo," Sheri says as a shot of a girl taking off a shirt, grinding on a guy, both with red Solo cups in their hands. "And you don't know what happened after." But, the words scrawled on the back of the Polaroid reveal it's likely something horrific: "He's not going to stop."
This season is looking to figure out what happened to these girls in these photos? Especially since Bryce is seen saying, "We're all in this together now," a sign that he's not the only guy with a violent past. But, there's hope that justice will be found, since Bryce is seen on the stand. He's going to get to tell his side of the story, but he's also going to have to defend the actions of which he's been accused.
In an interview with The Hollywood Reporter, the Netflix show's creator Brian Yorkey said that 13 Reasons Why will explore how Jessica comes to terms with being sexually assaulted by Bryce. "I once read something online where someone said, 'Well, Jessica told her dad she was raped, so her story is over,'" Yorkey said. "I remember thinking that right there is reason enough to do a season two, because her story is just beginning — her experience continues to be a central part of season two."
It will be central because she's not the only character coming to terms with her sexual assault, which is why the show's executive producer Joy Gorman said the new season of 13 Reasons Why and the Harvey Weinstein scandal have a lot in common. This season will look at serialized sexual assault allegations, which Gorman said at Teen Vogue's LA Summit last year was similar to "that scary systemic rape culture in Hollywood."
"Liberty High School, like every high school and every college campus, is capable of having that same kind of systemic rape culture," Gorman said. "We have Bryce Walker, Hollywood had Harvey." (In a statement to the New Yorker, a spokesperson for Weinstein denied all allegations of non-consensual sex.)
But, the show is looking to not just help those onscreen, but off too. With Season 2, the show has launched 13ReasonsWhy.info, which provides resources, such as the numbers to a suicide crisis hotline and a crisis text line. The show has also provided a set of videos where the cast addresses the issues in the series such as bullying, sexual assault, and drug abuse.
This season of 13 Reasons Why is once again tackling the hard subjects, and from the looks of the new trailer, it's going to be an intense watch. But it should also be an important one that can lead to bigger discussions about sexual assault that could help find justice for more than just Hannah.
If you or someone you know has been sexually assaulted, call the National Sexual Assault Telephone Hotline at 800-656-HOPE (4673) or visit online.rainn.org.