Credence Will Play A HUGE Role In 'Fantastic Beasts 2' According To This New Featurette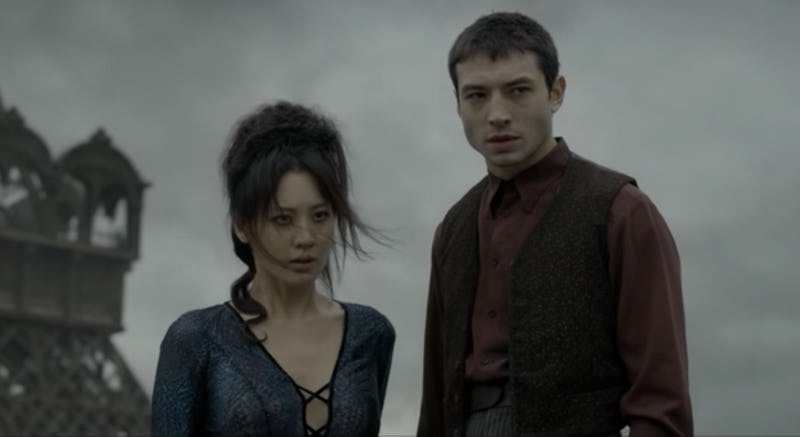 Warner Bros. Pictures
"I want to know who I am," Credence Barebone says in the newest trailer for Fantastic Beasts: The Crimes Of Grindelwald. It's a question fans have been asking themselves for over a year now: what is Credence's connection to Grindelwald? Well, while this new featurette, which mixes behind-the-scenes interviews with new footage from the film, might not reveal the answer, it does hint at how integral Credence, as played by Ezra Miller, will be to The Crimes of Grindelwald and the franchise going forward. Specifically, it looks like Credence is the key to Grindelwald's rise and now Newt Scamander must get to the boy before this dark wizard does.
The newest sneak peek at the sequel to Fantastic Beasts and Where To Find Them, out Nov. 13, begins with Grindelwald's escape from New York to Paris, where he's hoping to find Credence. "The path has been laid," Grindelwald (Johnny Depp) says. "And he's following it. The trail that will lead him to me."
But it's Credence that leads Newt Scamander (Eddie Redmayne) and a very young Dumbledore (Jude Law) to Paris where they hope to stop him from finding Grindelwald. "Credence may not know who he is yet," Dumbledore tells Newt, "but he needs to be found." Why is that, fans may wonder? Well if they stop Credence before it's too late, they may be able to actually put a stop to Grindelwald, described as a "master manipulator" by Alison Sudol (Queenie) in the clip, who's as dangerous as they come.
"Things are becoming much more dark and complicated," J.K. Rowling says in the video. "And people's allegiances are being exposed." Another thing potentially being exposed is the true lineage of Credence Barebone, the adopted son of with-hunter Mary Lou Barebone (Samantha Morton), and obscurus. Full of powerful, repressed magic, fans last saw Credence disappear into a cloud of black smoke at the end of the first movie. His exact powers or role in the magical world is still a mystery. Perhaps, he's something dark and magical, even if he doesn't know it quite yet.
Already, fans have tried to guess who Credence is and how he ties back to Harry Potter, since as of now it's not exactly clear. Some have guessed that he's Voldemort's father, though, that theory doesn't have much legs since Voldemort's father was a muggle. But, that doesn't mean he doesn't have some sort of connection to "He-Who-Must-Not-Be-Named." The clues are there, including the addition of Nagini in Fantastic Beasts 2, who Credence seems to be hanging out with.
But some fans have wondered whether he has a different Slytherin connection. One such theory suggests that Credence is Snape's grandfather. The theory, according to Inverse, goes that the timing of Fantastic Beasts would make it possible for Credence to be the father of Eileen Prince, aka Snape's mother. Not to mention, there is definitely a dark and brooding resemblance between Credence and Snape. There are also clues from the first Crimes Of Grindelwald trailer that Credence is actually a LeStrange.
Whoever Credence is connected to in the greater Harry Potter universe, it's definitely going to be fun finding out. Rowling promises as much in this new trailer. "We're now getting to the meat of the story," she says. "And everything gets darker and more intricate." That's why she hints that fans shouldn't believe everything they see. "Whatever you think you know at the end of the movie might not be the case," she warns.
What is clear from this new trailer, is that to truly understand the Fantastic Beasts series Potter fans will need to keep a close eye on Credence. That is, if Grindelwald doesn't get him first.