The New 'This Is Us' Season 3 Character Could Give Fans More Clues About Randall's Past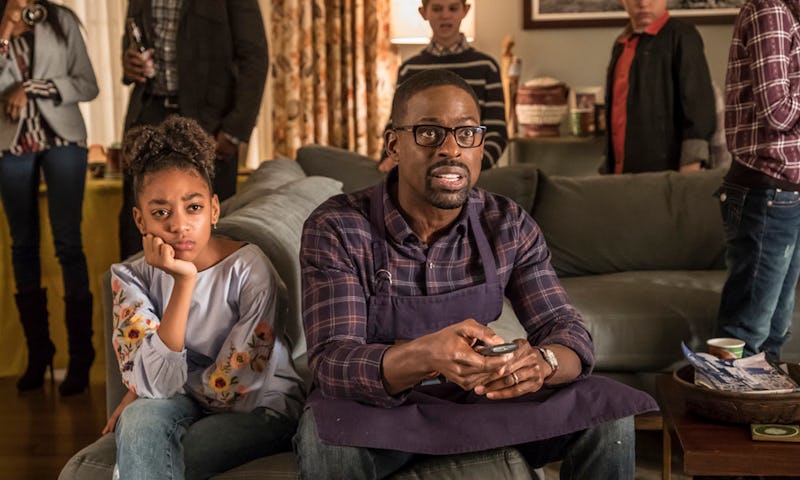 Ron Batzdorff/NBC
In Season 1, This Is Us gave us a glimpse into Randall Pearson's backstory with a heart-wrenching storyline involving his biological father, William. But ever since William's death, audiences have been a little starved for information about Randall's past. Well, This Is Us Season 3 will have a new character, according to The Hollywood Reporter. And while NBC confirmed the addition, the network hasn't revealed a whole lot of details just yet as to the in's and out's of the series' freshly-minted character, it sounds like his storyline might act as a gateway to the deep-dive into Randall's past This Is Us fans have been longing for since the show's first season.
So, without further adieu, let's get to know this new guy a little bit, shall we? For starters, the character's name is Solomon Brown. And, per THR's report, published Tuesday, July 24, actor Rob Morgan (who pop culture buffs might recognize from Mudbound, last year's acclaimed period drama, as well as a whole medley of TV shows, like Stranger Things and Luke Cage) has recently been cast in the role. NBC later confirmed the casting news to Bustle directly.
Beyond the news of Morgan's casting, not much has been revealed about who Solomon Brown actually is, or how his character will eventually tie into the complicated mishmash of storylines that This Is Us has built up over its first two seasons. That being said, courtesy of some intel from the series' creator Dan Fogelman via THR's Tuesday report, there are some rudimentary details about Morgan's new character floating around.
"Someone starts entering the world of local politics," Fogelman teased during some earlier conversation with THR about what audiences might expect from the upcoming season. And, judging by his proximate comments, it sounds like Morgan's character might be involved in the political storyline Fogelman seems to be alluding to here. Continuing, he told THR,
"It's nothing big and national — nothing Republican vs. Democrat or left vs. right — but we're going to dive into some community hot political waters with a surprising character."
And, enter: Solomon Brown. After parsing through THR's report, it seems Solomon's storyline will take This Is Us audiences out of Pittsburgh, the Pearson family home base, and over to Philadelphia. There, Solomon Brown has seen an enduring career as a city council representative and "fixture" of Philadelphia's political society. Those wondering what the heck politics has to do with This Is Us and its seemingly endless rollout of heart-wrenching (most of the time, at least) family-centric storylines need not ruminate too deeply on this one. Because, in a pretty classic move for This Is Us, it sounds like this particular character — and the storylines that'll accompany his onscreen run — will probably end up circling back to the issue of family, too.
How's that, exactly? As THR noted in its report, Fogelman kept a pretty tight lid on the details. But those who've been keeping up with This Is Us over the show's last two seasons might remember that Randall purchased the apartment building where his biological father, William, lived prior to moving in with Randall's family in season one. As it turns out, the building falls within the jurisdiction of none other than city council member Solomon Brown.
So, does this mean Randall might be dabbling in local politics come season three? Nothing's been confirmed yet, but Randall's involvement in Solomon's storyline does feel sort of inevitable, given the surrounding context. Plus, Morgan's jaunt as Solomon Brown on This Is Us will be a recurring one, according to THR. Which means, when the series returns this fall for Season 3 (Tuesday, Sept. 25, to be exact, so mark your calendars accordingly), fans can probably expect that his character will be hanging around for at least a little while. Hopefully, that means getting to learn a little bit more about Randall's biological lineage, and where it comes from.