This New Website Wants To Make Sure Your Vagina Is Insured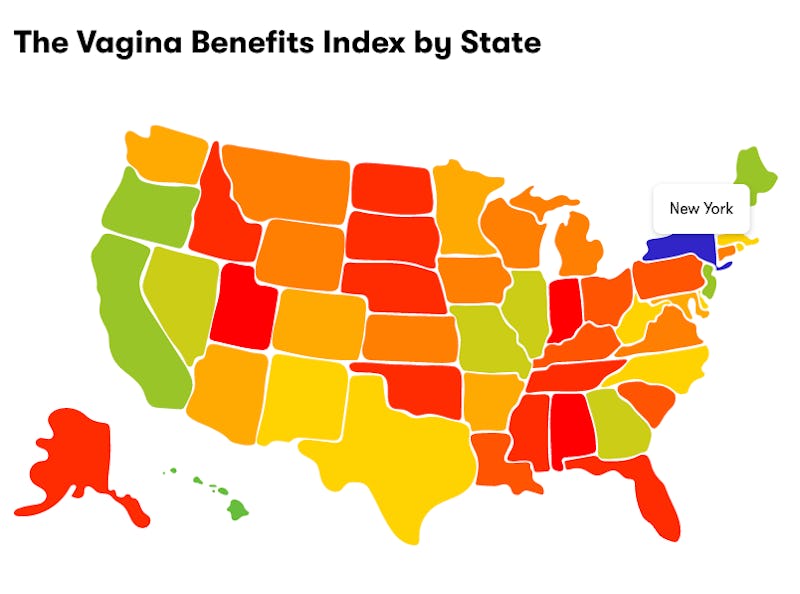 Courtesy of VaginaBenefits.com
It might sound obvious that people who have vaginas require different medical care than those who don't have them. But the fact is, insurance coverage requirements for that care vary from state to state, and figuring out how the rules work can feel overwhelming. That's the impetus behind a new website, VaginaBenefits.com, whose founders aim to make that information not only more easily available, but also more digestible.
Started by co-founders Carolyn Witte and Felicity Yost, Vagina Benefits just launched last week, when the Affordable Care Act (ACA) open enrollment period began. (For reference, it runs from Nov. 1 to Dec. 15.) Neither Witte nor Yost have health care industry backgrounds, but according to Witte, that could be a good thing. "[It] let's us see things though a more human lens," Witte, CEO of the company, tells Bustle.
According to Witte, the confusion about health care access for women became clear to her and Yost as they developed and launched their other project, Tia, a Siri-like app which allows users to ask direct questions about sexual health and insurance jargon. That app launched in June, and since then more than 200,000 conversations about sexual and reproductive health have taken place on the interface, Witte says.
"The idea for the Vagina Benefits came from the mass confusion about health care, health care rights, and insurance we've seen in women using Tia," Witte says. From there, the two used the information stored inside Tia to funnel information into Vagina Benefits. "Tia made the Vagina Benefits," Witte explains.
The so-called vagina benefits the site is concerned with are birth control, STI tests, UTI screenings, Pap tests, breast cancer screenings, and "well person" exams. Essentially, the site breaks down which states require them to be totally covered, partially covered, or not covered at all.
Vagina Benefits uses a lot of similar language as the Tia app, and also works Tia into the interface throughout to break down the wonky details of insurance plans. For example, one section of the site shows a map of the United States. Clicking on each state brings up a small blurb about its coverage, including both the legalese and a "Tia translation." The Tia translations explain in layman's terms what each state does or does not require insurance companies to cover, and further, says whether they allow "cost-sharing" for each service. (Cost-sharing refers to whether insurance companies are required to cover birth control entirely or whether employers and patients are allowed to take on a portion of the cost.) Vagina Benefits seeks to, in other words, "play translator," according to Witte.
The website comes as the future for women's health care in the United States has grown increasingly uncertain. Specifically, Witte points to the recent rollback of the birth control mandate. Early in October, the Trump administration changed the rules so that employers who object to offering contraception coverage based on religious or moral beliefs may be exempt from offering it.
Vagina Benefits breaks this down for its visitors, explaining that if the federal government no longer requires "vagina benefits" to be covered on a national level, then it's up to the states to choose — or not choose — to protect them. With this in mind, Vagina Benefits ranks each state on a scale of one to 10, with 10 being the most desirable.
Some of the site's results are surprising. For example, while New York ranks the highest, coming in at a 9.25, Massachusetts, whose state model served as a partial blueprint for the ACA, comes in at a measly 5.25. The reason? Massachusetts only mandates birth control coverage under plans that already cover other prescriptions. Furthermore, it allows religious exemption for some "church-controlled organizations," and beyond birth control, it only mandates coverage for mammograms, according to the website. All this is to say that the women behind Vagina Benefits mean business, and that just because a state is traditionally seen as friendly toward women's health, doesn't mean it gets a pass.
Vagina Benefits also features an action list that encourages users to get insured, urge their employers to continue covering vagina benefits, and to reach out to representatives.
Understanding access to birth control and other reproductive health care services can be overwhelming, especially with health insurance lingo tossed into the mix. The people behind Vagina Benefits seek to make this a bit easier, especially for millennial women. With health care legislation always in flux, this resource is a welcome development.