New York's AG Won't Stand For These Anti-Abortion Protestors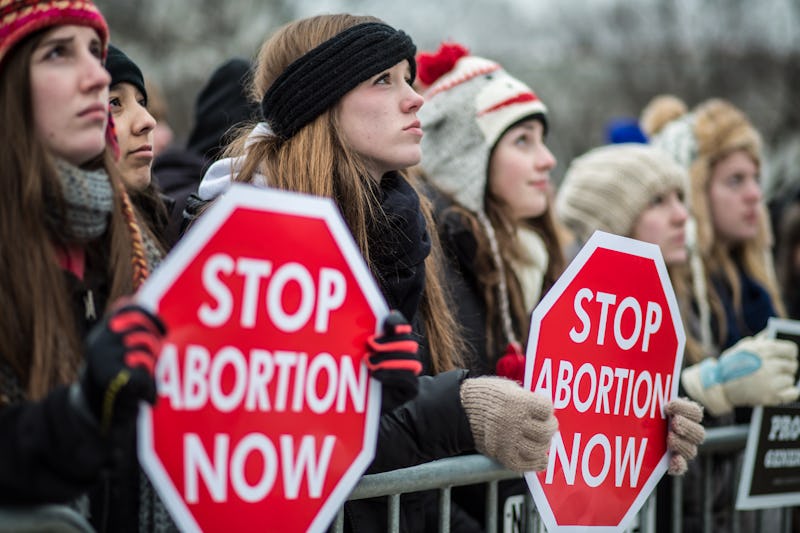 Brendan Hoffman/Getty Images News/Getty Images
Claiming that anti-choice groups regularly "harassed, threatened, and menaced" patients outside an abortion clinic in Queens, the New York attorney general announced a federal lawsuit against protestors targeting Choices Women's Medical Center on Tuesday. In addition to seeking damages, penalties, costs, and attorney's fees, the suit is aiming to establish a 16-foot buffer zone around the center.
The complaint alleges that between 25 and 65 protestors (several affiliated with Brooklyn and New York State-based church groups) have gathered outside the clinic every Saturday morning for five years to disseminate anti-choice literature and "menace" people connected to the clinic. Further, they allege that protestors consistently verbally harassed patients, employees, and volunteers, physically blocked their ability to enter the clinic, lied about the clinic's hours, made death threats, and filmed patients and volunteers outside the clinic.
In a statement, Schneiderman condemned the protestors' alleged tactics:
The tactics used to harass and menace Choices' patients, families, volunteers, and staff are not only horrifying — they're illegal. The law guarantees women the right to control their own bodies and access the reproductive health care they need, without obstruction. We'll do what it takes to protect those rights for women across New York.
While speaking outside the clinic on Tuesday, Schneiderman added that the alleged "harassment and intimidation" described by the patients, providers, and volunteers are not protected under free speech.
Founder, President, and CEO of Choices Women's Medical Center Merle Hoffman commended Schneiderman's move in a statement, describing the long history of anti-abortion violence and harassment she's witnessed throughout her career:
I have been on the front lines of this struggle for women's rights and women's freedom for nearly fifty years. I have endured bomb threats, death threats, multiple evictions, and the maiming and murder of colleagues and friends. And I am still here, because I made a vow to my first patient and to myself — that I would always be there for women and girls who came to me for services. I stand with A.G. Schneiderman and his staff — and with all abortion providers and patients — to say that this injustice must stop.
Schneiderman also cited his own personal experiences working in reproductive health while announcing the lawsuit on Twitter, further condemning sidewalk bullies that seek to scare women away from the healthcare they're legally entitled to.
"The summer after I graduated high school, I worked in an abortion clinic. It was pre-Roe. I still remember the fear many women had," Schneiderman tweeted. "Today, the law guarantees women the right to access reproductive health care, without obstruction. I won't tolerate attacks on that right."
Coming off a year that has been particularly difficult for reproductive rights and justice, advocates are hopeful that this move from New York State will set an example for handling clinic harassment across the country.