This Notorious B.I.G. Song Is Timeless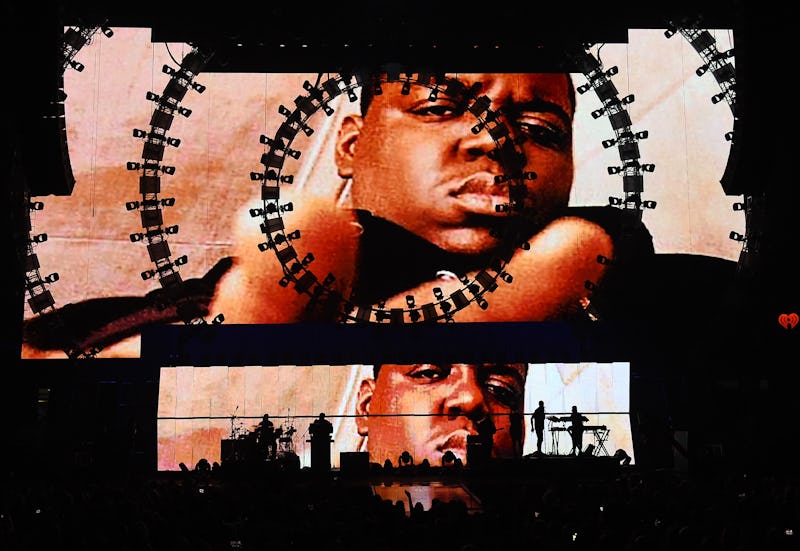 Ethan Miller/Getty Images Entertainment/Getty Images
I probably don't have to remind everyone that Biggie Smalls is still, in fact, "the illest" 20 years after his untimely death on March 9, 1997. Despite the passing of two decades, there are actually Notorious B.I.G. songs that have the same impact today as they did back when they were released in the '90s. I mean, there have been tons of rap songs and hip-hop jams created in the years since that fateful night where Biggie was tragically gunned down after an awards ceremony in L.A. But I'd definitely be kidding myself if I didn't acknowledge that "Hypnotize" would be just as popular in 2017 as it was when it first dropped in early 1997.
While a major hit for the rapper in the late '90s, the number-one single also saw a surprising reemergence onto the Billboard charts just a few years ago, garnering an uptick of more than 633 percent from the previous week and racked up more than 4 million plays during March 2015, all thanks to modern technology and a viral video of Earl Sinclair from the early 1990s' television series, The Dinosaurs, appearing to rap along with the iconic tune. Then there was that one time in 2012, when the Kardashian family made a music video to the tune during their vacay in the Dominican Republic. And just last year, rapper, J. Cole even took to the stage to perform a mash-up of "Hypnotize" during a concert in L.A., which certainly points out the importance that the song continues to hold in hip-hop history.
Now, before you go getting all upset about my choice, I will acknowledge that there are many songs that, of course, deserve major accolades on this 20th Biggie anniversary. And I'll also admit that I may, perhaps, hold a tad bit of sentiment for this song in particular, because it was the last music video recorded by the late emcee. However, with my biased opinion aside, the fact still remains that "Hypnotize" continues to be one of the rapper's most popular songs.
It's definitely worth noting that the tune was nominated for Best Rap Solo Performance at the 1998 Grammy Awards, and is also considered one of the greatest hip-hop songs of the 1990s. The posthumous double-disc album, Life After Death, on which the single was featured, was released just 16 days after Biggie's death at the age of 24 and was later certified Diamond in 2000.
One thing that most people don't even realize is that, although he's considered to be one of hip-hop's great legends, Notorious B.I.G.'s music career only had a span of five years. In that short time period, he amazingly managed to make a huge mark on the game, becoming one of the most influential lyricists of all time and ultimately hypnotizing the world with his iconic voice and sound.
Often credited with helping to pioneer the luxurious lifestyle sometimes associated with the world of hip-hop, Biggie's "Hypnotize" lyrics contain many references to living the fab life, with the chorus reminding us just why the rapper continues to keep the world partying:
"Biggie Biggie Biggie, can't you see
Sometimes your words just hypnotize me
And I just love your flashy ways
Guess that's why they broke, and you're so paid"
You guys, this nostalgia just makes me want to dance around all day in a Coogi sweater and Versace shades, but that'll probably get me sent home from work. So at the very least, I'll be spending the day with my Biggie playlist on full blast in my earbuds, paying homage to one of the most undeniable GOATs of hip-hop.