The Number Of Immigrant Kids Being Held In Detention Centers Is Still Baffling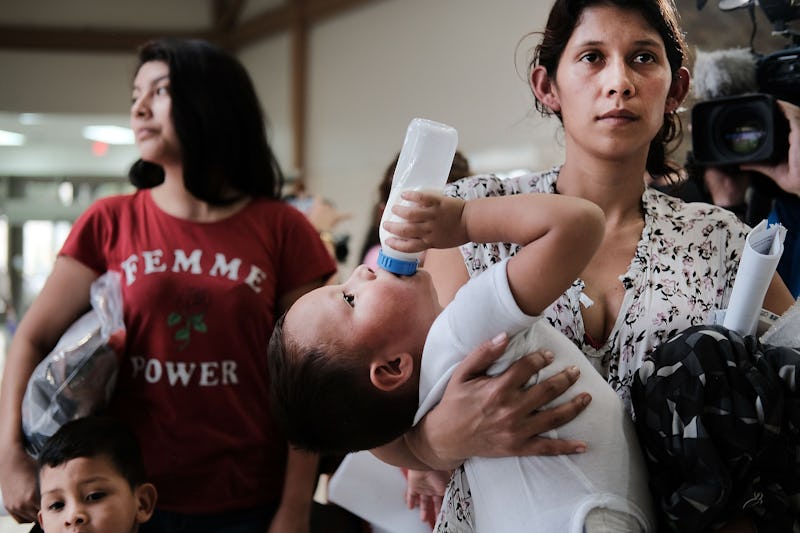 Spencer Platt/Getty Images News/Getty Images
As the Thanksgiving holiday comes to a close, things look especially grim for children arriving at America's southern border. In the past year alone, the number of children in detention centers has nearly tripled — and that means that over 14,000 children spent Thanksgiving in immigrant detention centers.
The increased numbers of children and teens in detention centers has numerous causes, according to the Houston Chronicle. While the Trump administration's "zero tolerance" policy thrust hundreds of children into government facilities over a short period of time in the summer, the Houston Chronicle reports that most of those children have now been reunited with family members in the United States or elsewhere. Now, most of the young people in detention centers are there because their stays have been longer under the Trump administration.
As Axios noted, children detained later in the fiscal year of 2018 have been spending an average of 75 days in federal detention facilities, compared with 59 days earlier in the year and 41 days across all of 2017. Whereas the children affected by the "zero tolerance" policy all arrived at the border with their guardians, the 14,030 children and teens that the Houston Chronicle reports spent Thanksgiving in detention all arrived on their own.
The Department of Health and Human Services runs these detention centers, of which there are about 100 around the country, Business Insider writes. While the department claims that the children held in their facilities have education, recreation, and an overall comfortable life, Business Insider wrote that some of the kids held there claimed that they had experienced various serious abuses. These included drugging, beatings, and inhumane living conditions.
At the moment, DHHS is having to expand its facilities in order to accommodate all of the individuals detained, according to the San Francisco Chronicle. And with a release rate of only one percent per day, as the Houston Chronicle described, children are being detained at a higher rate than they are being discharged — which means that the overcrowding problem will not begin improving until that changes.
A spokeswoman for DHHS, according to the Houston Chronicle, put the blame for the record number of detainees on a "broken immigration system that encourages them to make the hazardous journey," claiming that "The number of unaccompanied alien children apprehended are a symptom of the larger problem."
However, this leaves out one major reason why there are so many children stuck in detention. As CNN reported in September, ICE has been arresting undocumented immigrants who come forward to sponsor detained children — which has led to fewer of these potential sponsors coming forward. And as the San Francisco Chronicle noted, children cannot be released without a sponsor. The longer children are detained, the more likely they are to suffer from psychological problems like depression, anxiety, and PTSD, according to the Houston Chronicle.
"The kids are beginning to show different sets of problems because they are staying longer," a government official told the Houston Chronicle. "It is a significant problem."