The Obamas' Response To Kate Middleton Welcoming Baby #3 Is Too Sweet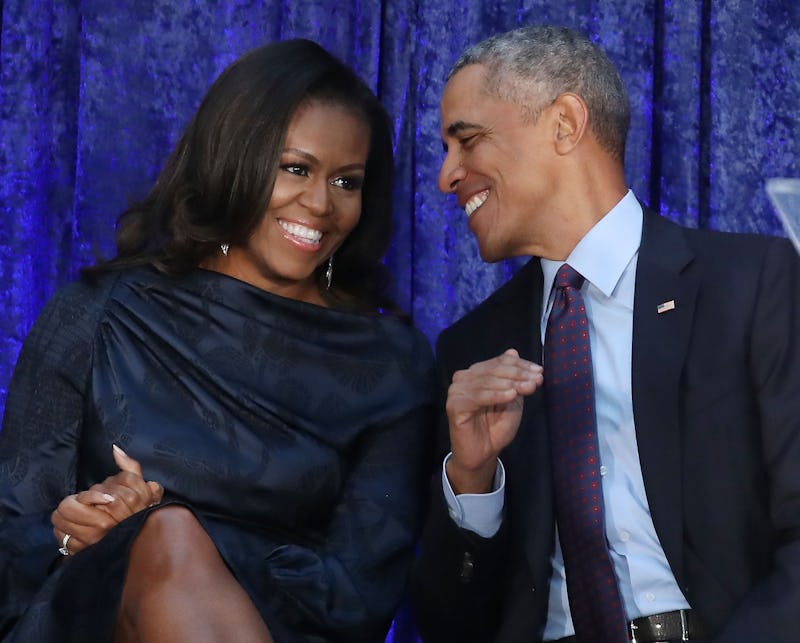 Mark Wilson/Getty Images News/Getty Images
On Monday, former First Lady Michelle Obama congratulated the Duke and Duchess of Cambridge on the arrival of their third child. The Obamas' response to Kate Middleton welcoming another royal baby was too sweet: Michelle Obama wrote, "Barack and I are thrilled to congratulate the Duke and Duchess of Cambridge on their newest arrival!" She added, "We hope to meet him soon for a Kensington Palace pajama party. I'll wear my robe!"
NBC News reported that Middleton was admitted to St. Mary's hospital in London, where she gave birth Monday morning to her third baby, whose name has not been shared yet.
Michelle Obama shared a photo from 2016, where the Duke and Duchess of Cambridge's oldest son, Prince George, can be seen at Kensington Palace meeting her and then President Barack Obama. In official photos shared by the press, the president could be seen shaking hands with the British royal couple's then-2-year-old son.
Jason Knauf, a media representative for Prince William and Kate, said that Prince George was "allowed to stay up late" to see the United States' first couple. The young prince was noted to be "smartly attired for bedtime in a light-colored robe and pajama pants." Here's a photo of the little meet-up from Michelle Obama's Instagram for good measure:
In another photo from the same meeting in 2016, Prince George could be seen with his mother, Kate, Duchess of Cambridge, sitting by the window sill in Kensington Palace. Prince William and Barack Obama can be seen standing behind Prince George as they talk to each other. It looks like they had fun.
Socializing with the British royal family seems to be nothing new for the Obamas. In 2017, Barack Obama was seen with Prince Harry at the Invictus Games in Toronto, Canada. Both the former president and Prince Harry shook hands with fans and even posed for a selfie together. In fact, there's a little tidbit for those curious: Obama has described Prince Harry as a "friend."
In 2017, the former president tweeted about the Manchester bombing and said, "Good to see my friend Prince Harry in London to discuss the work of our foundations [and] offer condolences to victims of the Manchester attack."
Michelle Obama's congratulatory post on Instagram arrived shortly after Kate and Prince William left St. Mary's hospital with their newborn. You might be surprised to see Kate leaving the hospital reportedly only eight hours after she delivered her third child, but NBC News noted that it is normal for women in the United Kingdom with uncomplicated births to leave the hospital on the same day they have their newborns.
The royal couple's third baby was born at the same hospital where Princes William and Harry were born. That's not all. It's also the same hospital where Prince William and Kate's first two children, Prince George and Princess Charlotte, were delivered. The newborn's older siblings visited him five hours after Kate had the baby, according to NBC News.
Going forth, the Duchess of Cambridge will have two jobs at her hand. Camilla Tominey of NBC News said, "There's been an acknowledgement behind palace gates that Kate's got two jobs to do. She's got to be mother to two — and then soon three children — while at the same time maintain her role as a very high-profile figure in the royal family."
So far, there are no reports of an upcoming royal slumber party at Kensington Palace. But from the looks of Michelle Obama's heartfelt congratulatory Instagram post, one thing is pretty clear: If a stylish sleepover is indeed planned by the Duke and Duchess of Cambridge, Prince George and the former first lady can rock robes together.