Watch The Obamas 'Taking The Stage' Rap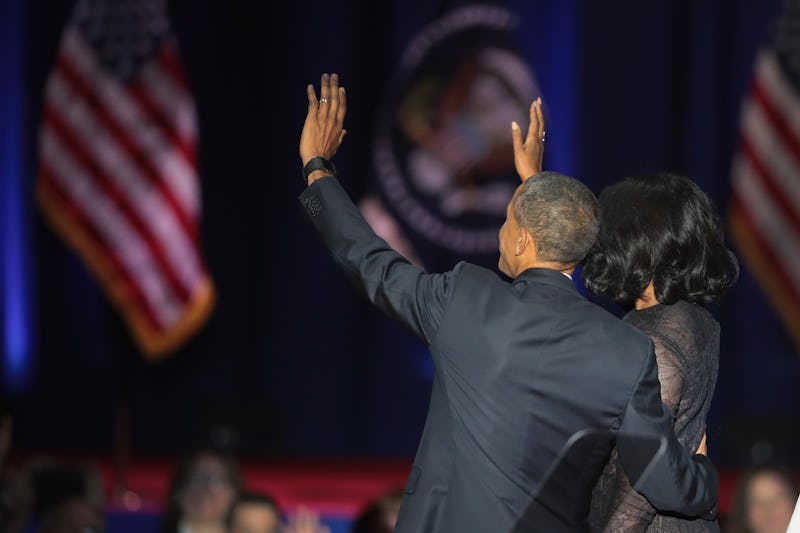 Scott Olson/Getty Images News/Getty Images
If you're anything like me, you probably thought you were already full to the brim of reasons why you never want the Obamas to leave the White House. But of course, there's always room for one more. The Obamas rapping along at the Taking the Stage event is now the the perfect addition to all the other reasons why you never want to want to say goodbye to them.
Taking the Stage, an event honoring the National Museum of African American History and Culture, gathered an almost unimaginable number of stars in one place. It celebrated so many of the African Americans who have made valuable contributions to the country, from a meaningful tribute to the seven surviving members of the Tuskegee airmen, to Ne-Yo covering Michael Jackson.
Of course, it wouldn't have been in keeping with the spirit of the event for it to happen without honoring the first black President and First Lady. And after everyone honored their presence in the audience, POTUS and FLOTUS weren't afraid to show just how much fun they were having. When Grandmaster Flash and the Furious Five were rapping "The Message," Barack and Michelle were right there rapping along, and it was a truly life-affirming thing to watch.
You've always known that the Obamas know how to have a good time, and it's always been a beautiful thing to watch, but there's just a little something extra about this performance. Not only did Obama prove that it was possible for America to elect a black president, but he did it twice, inspiring millions of people in the process. He got to witness the highly anticipated opening of the Smithsonian museum honoring African American history and culture during his tenure, and tickets to the museum have already been snapped up for long after he leaves.
The event included celebrities like Oprah, Usher, Tom Hanks, Christina Aguilera, and Stevie Wonder who all came together to bring the audience through a full emotional rainbow. In a way, though, it would have been incomplete without the Obamas present. And from what it looks like in the video, they wouldn't have missed it for the world.
Maybe when the Obamas retreat from their public life, the country will be treated to more displays of them enjoying themselves so fully. This certainly won't be the last celebratory event honoring something important that they'll attend. However, as much as it makes the goodbye even harder for their adoring supporters, it's also kind of a perfect farewell.