The Obamas' Valentines Day Messages Are Too Cute To Handle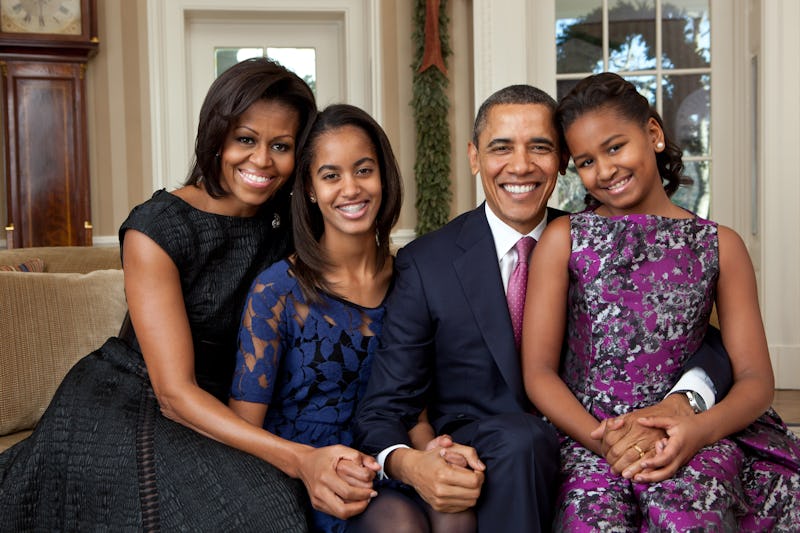 Handout/Getty Images News/Getty Images
Love is in the air. On Thursday, former first couple Barack and Michelle Obama wished each other a happy Valentine's Day. Obama affectionately called Michelle "extraordinarily smart, beautiful, [and] funny" in a tweet, sharing a photo of the sharply-dressed couple attending the Governors Ball in the East Room of the White House in 2010. "It's true," Obama mused, "she does get down to Motown."
Not one to lag behind on Valentine's Day, Michelle also tweeted on Thursday, "So lucky to call these three my Valentines for all these years." The former first lady shared an older photo of Obama, herself, and their two daughters, Sasha and Malia. The family portrait was snapped by photographer Scott Olson in 2004, when Obama was the senator of Illinois.
The former first couple are known for the sentimental tweets they send each other on their birthdays, occasions like Valentine's Day, Mother's Day, Father's Day, and more. On Valentine's Day 2018, Michelle dedicated a Spotify playlist to her husband. Titled "Forever Mine: Michelle To Barack," the playlist featured, 44 popular songs, like "Stand By Me" by Ben King, "Endless Love" by Lionel Richie and Diana Ross, "Fallin'" by Alicia Keys, "Marry You" by Bruno Mars, "Always Be My Baby" by Mariah Carey, and many more.
In 2018, while speaking on Today Michelle gave some marriage advice, and it came down to one thing: Make sure you have your own bathroom. "One of the keys to a successful marriage is separate bathrooms," Michelle said. "When [Barack] enters my bathrooms, sometimes I'm like, 'Why are you in here?' And he's like, 'I live here. Can I enjoy my bathroom too?"
Advice about separate bathrooms aside, the former president has also talked about married life and how Michelle helps him navigate life with wisdom and ease. "Obviously, I couldn't have done anything that I've done without Michelle," Obama told Oprah Winfrey in 2011.
"You were asking earlier what keeps me sane," Obama added during the interview with Winfrey, "what keeps me balanced, what allows me to deal with the pressure. It is this young lady right here... Not only has [Michelle] been a great first lady, she is just my rock. I count on her in so many ways every single day."
Also in 2018, Obama also gushed over the painting of his wife by artist Amy Sherald, which went up in the Smithsonian's National Portrait Gallery. "I want to thank you for so spectacularly capturing the grace and beauty and intelligence and charm and hotness of the woman that I love," Obama admired.
The couple has also sent each other heartfelt messages on their wedding anniversaries, including marking 26 years of their marriage in 2018. "Thank you, @barackobama, for 26 years of love, trust, and respect — for being a man who always lifts up and honors me and our wonderful girls," Michelle tweeted. "Each day I'm with you, I'm reminded of what a treasure you truly are to us all."