Barack & Michelle Obama's 26th Anniversary Tweets To Each Other Will Turn You Into Mush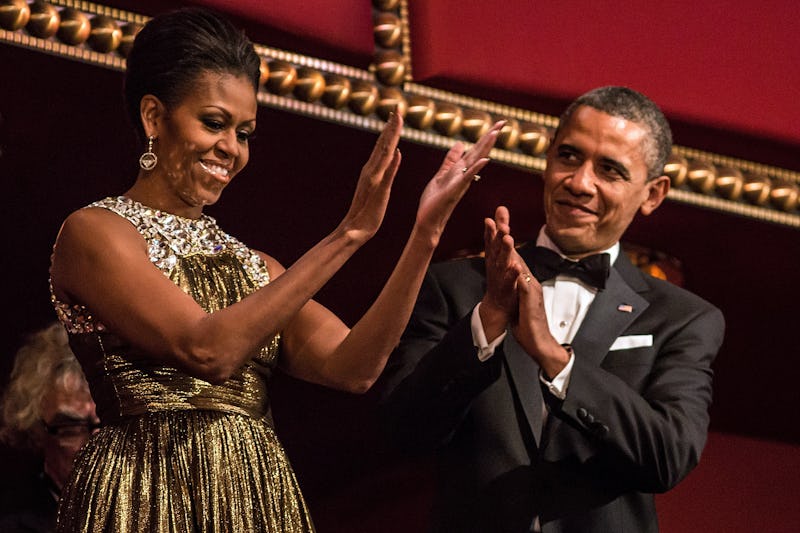 Brendan Hoffman/Getty Images News/Getty Images
The former first couple of the United States dedicated some sweet-nothings to each other on their anniversary Wednesday. On Twitter, Barack and Michelle Obama wished each other a happy anniversary, marking 26 years since they tied the knot. Tagging Michelle in his tweet, Obama said, "Happy birthday, @MichelleObama. For 26 years, you've been an extraordinary partner, someone who can always make me laugh, and my favorite person to see the world with."
Michelle shared her husband's tweet and added her own words, saying, "Thank you, @barackobama, for 26 years of love, trust, and respect — for being a man who always lifts up and honors me and our wonderful girls. Each day I'm with you, I'm reminded of what a treasure you truly are to us all."
The former first couple have been known to publicly express their affection for each other. For instance, on their anniversary last year, Obama sent a video message to Michelle during her appearance at the Pennsylvania Conference for Women. The convention, where television producer and screenwriter Shonda Rhimes was also present, focused on creating more social and entrepreneurial opportunities for women and people of color.
At one point during the conference, a video of Obama started playing, with him chiming in to wish her a happy anniversary. "Hey, honey. Listen. I know you're with all these important Pennsylvania women and you're sharing the stage with our buddy, Shonda Rhimes, but I had to crash this party because today we have been married for 25 years," he said in the clip. "The idea that you would put up with me for a quarter of a century is a remarkable testament to what a saintly, wonderful, patient person you are."
Back then, in 2017, Obama also told Michelle that "not only have you been an extraordinary partner, not only have you been a great friend, somebody who could always make me laugh, somebody who would always make sure that I was following what I thought was right, but you have always been an example to our daughters and to our entire country."
In case you didn't know, Michelle and Obama got engaged after the former president completed and passed his bar exam. According to ABC News, Michelle said that the two were celebrating Obama's result at a dinner. "And then the waiter came over with the dessert and a tray," Michelle said. "And there was the ring. And I was completely shocked."
By the time it was October in 1992, the couple tied the knot. Several years later, in 1998, Obama and Michelle had their first daughter who, coincidentally enough, was born on July 4. In 2001, they had their second daughter in June.
It's not just anniversary messages that the couple have sent each other. In a different instance, Obama expressed his love for Michelle at his State of the Union address in 2010. "If you were going to list the 100 most popular things that I have done as president," the former president said, "being married to Michelle Obama is number one."