Angela Kinsey From 'The Office' Took Home This Amazing Prop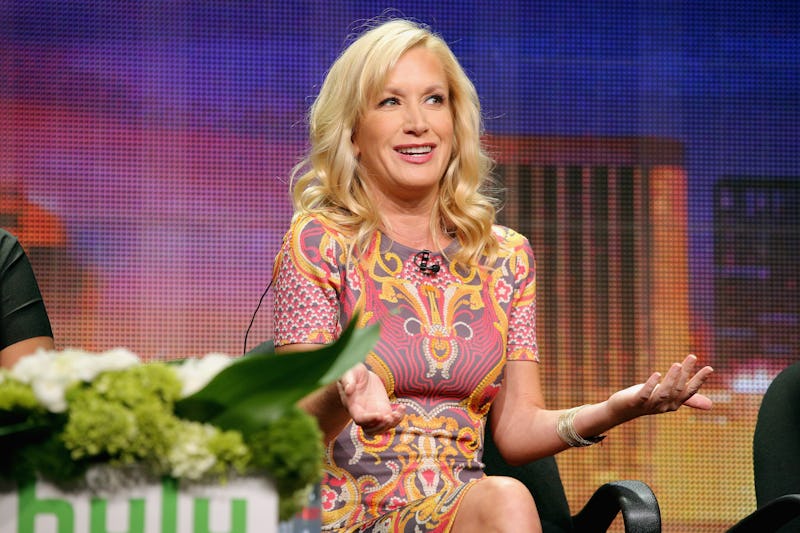 Imeh Akpanudosen/Getty Images Entertainment/Getty Images
The Office, which ran from 2005-2013, is truly the comedy that keeps on giving — even more than five years since the show went off the air. This week, the gift comes courtesy a new revelation about the one Office prop Angela Kinsey kept after the show ended. The revelation came about thnaks to Twitter user @jamaicaplain, who was watching the Season 9 episode "Vandalism," when they noticed a massive portrait of Angela hanging her home. "Please tell me you got to keep the painting!" they tweeted at Kinsey, along with a screenshot of the episode. On October 17, Kinsey responded, quote-tweeting the photo and writing "I did!!" With two exclamation points and everything. Is that not perfect?
In case your memory of The Office Season 9 isn't fresh, here's a quick recap of why that portrait exists at all: In the final season of The Office, Angela Martin, the tightly-wound head of accounting, was married to Pennsylvania State Senator Robert Lipton. The couple invited choice friends over to celebrate their son's first birthday — it really ends up being more of a political fundraiser than anything else — but that's why her accounting department is visiting her at home. It's there at that Kevin and Oscar first encounter a hilariously austere portrait of Angela, glowering over the entry hall.
But to be honest, the fact that Kinsey kept it is just the first question that needs answering. Here are a few more questions an Office fan might have about it: Who actually painted this portrait? Is it a painting, or an edited photograph? A computer rendering, maybe? Did Kinsey have to sit for it? Is it hanging in her house IRL? Please, the people need to know! The portrait is just so Angela Martin; it's genius. She would have a picture of herself — not her husband, not her son — just her, staring at guests like some kind of old-timey royal. It's very on brand for the character, and it's made even more delightful by the knowledge that the painting still lives on.
The Office stays alive online thanks to Netflix and the stars' social media presences. Jenna Fischer, for example, posts adorable snapshots of her friendship with Kinsey, as well as insights into life as a mom and endless memes about her Office character, Pam. (Including some she ends up making herself, like when she posed in front of a Chili's.) Brian Baumgartner, who played Kevin, even weighs in on memes about his character from time to time. (To be fair, that chili meme has taken on a life of its own. Now it's a fictional Halloween costume for babies!) So having a few of the core cast members so easily accessible — and willing to speak with fans about the details of the show — makes it that much more fun to watch over and over again.
Now, until Kinsey spills the beans on where that portrait is today, fans can't be sure it's not just gathering dust in storage. So, by the same token, it might be prominently displayed in her front hall as well! Either way, it's great to know when celebrities get to keep souvenirs unique to their characters. Especially from something beloved as The Office.