'Office' Fans Will Seriously Love This Pic Of Meredith & Angela Reuniting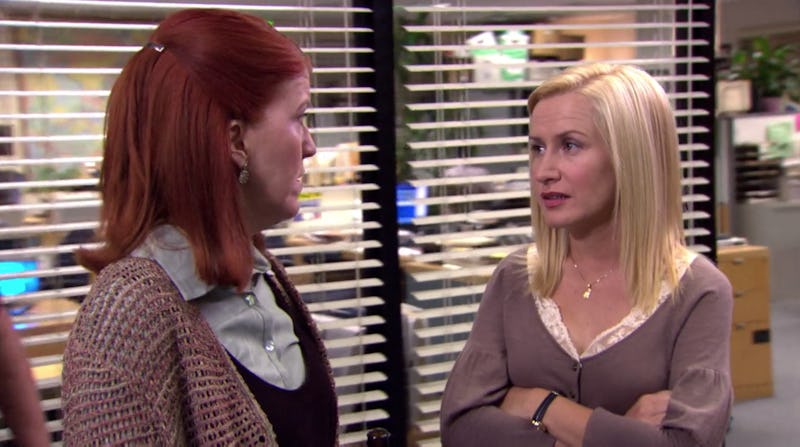 NBC
"Shut up, Angela!" Another Dunder Mifflin reunion just happened and fans need to see it, stat. Meredith and Angela from The Office reunited unexpectedly on Thursday night. Angela Kinsey and Kate Flannery's meet-up wasn't planned and even they were excited about running into each other out of the blue outside a Los Angeles restaurant.
Kinsey shared a photo of their mini-reunion on Instagram, which shows the women with the biggest smiles on their faces. You can tell how genuinely thrilled they were to see each other.
Kinsey captioned the picture,
"Sometimes you walk out of a restaurant and randomly run into one of your favorite people on the planet... @therealkateflannery I loves ya! What a treat to see you tonight! [kissy face emoji]"
Kinsey also posed a video on her Instagram Story with Flannery. "Look who I just ran into!" the actor who brought Angela Martin to life exclaimed. "What is happening?!"
Then, Flannery, who played the unforgettable Meredith Palmer, declared, "That's what happens in the neighborhood!"
Their Office characters would've had a very different interaction that may or may not have involved Meredith yelling, "Shut up, Angela!" If you don't recall, in Season 3, Episode 14, titled "Ben Franklin," Meredith hurled the statement at Angela after she said, "Under no circumstance should a man strip off his clothes in this office." Angle was responding to Michael and Packer wanting to get strippers for both Phyllis and Bob's bachelorette and bachelor parties. Of course, Meredith was all for it, but Angela not so much.
Funnily enough, on May 13, Kinsey and Flannery recreated the "Shut up, Angela!" scene. During Kinsey's YouTube baking show with her husband, Joshua Snyder, called Baking With Josh & Ange, Flannery came on as a guest and that's when the two channeled Meredith and Angela again.
A fan wrote in and asked if they could recreate their favorite scene from The Office. They, obviously, went with the one from "Ben Franklin." If you haven't seen their re-creation, you must watch it immediately.
Here it is:
Office reunions never get old. Believe it or not, but there have been several over the course of 2018, including when Kinsey reunited with Oscar Nuñez and Brian Baumgartner on Sept. 14. The trio that played the accountants at Dunder Mifflin's Scranton branch got together, while attending the Keystone Comic-Con held in Philadelphia, Pennsylvania.
On May 2, Pam, Andy, Oscar, and Toby reunited, too! Nuñez, Jenna Fischer, Ed Helms, and Paul Lieberstein got together to support Jenna Fischer's Finer Things Club merchandise she created in partnership with Represent.com. The products sold raised money for Miry's List, a non-profit organization providing refugee families seeking save haven in the United States with essential items needed for survival.
The Office cast just can't seem to stay away from each other and fans definitely aren't complaining. That said, it would be nice to see everyone back together. Hey, it could happen, but that type of reunion would take a lot of work, especially schedule-wise. But, there is one star up for the task.
After the reunion with her former coworkers in May, Fischer said in an Instagram Story video, "We are friends in real life and it was really great to see those guys today." She then said, "And now my goal is to get a whole party together of the whole cast."
How amazing would that be? Jenna, you have complete support from fans!