The One Major Problem With Haleb On 'Pretty Little Liars'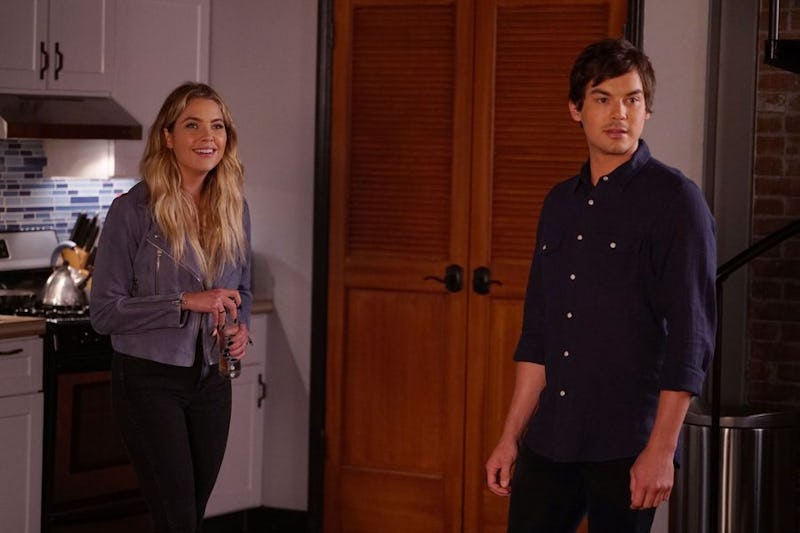 Eric McCandless/Freeform
Speaking as a diehard Haleb shipper, I was over the moon when Hanna and Caleb tied the knot on Pretty Little Liars. I've been waiting for this moment for what feels like forever and I even toughed it out through a season of Spoby because I just knew that these two would find their way back to each other. The low-key wedding scene (complete with Ashley Marin, of course) was just perfect and yes, I may have cried a little. But, despite my joy that these two finally put a ring on it, I can't shake my feeling that one aspect of the Haleb reunion is a little problematic.
During the time jump, the two broke up for totally understandable and relatable reasons — they never got to spend any time together and, due to the high-pressure nature of Hanna's job, she often had to cancel plans and even vacations. As an entry-level fashion assistant, that's pretty standard. Hanna was paying her dues in a hyper-competitive industry and, if she'd ever said no to her boss, she would have been fired in a minute.
No one should be forced to choose between a job and a guy, but unfortunately sometimes that's life. And, considering Hanna was an ambitious 22-year-old at the time of the breakup, I find her decisions completely relatable. On the other hand, Caleb didn't want to date someone who he could never spend time with, which is also understandable — so the breakup made sense and no one was to blame.
Of course, viewers later learn that Hanna regretted her decision on the night of the breakup and returned to their apartment only to find Caleb gone. She always felt that she'd made the "wrong" choice that night. But I'd argue she felt that way because her boss was a complete terror who was crushing her love of fashion — not that she suddenly decided she didn't want a fashion career at all.
Fast forward to Season 7B and this creepy as hell board game. In the episode where it's Hanna's turn, Caleb mentions multiple times that Hanna's strong focus on her career is what drove them apart. She was then ordered by the game to show up to an important business meeting wearing a totally inappropriate outfit — but she never made it because Caleb was rushed to the hospital after messing with the game.
Sure, if anyone we care about ends up in the hospital, the right thing to do is go straight to their side regardless of our other plans. But because this episode ultimately wrecked Hanna's business deal and put her on a fast-track to marriage in one fell swoop, it made it appear as though she made the "right" choice to pick Caleb over her career. Furthermore, it implied that her choice during the time jump was "wrong" not because she was in the wrong job, but because Caleb should have always been her top priority.
Based on everything viewers have seen and heard from Hanna this season, she still desperately wants a fashion career and she has the talent to succeed. It's just that Uber A keeps thwarting her over and over again. Still, I'm confident that Hanna will ultimately land an amazing job, hopefully running her own company — and that will mean a lot of hectic work hours.
But so far, we haven't seen any indication that Caleb is able to handle being in a relationship with Hanna when he's not her top priority. I have to wonder how he'll react when Hanna's back on her feet professionally and spending a whole lot of time traveling and burning the midnight oil. Ideally, they'll have a mature conversation about it and he'll accept that being married to Hanna involves making some sacrifices so she can have her dream career. But with only one episode left, I doubt that's something we'll ever get to see.
I'm thrilled there was a Haleb wedding — I just wish we'd seen that Caleb can handle it when Hanna is thriving in a career. When you're an ambitious and talented young woman like Hanna, getting a guy shouldn't be viewed as the ultimate prize. And, unfortunately, the Haleb reunion implied just that.