The Melissa McCarthy As Spicey Sketch To Watch Now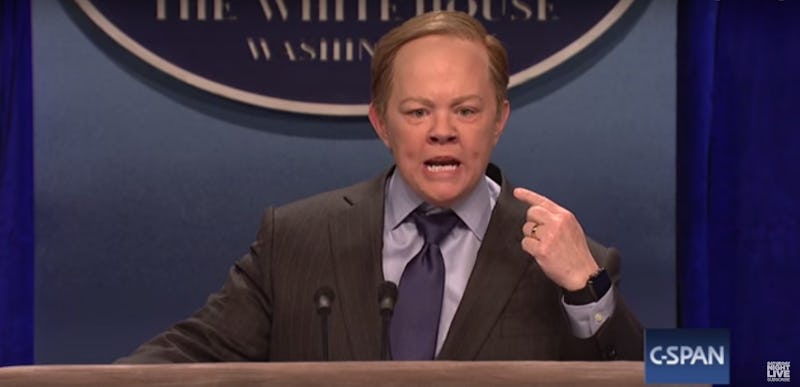 NBC
Well, another one bites the dust. One of the more... memorable characters from Trump's administration, Sean Spicer bade the White House farewell and resigned as press secretary on Friday. And the worst part? That means there's a good chance there will be no more sketches with Melissa McCarthy's exquisite impression Spicer on Saturday Night Live. Sadly, SNL is currently on summer hiatus, so there won't be any quick takes on Saturday of Spicey's farewell. But, there are four wonderful sketches of McCarthey's Spicer to savor and one promo in which she sings "I Feel Pretty" while transforming into the now-former press secretary in wardrobe. But if there's just one clip to revisit at a time like this, it's the first of McCarthy's Spicer sketches.
McCarthy's first appearance was the most delightfully shocking. As the comedian comes out to the podium, you might remember your initial, "Wait, who is that?" reaction, which the live audience clearly experienced, as well. But somehow, it just made sense to see McCarthy with that miles long forehead, angry expression, and screechy yelling voice.
The first sketch aired on February 4, just two weeks after Trump was inaugurated (wow, that feels like a lifetime ago), but in that fortnight Spicer had already developed a contentious relationship with the White House press corps.
The sketch capitalized on that tension, with McCarthy screaming out, "Settle down! I'm not here to be your buddy, I'm here to swallow gum and take names," then pouring a can of gum into her mouth.(He's said that he eats 35 pieces of gum a day.)
But the funniest and most frightening part of the sketch is the Q&A, in which McCarthy as Spicer antagonizes the press, booing and screaming at reporters. The best take is when McCarthy responds to a question about Trump's travel ban, using Spicer's signature verbal gymnastics: "It's not a ban. The travel ban is not a ban, which makes it not a ban. He's using your words."
There's also a puppet show and McCarthy rushing the press pool. SNL had a wealth of material to work with when parodying Spicer; the man himself once actually hid "among" the bushes outside of the White House to avoid reporters.
The best line of the sketch is when McCarthy/Spicer describes Trump's reception while making an announcement, saying he got a "15 minute standing ovation," and, "Everyone was smiling, everyone was happy, the men all had erections and every single woman was ovulating left and right. And no one was sad. Those are the facts forever."
Fare thee well, Melissa McCarthy, and thank you. And goodbye to you too, Sean Spicer.