The 'RHONY' Scary Island Vacation Episode Is Worth Revisiting Immediately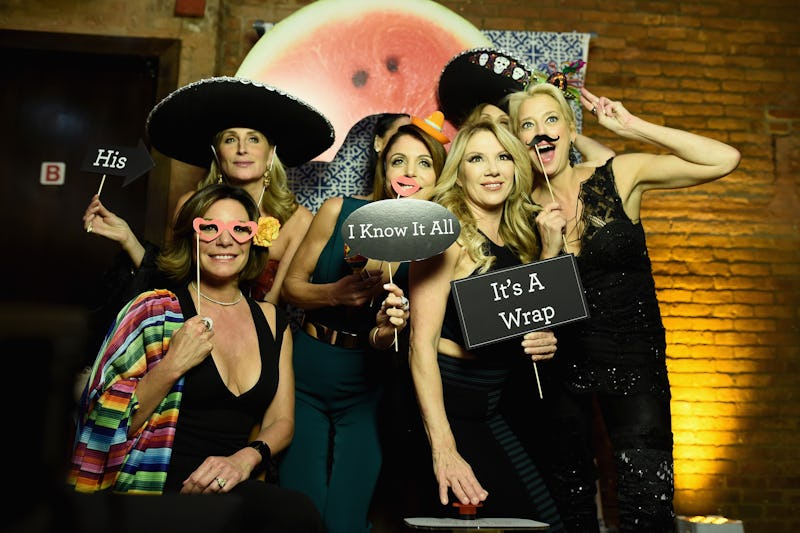 Ilya S. Savenok/Getty Images Entertainment/Getty Images
For fans who have "a taste for luxury," preferably served with a heaping dose of "drama by Bravo," The Real Housewives of New York City's "Scary Island" episode from Season 3 is one Housewives vacation that's worth making a repeat visit. In the classic 2010 RHONY episode (officially titled "Sun, Sand And Psychosis"), cast members Bethenny Frankel, Kelly Killoren Bensimon, Ramona Singer, Sonja Morgan, and Alex McCord jet off to St. John in the United States Virgin Islands for some fun in the sun. (Countess Luann de Lesseps and Jill Zarin opted out of the trip that year.) What resulted, however, were some of the most memorable vacation scenes in Housewives franchise history. (Bethenny's "Go to sleep! Go to sleep!" moment, and a look of sheer disgust on Kelly's face have provided just two of them many GIFs that still keep on giving.)
During the episode's pivotal — and truly unforgettable — dinner party scene, Bethenny delivered one of her classic one-liners, saying that Kelly had gone "cuckoo for Cocoa Puffs." Although that seemed like an understatement to viewers, based on the onetime model's seemingly unhinged behavior, Kelly later described her antics (multiple times) as, not a breakdown, but, rather, a "breakthrough." As she said in her episodic commentary, she was "alone on Scary Island with no friends," after all.
The latter was certainly a fair assessment, with Kelly appearing outnumbered on St. John, after her closest allies Jill and Luann decided to stay behind in the Big Apple. Even so, that didn't quite explain Kelly's many utterly bizarre moments that honestly defy explanation.
Prior to the aforementioned meal that featured dishes made by Bethenny (don't ask Kelly if the Skinnygirl mogul is a "cook" or a "chef," by the way), Kelly had already exhibited some, er, questionable behavior. Aside from inexplicably blurting seemingly nonsensical phrases, like "satchels of gold," Kelly, for some reason, also burst into tears (and not the happy kind) when Bethenny left a personalized gift bag of Skinnygirl products outside of her door. (Bethenny gave similar branded gifts to all of the women.) Kelly also accused her castmate — with whom she was frequently at odds — of having knives on her tongue.
The events surrounding the dinner party, however, were where the real must-see reality TV moments came into play. Kelly also turned her ire towards Alex, whom she accused of "channeling the devil," having allegedly seen her in "Kabuki makeup," before confessing that Bethenny had tried to kill her "so many times before." Yes, that's right, she said Bethenny had tried to kill her — many times, no less.
While you really have to watch the episode to do the exchanges justice, other highlights from the dinner also included Kelly pointing and giggling at Bethenny and saying, "Oh, my God, Al Sharpton! Al Sharpton!" after the Skinnygirl founder apparently did an impression of Jack Nicholson's A Few Good Men character's famous "You can't handle the truth" line.
Kelly also accused Bethenny of attacking her "friend Gwyneth." When Bethenny asked who she was referring to, Kelly replied, "Paltrow!" in an "uh, duh" voice. (Yes, everyone seemed just as confused.) After later retreating to her room, Kelly eventually returned to dinner inexplicably snacking on a bag of jelly beans. (The next morning, the 'wives were informed Kelly had departed the island.)
Later telling her side of the story, Kelly spoke to New York Magazine following the episode's airing on Bravo. "I was asked to go on this trip and I was very anxious about it, because I was asked by women who don't like me at all," she explained at the time. "I always have positive expectations of people, and I always think the best, and you know, that's my Achilles' heel, is that I'm positive and feel like people are going to be nice."
Plus, she claimed to be captive at certain points during the trip. Noting she wasn't able to get coffee or go for runs, she added to NYMag. "I was on this small boat and this house, and I was so incredibly confined and I was being hated on, and there was no way for me to get out. Help! Help me!"
Either way, Kelly — who appeared on RHONY until Season 4 in 2011 — told NYMag she walked away without regrets:
"Some people are like, 'You had a breakdown,' and I'm like, no, I had a breakthrough. I just let go, I was crying, just, like, stop harassing. ... I'm completely honest, I have a ton of integrity, and I love doing this show. The minute that I walk into the room, I create a frenetic energy — it's not kinetic, it's not, like, a forward motion, it's just like this stagnant frenetic energy. And let's be honest, it makes for awesome TV. I mean, haters are part of the ecosystem, and if they're not hating on you, you're not doing something right."
Alex also reflected on the Scary Island episode in a 2017 interview with Bravo's The Daily Dish — though she had a slightly different take than her costar. "Scary Island was actually really, really, really funny until it wasn't," she said. "Suddenly we were all really concerned for Kelly. I think that was anxiety gone mad. I don't think that there was anything really nefarious happening. Kelly's threshold for being uncomfortable is different from everyone else's."
Speaking of uncomfortable, who can forget Kelly getting behind the camera for a beach photo shoot, as a gift to her castmates (minus Bethenny) on the island? You know, the one where Kelly (who was once married to famed fashion photographer Gilles Bensimon) sprinkles Blow Pops on a blanket and also tells Alex to think of her son and make a "Johan face" to soften her look. Meanwhile, Ramona and Sonja (AKA Ramonja) were also ham-ing it up with seductive swimsuit poses.
Of course, straight-shooting Bethenny also had to comment on Kelly's Scary Island behavior, during a Watch What Happens Live with Andy Cohen appearance. And she maintained innocence from Kelly's claims she was attacked during the trip, too. "I just think she's extremely fragile and extremely sensitive, and maybe she perceives that as bullying," Bethenny told Cohen, adding:
"Kelly was not built for reality television. And she couldn't take the heat in the kitchen and so she wants to say that we ruined her reputation. Her not being true to who she really is ruined her reputation. It is what it is. You don't hate the player, you hate the game."
It remains debatable, however, whether or not Kelly was "built for reality television," as Bethenny said — because she clearly made the Scary Island episode into a Housewife vacation that fans won't grow tired of. But, if, for some reason, they should, there's always Bethenny's advice to follow: "Go to sleep! Go to sleep!"